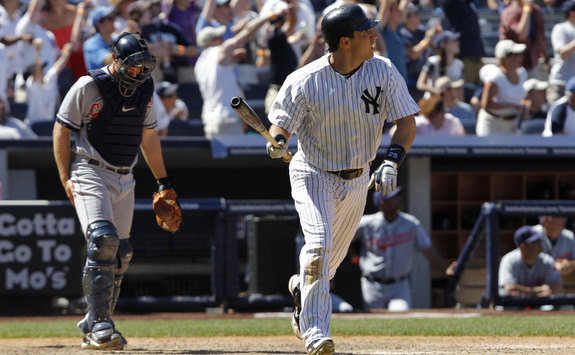 Two weeks ago, Mark Teixeira returned to the Bronx to kick off a ten-game homestand with a .240/.344/.493 season batting line, above-average on-base and power numbers, but hardly what we've come to expect from the $180M first baseman. He was stuck in an ugly short-term rut (.200/.222/.257 in the first eight games after the All-Star break) and a disappointing long-term slump (.232/.327/.460 in his previous 343 PA). The terms "slump" is relative here, because that's basically a league average OBP with a stellar .228 ISO. Either way, Tex was looking pretty bad at the plate.
Then he returned home, and then things started to go his way. Teixeira homered and drew two walks in the first game of the homestand, and over the full ten games he went 13-for-39 (.333) with four homers, five walks, and just six strikeouts. A pair of hits on Monday opened the road trip, and last night Tex picked up three more hits, including a homerun from each side of the plate. His season batting line is up to .256/.352/.527, which is much more pleasing to the eye than that .240-something monstrosity from two weeks ago.
If you take a look at the spray charts since the start of the homestand, you'll see that Teixeira really isn't doing anything differently. He's still extremely pull happy (here's the spray chart vs. RHP, vs. LHP), so it's not like he's shortened up in an effort to dunk the ball into the opposite field or anything. Or maybe he has and it just hasn't yielded any results yet, who knows. Tex's season BABIP sat at .226 coming into the homestand but has since risen to .236, and you can see the gradual improvement here…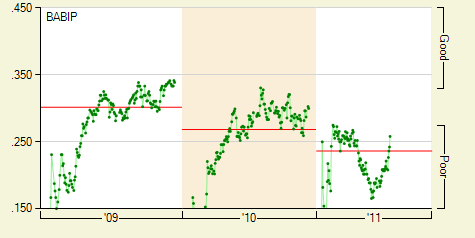 I remember seeing at least two balls eke their way through the shift on the homestand, and that's part of the regression monster. Tex has definitely changed his approach since coming to the Yankees, making a conscious attempt to hit more fly balls, presumably in an effort to take advantage of the short porch. There's nothing wrong with trying to hit for more power, but more fly balls means a lower BABIP, and that means a lower batting average. A lower batting average means a lower OBP, and OBP is king. In fact, if Tex had a league average walk rate this year (8.2%) instead of his current 11.4%, his season OBP would be .320. I don't want to think about what it would be without those eight hit-by-pitches.
Anyway, we don't have to worry about that. Drawing walks is most certainly a skill and getting hit by pitches is also skill (to a lesser extent), so it's not like Teixeira is lucking into his OBP. Hit Tracker says just one of his 31 homers this year was "lucky," this shot in the third game of the season, and I don't think we'd have any disagreement about the enormity of his power. He was struggling in the worst way two weeks ago, and it can be particularly ugly when Teixeira struggles. He'll pop the ball up on the infield or swing over top of offspeed pitches, which is as frustrating as it gets. He's not doing that at the moment and appears to be on the his way towards another one of his hot streaks, when he'll look like the best player on the planet.