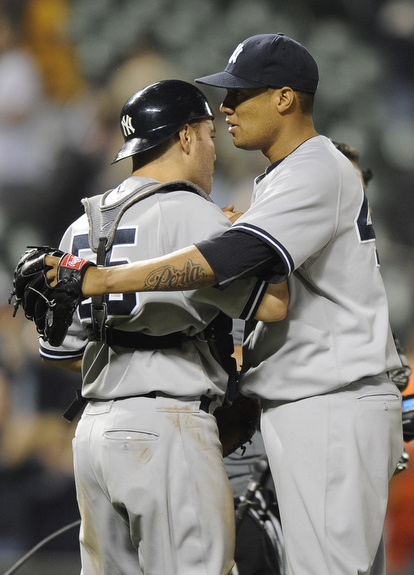 Hector Noesi is not long for the Yankees roster. As we discussed yesterday, the Yankees will have to demote a pitcher when Alex Rodriguez returns this weekend, and considering Joe Girardi's bullpen usage and the available options, Noesi is a near lock to ride the shuttle to Scranton. It won't be a long stay; if he's demoted on Friday he'll be eligible to return when rosters expand on September 1. Even if he stays through the end of Scranton's season, it won't keep him down for much longer than that. He figures to play a role in the bullpen for the stretch run, but more importantly, he could be setting himself up for a long run with the Yankees.
Noesi came up this season in something of an emergency situation. The Yankees needed another pitcher when Luis Ayala went on the DL, and Noesi was the easiest to recall, since he was already on the 40-man roster. That happened on April 13th, but Noesi didn't make his major league debut until May 18th (he was demoted before making an appearance). When he finally got his shot he shined, allowing just three runs in his first 18 innings, including six innings of two-run ball against the Red Sox. Outside of his drubbing against the Reds he's been excellent this season, and has certainly opened some eyes.
One of the biggest remaining questions with Noesi is whether he'll land in the rotation or the bullpen. It's a familiar question, since we hear it asked of almost every Yankees back-end starting prospect. They have a handful of pitchers comparable to Noesi, including the major-league-ready Adam Warren and the already-doing-it Ivan Nova. Since they don't have room for multiple No. 4 starters, they have to pare down the list and either ship the surplus elsewhere or else move them to the bullpen. Where does Noesi stand in that process?
In his limited time this year he's certainly proven a lot to the Yankees. He's made some longer appearances, seven times going at least three innings in an appearance. He's also come in for a number of shorter appearances, and has excelled in those, too. Really, the only blemishes on his record are the 1.2-inning, six-run performance against the Reds and a one-inning, three-run affair against the Sox on a day that they rocked CC Sabathia for seven runs. In other words, he could probably hack it in either the rotation or the bullpen. That leaves the Yankees in a favorable position, whatever way they decide to play this.
His presence should leave the Yankees in a flexible position this winter. They'll return three starters and five relievers (with Joba's return looming), so they could have an opening in either place for Noesi. In fact, with these openings, combined with the weak market, it appears fairly certain that Noesi will start the season on the major league roster. Given his performance this year, the Yankees should feel comfortable putting him in whatever role remains free.
The only thing that could prevent Noesi from playing a prominent role on the 2012 team is a trade. But, because he has experienced success in multiple roles already this year, chances are the Yankees would hold off on trading him, just as they've held off on trading Nova. It's doubtful that Noesi would get in the way of a significant trade, but they're not going to flip him for a bench player or a back-end starter. They likely already have a back-end starter in him, as well as a decent reliever who could move into a more prominent bullpen role next year. I imagine the Yankees would much refer to trade a guy like Warren, who might be as good but hasn't yet pitched in the majors.
He might have appeared sporadically, and he might not have filled a designated role during his time with the club, but Hector Noesi has certainly opened eyes this year. It's tough to prove anything substantial in 40 innings, but Noesi has at least shown that he can handle major league hitters. His versatility will make the Yanks' winter a bit easier, since they can slot him into one of many roles for 2012, when he should remain with the big league club full-time. He might never be an ace or a dominant reliever, but the Yankees have certainly found a useful pitcher in Noesi. May his stay in Scranton be short and his time in New York last for years.