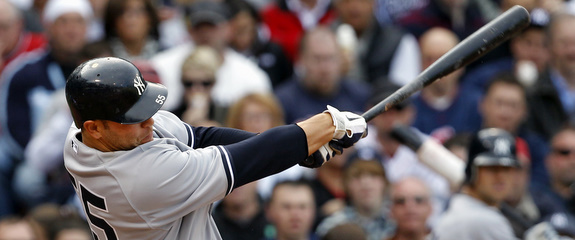 The month of April is simultaneously great and terrible for baseball fans. It's great because hey, meaningful baseball is back, but it's terrible because there is so much noise. Some guys look like MVP candidates while others completely cooked in the first few weeks of the season, but there's just not enough data to support either argument. Take Brett Gardner. He got off to a brutal start in April (.188/.273/.391) but bounced back and has hit .304/.380/.408 since the calendar flipped to May.
Russell Martin was on the other end of the spectrum. He came out of the gate like a mad man, clubbing six homers in the team's first 17 games and looking like a $4M free agent bargain. His season has gone south since (.205/.306/.309 in the last 96 team games), though he has shown some signs of life since the All-Star break (.254/.325/.380) and since the start of that ten-game homestand two weeks ago (.283/.333/.457). But still, there's no denying that Martin has struggled offensively basically all season, and what do struggling hitters do? They go to the hitting coach.
Yankees hitting coach Kevin Long has done many great things over the years, none more spectacular than transforming Curtis Granderson from a platoon outfielder into an MVP candidate. Grandy's transformation has keyed us into some of Long's techniques, and perhaps his biggest calling card is the two-handed follow through. We've seen Granderson use it, Mark Teixeira use it, and even Gardner for a while. Martin, in case you haven't noticed, is now employing that same finish on his swing.
Through the magic of MLB.tv, I was able to go back and find when the transition from a one-handed follow through to a two-handed follow through occurred. The screen cap below shows two games: the clip on the left is Martin's second-to-last at-bat on June 1st against the Athletics in Oakland (he struck out in his final at-bat that game and I want to see his follow through when he made contact), and the clip on the right is his first at-bat on June 3rd against the Angels…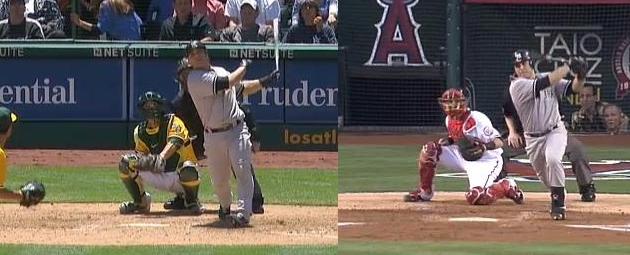 Russ followed through with one hand against the A's, then two days later it was two hands. The Yankees finished their series in Oakland on the 1st, were off on the 2nd, then played in Anaheim on the 3rd. You can connect the dots and see that it's likely Martin and Long got together and made the adjustment during the off day. Here's video of his last homerun before the switch, which came about a week earlier on May 24th, and here's video of the single that came from that first at-bat in Anaheim. If you want to go back even further, here's his first homer of the season and here's his most recent. We'll never know with any certainty, but it certainly seems like the adjustment was made during that west coast trip.
So that's great, Martin's using a two-handed follow through nowadays and he's making an effort to improve his performance. But is it working? Eh, not really. He hit .242/.352/.458 in 179 plate appearances before the change and has hit just .213/.294/.307 in 170 PA since. If you want to remove the scorching hot start, it's a .192/.322/.313 batting line in the 118 PA immediately prior to the change. It doesn't look like the two-handed follow through has done anything, but those are output stats. They're just results subject to things like defense and wind and whatnot. We've got to look at the process.
If you take a look at the spray charts (one-handed follow through, two-handed follow through), you'll notice two things. One, there aren't nearly as many balls hit to (moderately) deep left field after the adjustment as there are before, and there's also way more ground balls (specifically to the left side) since the change. You can see the spike in Martin's ground ball rate in his day-by-day batted ball profile…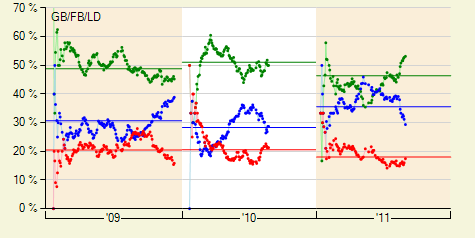 Based on what Long has said when being asked about Granderson's adjustments, a two-handed follow through allows the hitter to keep the bat in the hitting zone a little bit longer, which theoretically should lead to more contact. Martin's strikeout rate went from 16.2% before the change to 14.7% after, a small but not negligible difference. You can probably make the case that a few more strikeouts wouldn't be the worst thing given the increased ground ball rate, just to avoid some potential double plays.
Anyway, I don't really know where I'm going with this. I just think it's interesting to see another batter adopt the two-handed follow through, which is clearly K-Long's doing. It didn't work for Gardner and the early returns suggest it isn't working for Martin, but I don't think it was ever intended to be some kind of cure-all. Every player is different, which is why it doesn't work for everyone like it worked for Granderson, but that doesn't mean it's not worth trying.