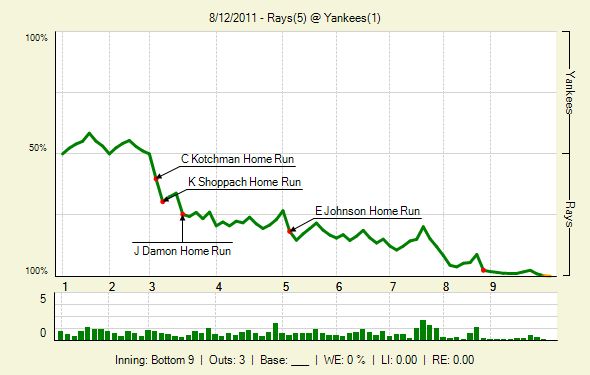 This was a weird one. It was the first time in a while, I guess since last September, that I watched a baseball game and honestly wasn't bothered by anything on the field. I guess I've reached that point of the season where I'm just going through the motions, counting down the days on the calendar as the Yankees nurse their lead on a playoff spot. Let's recap…
Solo homeruns usually won't beat you, but they will when you give up five of them like CC Sabathia did in this game. Three of those five came in the third inning, the second time in his career he's surrendered three homers in an inning. Two of them were hit by lefties (Casey Kotchman and Johnny Damon) in that third inning, after he'd allowed just two homers to lefties all season. The five homers are a new career-high allowed, which I'm sure you've already guessed.
The common theme of the night for Sabathia was location, or lack there of. All five homers came on pitches that missed their spots, several of them substantially. The pitch Kotchman hit out wasn't even a strike, it was up at his eyes and he just tomahawked it out. None of them were Yankee Stadium specials really, maybe Evan Longoria's in the eighth inning was borderline. This was just a case of homerun rate regression, more than anything. Sabathia came into the game with a 0.39 HR/9 and 4.9% HR/FB on the season, well below his career marks (0.76 and 8.2%, respectively). It was bound to even out at some point, good thing he got it out of the way all at once.
This is the fourth time the Yankees have faced David Price this year, and he's gotten better and better each time out. This time it was eight innings of one-run ball, though he got a little help from a perfect relay by Sean Rodriguez to cut Nick Swisher down at the plate to end the fourth. One run had scored on the play, and if Swish was safe, then all of a sudden it's a 3-2 game with Andruw Jones on second. Who knows.
Derek Jeter, Mark Teixeira, Robinson Cano, Swisher, Jones, and Brett Gardner all had exactly one hit. Jones' double was the only non-single. Swisher also drew a walk, and that pretty sums up the offense. Jeter grounded into a pair of double plays, something he hasn't done in a while. In fairness, once was a really nice play by Rodriguez. Price struck out just four, but got 15 ground ball outs compared to just four in the air.
Luis Ayala manged to pitch into and out of a bases loaded jam in the eighth. He's quite good at that, I've noticed. Hector Noesi, meanwhile, has thrown 2.2 innings in the last 16 days. He did start to get loose in that eighth inning, so that means he's unavailable for a few days, right? Oh, and what's the point of sending CC back out there for the eighth? Just because he can throw 110 pitches a start doesn't mean he has to. Save some of those bullets!
The win brings Tampa to within 7.5 games of the Yankees for the wildcard, the closest they've been in two weeks. Here's the box score, here's the advanced stats, and here's the updated standings.
The Yankees announced that they will have a pregame ceremony on the field before Saturday afternoon's game to honor Derek Jeter's 3,000th career hit. So make sure you get there early, if you're heading out. If you're not going but want to, RAB Tickets can get you there dirt cheap. Phil Hughes will be making what is likely his last start for a while, matching up against Jeremy Hellickson.