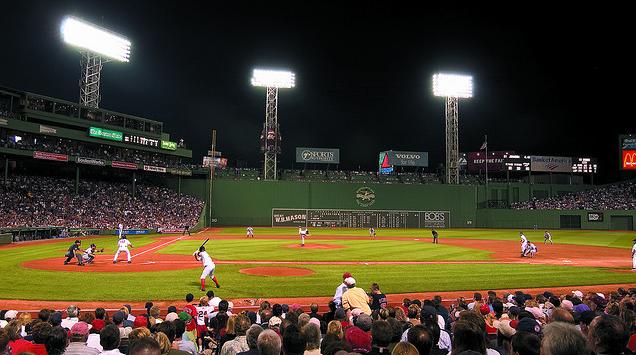 Weren't the Yankees just here? And isn't this like the tenth series they're going to play in Fenway this season? Anyway, you all know the story by now. The Yankees are just 2-10 against the Red Sox this year and yadda yadda yadda, blah blah blah. None of these games are must wins, obviously, but they're definitely "boy it sure would be wonderful to win this one if they're serious about going for the division title" games. The Yanks were a Mariano Rivera blown save away from taking two of three from the Sox earlier this month, and I'd happily take my chances in that situation again this time around.
What Have The Red Sox Done Lately?
Well, they haven't played in a while, since Saturday in fact. The Red Sox scheduled a doubleheader against the Athletics on Saturday to avoid Hurricane Irene on Sunday, plus yesterday was a regularly scheduled off day. They swept the A's in the doubleheader and won two of three in the series, and before that they won three straight and three of four against the Rangers in Texas. Overall, the Sox are 82-51 with a +163 run differential. Maybe they'll be flat after the long-ish layoff.
Red Sox On Offense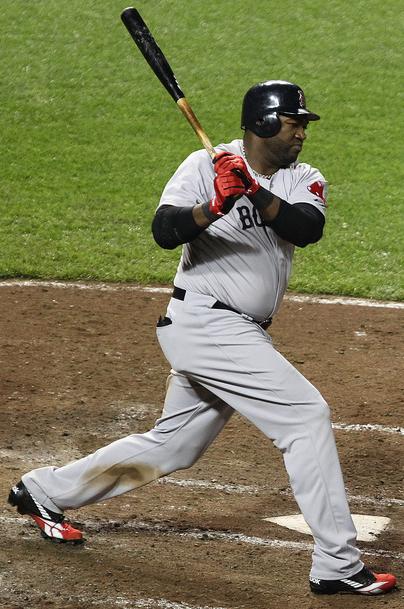 As you've probably heard, the Red Sox can hit. A lot. They've got a .279/.349/.458 batting line (.352 wOBA) as a team, numbers that rank either first or second in all of MLB. They're even better at Fenway Park, hitting .297/.362/.478 as a team. It all starts with Jacoby Ellsbury at the top of the lineup, who's hitting .312/.369/.521 on the season but a much more human .265/.318/.496 during the last month. Dustin Pedroia is up to .308/.398/.474 on the season and he crushes lefties (.386/.500/.593), but he's been batting cleanup of late because Kevin Youkilis is on the disabled list with a back problem. Marco Scutaro (.270/.333/.370) has temporarily taken over the two-hole for the time being.
Adrian Gonzalez (.345/.405/.559) might be the best pure hitter in the league, and he recently snapped a lengthy homerless drought (95 plate appearances, still just eight homers in his last 285 PA). He figures to see Boone Logan a few times in the series (.445 wOBA vs RHP, .343 vs LHP). David Ortiz actually leads the Red Sox in OPS (.311/.396/.587) and the last super serious threat in their lineup. Carl Crawford (.251/.285/.388) is terrible, Jed Lowrie hasn't hit since coming off the DL earlier this month (.242/.279/.306), and the right field platoon of Josh Reddick (.278/.326/.475 vs. RHP) and Darnell McDonald (.215/.295/.468 vs. LHP) is about league average for the position. Jarrod Saltalamacchia has power (.220 ISO), but he's gotten on base less than 29% of the time over the last two months.
Like the Yankees, Boston doesn't really have much use for their bench because their regulars are so good. At some point we'll see Mike Aviles (.321/.339/.358 in limited time since the trade) and Jason Varitek (.234/.310/.432), and there's a chance Youkilis will be activated at some point during the series (starts rehab today, so he might be back Thursday).
Red Sox On The Mound
Tuesday, RHP John Lackey (vs. CC Sabathia): Lackey's been pretty terrible this year (5.98 ERA and 4.71 FIP) but he's pitched slightly better since the All-Star break (4.65 ERA and ~4.40 FIP). His strikeout rate (6.33 K/9) has gotten worse ever single year since 2005, and although his walk rate is solid (2.78 BB/9), his homerun (1.25 HR/9) and ground ball (39.5%) rates aren't. The Yankees have scored nine runs in eleven innings off Lackey this season, and he works with a pair of low-90 fastballs (two- and four-seamer), a high-70's curve, and a mid-80's slider. The lefty bats have to step up in this one, they've destroyed him this season.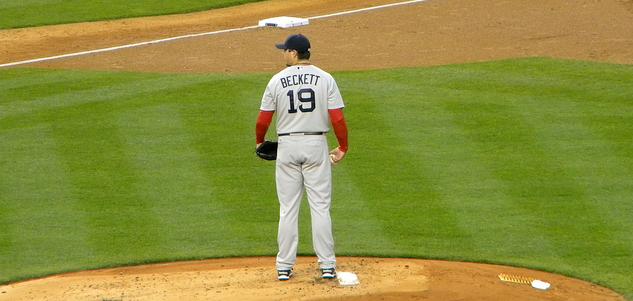 Wednesday, RHP Josh Beckett (vs. Phil Hughes): In most years, a guy with Beckett's numbers (2.43 ERA and 3.46 FIP) would get some Cy Young love, but he's thrown about 40 fewer innings than most of the true candidates. He's shut the Yankees down four times already this year (three runs in 27 IP), but the last two times he faced them he was merely very good and not utterly dominant. It's all about the curveball for Beckett, if he's throwing his mid-70's yakker for strikes on the corners and/or at the knees, he's as good as it gets. If not, he gets predictable and leans heavily on his mid-90's heat. Hopefully the fifth time is a charm.
Thursday, LHP Jon Lester (vs. A.J. Burnett): After two straight years of sub-3.20 FIPs and three straight years of sub-3.70 FIPs, Lester is up to a career-worst 3.83 FIP while posting a career-best 3.09 ERA. Go figure. His strikeout rate is down a touch but still excellent (8.44 K/9), and right-handers have really hurt him more this year than ever before. Lester's a true five-pitch pitcher, throwing a low-90's four-seamer, a low-90's two-seamer, a high-80's cutter, a mid-70's curveball, and a mid-80's changeup. He loves to backdoor that curve to righties, it's got more 11-to-5 break that the usual 12-to-6. He's pitched well against the Yankees this season but not really great, exactly six innings each time out and either three or four runs allowed (three total starts).
Bullpen: The late game duo of Daniel Bard (2.83 FIP) and Jonathan Papelbon (1.75 FIP) is as good as it gets, but the rest of the cast is a little shaky. Al Aceves (2.15 ERA but 3.80 FIP) is filling the same role he filled with the Yankees in 2009, and Matt Albers (3.33) has been given every opportunity in high-leverage spots but doesn't seem to want the job (19 baserunners and 13 runs in his last 4.2 IP). Dan Wheeler (3.63 FIP) has been dynamite since coming off the disabled list in May (~2.80 FIP in 34.2 IP), but lefties still pound him (.288/.347/.455 against). Franklin Morales (2.97 FIP) is the only lefty they have out there, but we could see Andrew Miller (3.68 FIP) in relief. Tim Wakefield (5.56 FIP) is another possibility.
Recommended Red Sox Reading: Over The Monster.
'Tickets, Please'
TiqIQ has you covered.