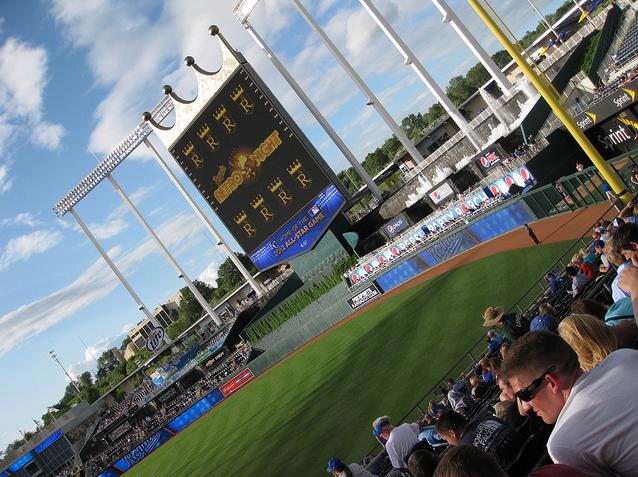 Kauffman Stadium is one of the nicer parks in the league I hear, especially after they renovated the place a year or two ago. Ben will be there for all three games this week, but alas, I'll be watching on the ol' idiot box. These two clubs met in New York earlier this season, with the Royals taking two of three. They won the first game in extra innings thanks to Buddy Carlyle, and the other by pounding Ivan Nova.
What Have The Royals Done Lately?
Yesterday's loss to the White Sox was their second straight loss and their sixth in their last seven days. They've also lost eight of their last ten. The Royals are 50-71 overall with a -55 run differential, occupying the bottom spot in the AL Central.
Royals On Offense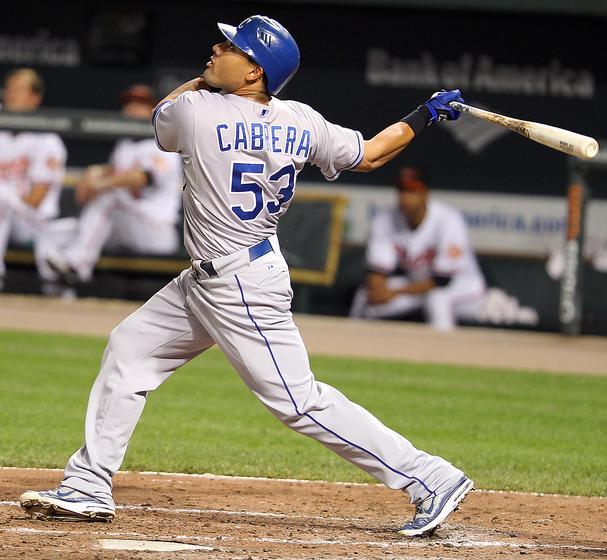 Kansas City has a pretty legit offense, though the lineup is top heavy. Alex Gordon (.298/.372/.480) is their best all around hitter (and player) and leadoff guy, and former Yankee Melky Cabrera (.311/.343/.478) has settled into the number two spot. Billy Butler (.284/.363/.445) bats third and rookie Eric Hosmer (.275/.328/.425) cleans up. Hosmer hit his first career homer in Yankee Stadium earlier in the season, and he's hitting a stout .293/.354/.469 over the last six weeks or so. Jeff Francoeur soaks up the fifth spot with his .272/.323/.460 batting line. Those five are the only players on the team with double digit homeruns, and all of them except Hosmer have either 14 or 15 (Hosmer has ten).
The rest of the lineup is pretty iffy. Recent call-up Johnny Giavotella is guaran-damn-teed to be that pain in the butt player this series, and he's hitting .289/.325/.474 in limited time. Third baseman Mike Moustakas is having trouble after making the jump from hot shot prospect to big leaguer (.184/.242/.232 in a small-ish sample), and another recent call-up (Salvador Perez) has taken over behind the plate (.264/.250/.333 in four games). Alcides Escobar is in the lineup for his glove (+8 UZR, +11 DRS), not his bat (.251/.288/.332).
That group of players up their represent their regular lineup, and like the Yankees, the Royals only have three players on the bench. That's backup catcher Brayan Pena (.262/.302/.364), backup infielder Chris Getz (.256/.315/.285), and backup outfielder Mitch Maier (.253/.364/.360). Kansas City is one stolen base behind the Yankees for the AL lead, and they have five players with at least ten steals (Getz, Escobar, Gordon, Melky, and Frenchy). It's a better offense than you may realize.
Royals On The Mound
Monday, RHP Felipe Paulino (vs. A.J. Burnett): Claimed off waivers from the Rockies earlier this season, Paulino (a former Astros) has quietly performed like a borderline ace for the Royals in a dozen starts. His strikeout (8.23 K/9) and walk (2.90 BB/9) rates are very good, and although 44.8% grounders isn't great, it'll get the job done with those walks and whiffs. Paulino brings the heat, legitimately sitting in the mid-90's with his fastball and throwing his slider in the high-80's. He's also got a changeup and curveball, but they're distant third and fourth offerings. Unsurprisingly, he does have some trouble with lefties. The Yankees have never faced Paulino, and he's allowed more than three runs just four times as a Royal. He's sneaky good.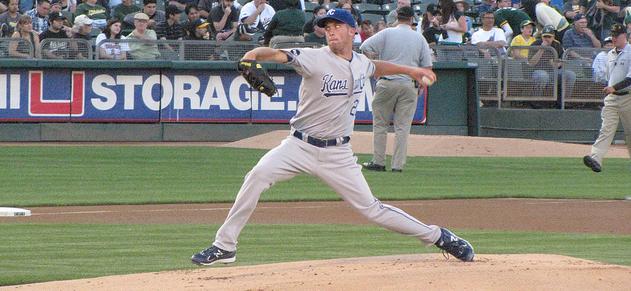 Tuesday, LHP Danny Duffy (vs. Nova): Another guy the Yankees have never faced before, Duffy was one of nine top 100 prospects the Royals boasted coming into the season. He's been below-average in 15 starts since being called up, walking too many (4.41 BB/9), getting too few ground balls (39.4%), and throwing too many pitches (averaging 97 pitches and just 5.1 IP per start). Duffy's a hard-throwing lefty, sitting in the 92-94 range with his four-seamer and a touch below that with his two-seamer. A big-breaking mid-70's curveball is his bread and butter pitcher, and his low-80's changeup is a decent offering as well. Duffy certainly has the ability to shut the Yankees down, but I'd like to think that they'll punish a rookie pitcher with walk and fly ball issues.
Wednesday, LHP Bruce Chen (vs. Bartolo Colon): For some reason I thought Chen shut the Yankees down last year, but he made just two starts against them and neither was all that great: 6 IP, 5 R and 5 IP, 3 R. He's having a similar season to last year but is just a bit worse across the board, with underwhelming strikeout (5.59 K/9), homerun (1.16 HR/9), and ground ball (37%) rates. His walk rate (3.28 BB/9) is fine though. Chen is a total soft-tosser, sitting 84-88 with a variety of fastballs (four-seamer, two-seamer, cutter). A low-80's slider is his top secondary offering, and he'll also mix in a high-70's changeup and low-70's curve. Chen's been pretty good since coming off the DL in late June, allowing three or fewer runs in six of nine starts. He did cough up ten runs just three starts ago, though.
Bullpen: Three men on the bench means eight guys on the bullpen. Closer Joakim Soria has dug himself out of an early season rut, pitching to a 2.22 ERA with 27 strikeouts and just four walks in 28.1 IP since the calendar flipped to May. His primary setup man these days is righty Greg Holland (2.56 FIP), though Aaron Crow (3.85 FIP) will also get some late-inning work as well. Louis Coleman (3.69 FIP) is a side-arming righty without much of a platoon split, but that's because he hasn't been up all that long. Tim Collins has gaudy minor league numbers but also some major walk problems (6.66 BB/9 and 4.74 FIP). Blake Wood (4.13 FIP), Nathan Adcock (4.45 FIP), and Everett Teaford (7.13 FIP in a small sample) fill out the rest of the bullpen, doing everything from long relief to middle innings work. Collins and Teaford are the two lefties.
Recommended Royals Reading: Royals Review