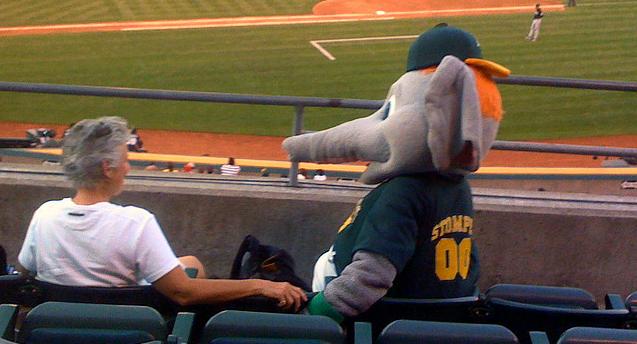 The Yankees just finished a series with a team they typically dominate, and now they're welcoming another one to the Bronx. The Athletics have won just five of 31 games against the Yankees since the start of the 2008 season, and they're already 1-5 against them this year. That domination, homes.
What Have The Athletics Done Lately?
Although they lost Sunday, the A's are actually pretty hot, having won four of their last six games against AL East competition. Okay fine, it was the Orioles and Blue Jays, but it still counts. They've scored just seven runs in the last four games though, the story of their season. The Athletics are well below .500 at 57-70 with a -24 run differential.
Athletics On Offense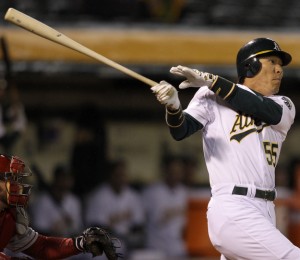 When Oakland was in town a few weeks ago, it was former Yankee Hideki Matsui that did most of the damage. He went 7-for-13 with two doubles and homer in the three games, and he's hitting .372/.424/.543 in 33 games since the All-Star break. Josh Willingham is also coming in hot, with a .277/.354/.675 batting line with nine homers in his last 22 games. Recent call-up Brandon Allen (part of the Brad Ziegler trade) is hitting .379/.424/586 in limited time. Those three are the meat of the order, the guys with some pop that can drive in a run even when no one's on base.
At the top of the order you have Jemile Weeks (.289/.319/.402 with 14 steals in just 64 games) and Coco Crisp (.268/.324/.380 with 37 steals), two guys that will run at will. Further down in the lineup you have David DeJesus (.229/.315/.367), Kurt Suzuki (.230/.291/.381), Scott Sizemore (.235/.333/.358), and Cliff Pennington (.258/.317/.348). Conor Jackson will work his way into the lineup against left-handers as well (.274/.352/.381 vs. LHP). Bench pieces Eric Sogard (.176/.243/.265), Ryan Sweeney (.283/.358/.356), and Landon Powell (.176/.257/.235) don't pose much of a threat. The trio of Matsui, Willingham, and Allen can do some damage, but the rest of the offense can be pitched too without much of a concern.
Athletics On The Mound
Tuesday, RHP Brandon McCarthy (vs. Bartolo Colon): Other than being a fine follow on Twitter, McCarthy has had a nice comeback year after dealing with injuries for several years. His 2.83 FIP is off the charts, though his ERA (3.74) is much more pedestrian. McCarthy is all about avoiding walks (1.30 uIBB/9) and getting ground balls (47.1%), and he'll occasionally mix in strike three (5.87 K/9). He's a big dude (6-foot-7, 200 lbs.) and he uses his size to get good downhill plane on his 90-ish mph fastballs (both two and four-seamer). A high-80's slider is his third pitch (really second counting the fastballs as one entity). McCarthy's a tough assignment, he might sneak up on the Yankees.
Wednesday, RHP Trevor Cahill (vs. CC Sabathia): Poor Mr. Cahill, he just can't beat the Yankees. Hell, forget about beat them, he can't even put together a half-decent start against them. Cahill is 0-4 in four career starts against New York, allowing 28 runs in 18.2 IP for his career and 14 runs in 8.2 IP in two starts this year. That's pretty rough. The righty is a sinker-curveball-changeup pitcher, typically getting a ton of grounders (56%) and just enough strikeouts (6.51 K/9). Four games spread out over the last two years is nothing, but you have to feel confident whenever the Yankees step in the box against Cahill.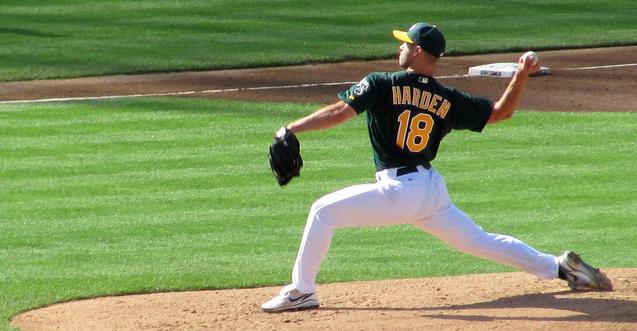 Thursday, RHP Rich Harden (vs. Phil Hughes): The Yankees have been scouting Harden's recent starts, and now they'll get a(nother) first hand look at him. He held the Yanks to two runs in 5.2 IP at the end of July, but he walked four and threw 104 pitches. Harden's coming off his best start of the year, an eleven strikeout, two hit gem against the Jays last over the weekend. He's still primarily a fastball-slider guy, but he's mixing in his strikeout splitter more and more these days as he gets further away from his latest arm problem.
Bullpen: All-Star closer Andrew Bailey (2.23 FIP) is back from injury and as good as ever, allowing Grant Balfour (3.27 FIP) and Brian Fuentes (3.92 FIP) to work roles more suited to their abilities (setup, basically). Lefties Craig Breslow (3.36 FIP) and Jordan Norberto (3.18 FIP in a small sample, also part of the Ziegler trade) will matchup with righties Fautino De Lo Santos (3.29 FIP) and Bruce Billings (just 3.2 IP to his credit since being called up). It's a solid relief corps overall, especially in the eighth and ninth innings.
Recommended Athletics Reading: Athletics Nation and Beaneball
Tickets
As always, grab some tickets via TiqIQ and RAB. Here's your preview image.