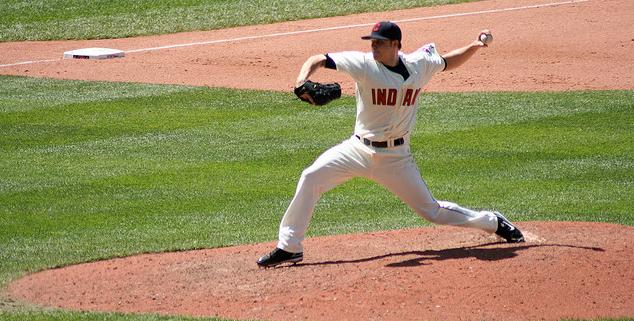 Stop me if you're heard this before, but the Yankees are looking for a veteran lefty reliever. I know, shocking, but that's what Jayson Stark reported yesterday. The Yankees dumped J.C. Romero from their Triple-A squad last week (he's since hooked on with the Rockies) and claimed Raul Valdes off waivers earlier in the week, but he's a veteran in terms of age (33) only (just 64 IP in the bigs). Another veteran(-ish) southpaw hit the market yesterday when the Mariners cut ties with Aaron Laffey (a former Indian, hence the picture), so let's see if he's a guy that makes sense for the Bombers.
The Pros
Well, he's left-handed, and that's always a plus. Laffey's got a classic LOOGY repertoire, which means a fastball in the high-80's and a sweepy slider in the low-80's that helps generate a ground ball 51.5% of the time. He'll also mix in the occasional low-80's changeup and high-70's curveball, but very rarely.
Laffey came into the season with one minor league option remaining, and although he was sent to the minors on July 30th, he was recalled two days later due to an injury. Because it's already August 18th, any team that acquires him could stick him in Triple-A until September 1st and not burn that option because he will not have spent the required 20 days in the minors. Long story short, he has an option for next year.
He's under team control for three more years after this one, and won't make much money in his first trip through the arbitration process this winter. Something in the high six-figures is the most likely salary for next year.
The Cons
He may be left-handed, but Laffey has never been all that good against same side batters in his big league career. Lefties have tagged him for a .250/.321/.431 batting line (10 K, 7 BB) in 81 PA this year and .271/.339/.388 (77 K, 37 BB) in 488 PA for his career.
Laffey's peripheral stats are terrible. His career overall numbers are an eyesore (4.44 K/9 and 3.42 uIBB/9), and against lefties they're merely mediocre: 6.15 K/9 and 2.88 BB/9 with a 47% ground ball rate. That hardly screams "valuable reliever in the AL East."
Uh … well he's not really that much of a veteran, which is what the Yankees are reportedly looking for.
By no means is Laffey great, but we have to remember what we're talking about here: a potential second lefty reliever. Not the number one guy that will get the big outs in the seventh and eighth innings, just a spare arm for some miscellaneous matchup work. I do like Laffey for that role, or perhaps I should say I like him more than the current in-house options (Valdes and … Steve Garrison?). That's a better way to put it. That fact the team will be able to send him the minors next year without a problem is great, just because it's an added level of flexibility and bullpens thrive on that. I wouldn't give up anything of value to acquire Laffey, I don't like him that much, but there's nothing wrong with making a waiver claim and rolling the dice on a young (26), cost-controlled, and optionable southpaw for the rest of the season and next.