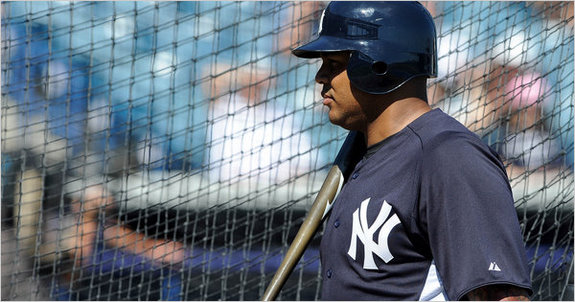 Andruw Jones made a pretty good first impression on Yankees' fans. His first plate appearances of the season resulted in six pitch at-bat and a solo homer off Twins lefty Brian Duensing, exactly the kind of pitcher he was brought in to mash. Andruw had four hits in his first four games (three starts and 11 plate appearances), including a double and the homer, so everyone was happy. Unfortunately the good times stopped there, at least for a while.
Jones' bat went silent after that, with April 27th and May 25th (two dingers) representing his only other multi-hit games in the first half. He went into the All-Star break with a .195/.278/.356 batting line in 97 plate appearances, hitting just .231/.315/.446 in 73 PA against lefties. Forty-one days had passed since his last extra base hit when the Yankees parted ways for the break, and he had been hitless in his ten previous at-bats before the midseason vacation. Considering how massively productive (126 wRC+) and likable the guy he is replacing (Marcus Thames) was in 2010, the majority of the fan base was decidedly anti-Andruw come mid-July.
Since the All-Star break, it's been a much different story for Mr. Jones. He started the first game of the second half against the Blue Jays and lefty Jo-Jo Reyes, and he responded with two homeruns. Two days later he started against Ricky Romero and singled in the tying run in the eventual win. Gio Gonzalez was met with two RBI singles a few days later, and a couple days after that it was Zach Britton feeling the wrath of an RBI double and Jason Berken getting taken deep for a solo shot. Andruw came back from the break like a man possessed, hitting everything in sight and he hasn't stopped since.
In 46 second break plate appearances, Andruw's hitting .342/.457/.632 overall and .370/.485/.667 against lefties. Of course it's a small sample size, we're not trying to determine if this pace is sustainable (hint: it's not), we're just acknowledging that Jones was able to shake off the poor first half and make some noise heading into the dog days of summer. His season batting line has been boosted to .240/.336/.440, better than his preseason ZiPS projection (.221/.320/.438). He's getting on base (.368 OBP) and hitting for way more power (.239 ISO) in 106 PA against lefties than Thames did last year (.352 OBP and .154 ISO) in 142 PA. Andruw's also hitting .343/.410/.543 with runners in scoring position, for those inclined to value those situations.
The season hasn't gone exactly according to plan for the Yankees fourth outfielder, but a scorching hot start to the second half has helped offset his awful first half. Jones is at the point where he's doing what's expected of him, and that's get on base and hit for a ton of power against lefties despite a low batting average while playing something better than awful defense. It's a thankless job for a guy that once ran off four 7+ fWAR seasons in a five year stretch and owns 400+ career homers, but Jones is contributing to the Yankees cause and has been better than expected since the All-Star break.