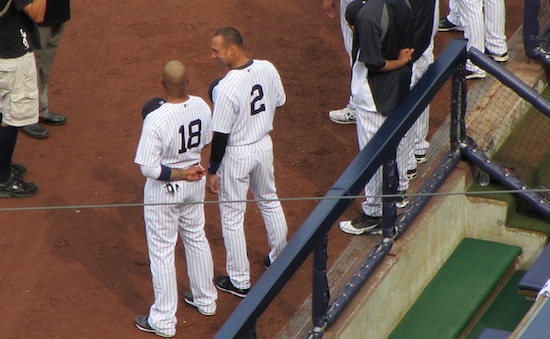 Over the course of the season, we've seen that this Yankees team really has strong components, even if they don't all work at the same time. They pitch pretty damn well, they hit just fine, they're pretty strong defensively, and they have an amazing bullpen. And while the stats may back this up, what's more important is that the Yankees have players that embody the concepts that make a team great. You can have a great FIP or wOBA, but who cares if your team isn't filled with true ballplayers? Let's break down the team and make sure that, along with the best run differential, the third best bullpen ERA, and the sixth best ERA as a team, the Yankees know how to play baseball.
A Team Leader

One of the most important parts of a team is having a leader that can accurately explain what your team is going through at any given time, push their own problems and accomplishments by the wayside, and really encompass what a team is all about. Luckily, the Yankees have been gifted in this area of team chemistry for a long time with Derek Jeter at the helm. Three thousand hits? Winning is more important. Horrible, ground ball-induced slump? Small stance changes. Red-hot streak? Trying to help the team. Even before his anointment as captain in 2003, Jeter has always lead the team. The other important thing is that Jeter bats leadoff. The only places a true leader can bat are leadoff and cleanup, which helps noble fans distinguish who is a real leader and who is faking it. You don't want to be mislead by fake leaders such as Jason Varitek (bats 8th) or Chipper Jones (bats sixth). But Derek Jeter and Dustin Pedroia….those players can really carry a team to victory.
A Professional Hitter

Sure, some hitters can get on base, hit homers, see a lot of pitches or take walks. Sure, some hitters can spray hits everywhere or beat out infield singles. While these are moderately important traits for a hitter, the most important tool is the professional at-bat. You want a guy who goes up there, spits on his hands, kicks the dirt, and really gets into a batting stance. In that case, there's only one player that really qualifies: Andruw Jones. You can tell, from his massive biceps to his amused smile, that he knows how to hit. He goes up there with his doctorate degree in "sitting dead-red," and he swings the bat. And he really swings the bat! He is never cheated out of hits, which is one of the most important parts of being a professional hitter. Also, only a man who truly knew how to swing the bat could do this. I don't see Brett Gardner putting homers in the third deck, all right?
A Proven Veteran

Six hundred plate appearances is a lot. That's a lot of time to practice something you have to be good at. Multiply that by ten or fifteen years, and you're talking about thousands and thousands of plate appearances. While some people might just have a knack for baseball the minute they hit the bigs, the more important thing is having a player who's had more plate appearances than you can even count. You don't even have to hit in most of them. The experience is all that counts, and the Yankees have plenty of experience. The most experienced member of the Yankees? Jorge Posada.
I'm not talking about this in number of actual plate appearances, even if he has the most (I'm not checking because this article isn't about numbers), but in the way Posada has had almost an unfair amount of experience at the plate. Blowouts both ways, playoffs galore, every possible situation leverage-wise that you could think of – the man's done it all in style. He's the kind of guy who can share his knowledge on how to get hits in the clutch with the young core of the team. It's insane to think he might be cut or left off the playoff roster. A resume like Posada's is a necessity.

A Gritty Grinder

You know what's coming with this one, right? In every baseball game, there are times where nothing is more important than hustle and grit. A player with a lot of grit can make close plays, dive headfirst into first base, and isn't afraid to get their uniform dirty with a steal. A grinder goes out there and plays every day, every inning, every at-bat as hard as they can, with an almost indescribable amount of ferocity.
It's true that no player on the Yankees can match up to the absolute grittiness of Dustin Pedroia. There is no one better than him at playing every inning as hard as he can. Even those jumps before each play – what does that say about him? He's ready. He's ready for the line drive that jumps up on him, the diving catch and the dramatic double-play. There is no one in the history of baseball more ready than Pedroia.
That being said, the Yankees will have to settle for a fairly gritty man themselves: Brett Gardner. Even though his outfield station takes away from some of his grittiness, the way he plays practically makes it all back. Gardner makes every play interesting, from his on-the-run catches to his crazy dives. His real hustle, however, comes from the basepaths. THere is something to be said for the way he busts his ass to first base. There is even more to be said about his constant first base sliding. Why, only a person who really knew how to play the game would dive into first base. Additional speed? Momentum? Pfft! These are all things Gardner knows are less important than his incredible grittiness. His dirty uniform says it all: I move. I move fast. I play every inning as hard as I can. I am truly gritty.
I'm glad to see that this team has just as much (if not more) heart and soul than it has power numbers. From Posada's sagedom to Jones' at bats and Gardner's hustle, there's nothing we have to worry about in terms of the product on the field. Sure you could talk about the numbers – Granderson's home runs, Cano's batting average- but anyone could do that stuff. What's valuable is our team plays the game the right way – and they certainly do.