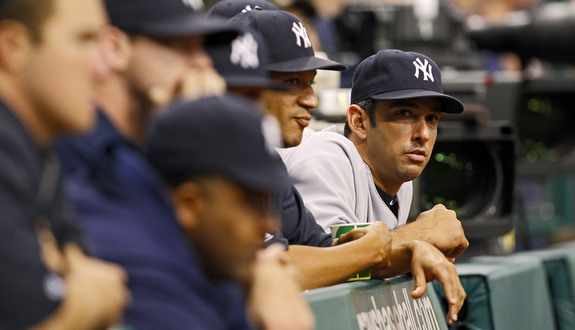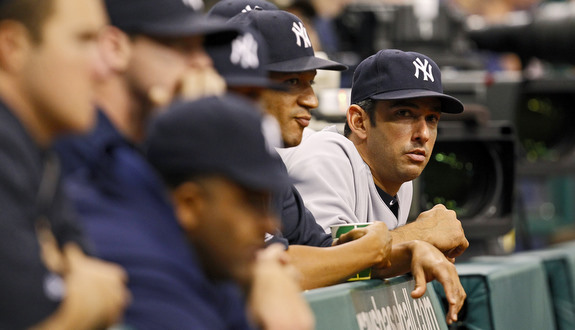 The Yankees continued the long and painful process of phasing Jorge Posada out yesterday, informing their long-time catcher that his playing time will decrease because they need to put their best lineup on the field and he's not a part of it. "[We'll] try some different things [at DH]," said Joe Girardi before yesterday's game, a pretty good indication that they're going to rotate people in and out of the spot for the next few days and maybe weeks. That's all well and good, but now the Yankees are working with a roster that offers very little flexibility.
Due to the team's six-man rotation situation, the Yankees are currently carrying 13 pitchers on the 25-man roster, which means only three bench players. Before yesterday those three guys were Frankie Cervelli, Andruw Jones, and either Eduardo Nunez or Eric Chavez. Now it's Cervelli, Jones, and Posada, basically a backup catcher/emergency infielder, a platoon outfielder, and a platoon DH. You can't do anything with that, especially if the Yankees are committed to not playing Posada more than once or maybe twice a week.
"Eventually we will probably get to 12 pitchers," said Girardi. "That will give our bench more versatility. We are not a club that necessarily pinch-hits a lot, we are not a club that has to make a double switch. The bench in the American League, the versatility isn't used a ton. Our thought moving forward is that some of our guys' day off will be DH days."
I'm in favor of the six-man rotation, at least temporarily to give Phil Hughes and Ivan Nova innings at the big league level while CC Sabathia, Bartolo Colon, and Freddy Garcia all get a little extra rest heading into the season's final month and (potentially) the postseason. It's going to hinder the roster construction but only if the Yankees let it. There's no reason to carry all three of Hector Noesi, Luis Ayala, and Cory Wade on the roster, so send one down for an extra position player. Noesi is the easy choice there, let him start in Triple-A to build innings and what not. A six-man bullpen isn't the end of the world.
The Yankees also have the option of using the phantom DL to open a roster, basically coming up with a fake injury. They did this to a certain extent with Lance Berkman last season, though that whole situation started with a legit injury. He hurt his ankle running through first base in Kansas City and was only going to miss a few days, but the Yankees placed him on the DL and kept him there for two weeks until Sept. 1st. Perhaps Jorge will feel something in his back during BP this week and needs some time off. It's not the most ethical thing in the world, but teams do it all the time and the Yankees should at least consider it.
Roster spots are precious like outs in a game because there is a finite amount of them. The Yankees do a great job of not making outs, but right now their 25-man roster is completely inflexible. They've been shooting themselves in the foot by keeping the unproductive Posada around for this long, so they might as well hold onto him until the rosters expand in three weeks. He might still be useful as a veteran pinch-hitter against lefties, but that's pretty much it. The roster right now is basically the regular starting nine, the rotation, three or four core relievers, and half a dozen 25th men. It's tough to work with that.