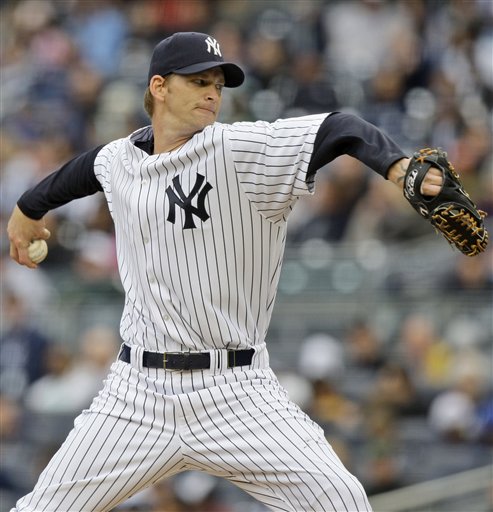 Part of the problem with having a six-man rotation and an off day and using a starter in relief is that we don't really know who's pitching when. The Yankees announced on Monday that A.J. Burnett will open their series against the Angels on Tuesday, and will be followed by Ivan Nova on Wednesday and Bartolo Colon on Thursday. That's the same three guys they ran out there against the White and Red Sox late last week, so they didn't do any serious rearranging.
Despite throwing just 13 pitches (including four intentional balls), Phil Hughes' relief appearance against the Red Sox on Sunday was enough to eliminate him from his scheduled Tuesday start, which is unsurprising. There's really no reason to push it with the guy after he spent roughly three months on the DL with some kind of shoulder issue. Who knows how many warm-up pitches he threw in the bullpen. I'm guessing he'll start at some point next weekend against the Rays, or at least I hope so. I'm not sure I could handle another 25-year-old starter being banished to a relief role because "his stuff plays up in the bullpen."
CC Sabathia is getting an extra day of rest, starting on Friday instead of Thursday. The whole point of sticking with the six-man rotation is to give him bit of a breather here and there, and one extra day at a time is pretty much the best way to go about it. There is such a thing as too much rest for a starting pitcher, and the last thing the Yankees need to do is knock Sabathia out of his rhythm this late in the season. I assume Freddy Garcia will start on Saturday, putting Hughes on track for Sunday. We might see him in relief on Tuesday or Wednesday in that case. Ugh.
As I wrote yesterday, the Yankees are hamstrung by what amounts to a pair of dead roster spots: the 13th pitcher (seems to be Luis Ayala at this point), and Jorge Posada. It's not the end of the world but it's not ideal either, though it looks like they're going to stick with it for the next few weeks. The position players will get their rest in September, but now's the best time to take the foot off the starting rotation gas because you'd like to get them lined back up and working on the regular schedule in mid-to-late-September. For now, Sabathia gets an extra day this week and I'm sure we'll see the other guys get an extra day in the coming weeks.