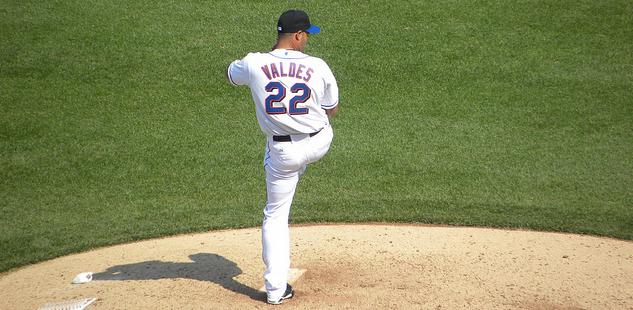 Despite being the payroll champions of baseball, the Yankees have turned to the waiver wire for a pair of pickups in the last week. First they claimed lefty reliever Raul Valdes off waivers from the Cardinals, then they claimed fellow lefty reliever Aaron Laffey off waivers from the Mariners. Two minor moves, certainly, but I think they tell us something about the team's plans for next month.
The additions mean …
… that Manny Banuelos will not be called up September. A call-up was never really a sure thing to start with, especially given Brian Cashman's comments earlier this week. Cashman told Jack Curry yesterday that Laffey will join the big league team today and that Valdes will come up in September to be a third lefty, giving Joe Girardi some "inventory" for matchups in the season's final month. Banuelos is already at 116 IP on the season (a career high) and doesn't figure to go much beyond 130-140 IP on the year, so he'd have to work out of the bullpen for the big league team if they were planning to call him up after the season ends. It's possible they still might, but adding the two southpaws this week makes it seem less likely.
Gus Molina's DFA'ing means …
… that Jesus Montero will be a September call-up. Molina was the team's third catcher, the only viable alternative to Montero if the Yankees wanted an extra backstop. Third catchers are a rite of September, they're always among the first guys called up. It's very likely that Molina will clear waivers and return to the Yankees, so yeah they probably would still be able to call him up for September, but it seems very unlikely given the way they just took him off the 40-man roster. Rumors of an imminent Montero promotion have been circulating for weeks, and sacrificing Gus' 40-man spot seems like another indication that the team's top prospect will be with the big league club in a little less than two weeks.