After a rain out on Sunday and a Monday morning filled with more rain, the Yankees and Royals were able to get the tarp off the field and play the first game of their three-game series. The Yankees scored a little early then a lot later on, surviving the inevitable A.J. Burnett meltdown in the meantime to secure the road-trip opening win.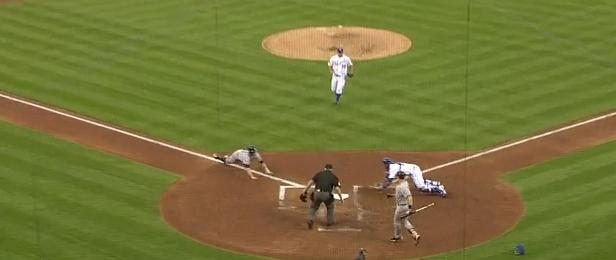 A Rally … Then A Mistake
Royals' starter Felipe Paulino has been on a very nice run since being acquired from the Rockies earlier this year, but the Yankees made him work in the second. Nick Swisher led off the frame with a line drive to center that Melky Cabrera misplayed into a single, though it didn't look like an easy play on television. That ball had some serious slice to it. Jorge Posada drew a four-pitch walk two batters later, and Brett Gardner delivered the big two-out hit two batters later to drive in Swish. Derek Jeter (more on him in a bit) drove in a run one batter later with a single, then Curtis Granderson walked to load the bases.
Paulino had thrown 30 pitches in the inning, which is the danger zone for any starter. Fatigue becomes a real factor no matter how well-conditioned these guys are, and the Yankees had one of the best power hitters in the game coming up with a chance to put this one to bed early. Paulino started Mark Teixeira off with fastball for a called strike, then got strike two on a changeup. A second straight changeup missed for ball two, and the third straight changeup bounced in the dirt and hopped away from rookie backstop Salvador Perez. Gardner broke for home, but the ball didn't bounce that far away, and Perez recovered in time to apply the tag at the plate and end the inning.
Early last week we saw the Yankees end the game on a similarly stupid baserunning play, when Granderson got picked off first with the tying runs on base and Tex at the dish against the Angels. Obviously this wasn't quite as bad, but it's same principle: you've got to be 1,000% sure you're going to make it, otherwise it's not worth the risk given the guy at the plate. The ball didn't get far enough away from the plate for Gardner to risk the play. I usually approve of aggressiveness, but there's a time and place for stuff like that. The cleanup hitter up with the bases loaded is not one of those times.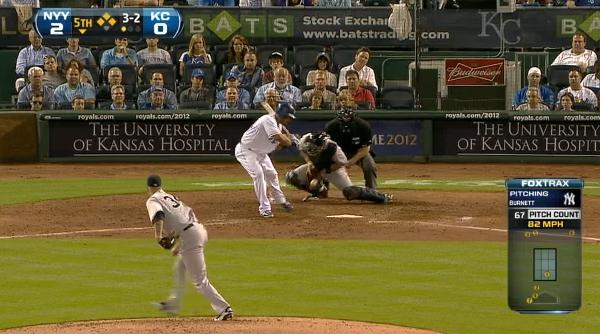 Predictable Meltdown Is Predictable
Burnett starts are like a bad movie at this point, the same thing over and over. He'll go four or five strong innings, look downright dominant at times, then cough up whatever lead he's been given in one fell swoop. After pitching around three baserunners in the second and two baserunners in the fourth, the Royals put together a bases loaded rally with one in the fifth. All three singles were ground balls through the right side, and it's actually kinda surprising they were unable to score a run on the third consecutive hit.
We were all kind of waiting for it at this point. We all knew the knockout hit was going to come, the lead would be gone, and Burnett would still be starting in five days. With former Yankee Melky Cabrera at the dish, there was no one better to make things happen. Melky swung at the first two pitches he saw and three of the first four, but A.J.'s last three offerings were out of the zone for a bases loaded walk. The Melkman had walked exactly once (once!) after falling behind 0-2 this year, and his walk rate was a miniscule 4.9% coming into the game. Of course Burnett would walk him with the bases loaded, of course he would.
Billy Butler, the next batter, delivered the big blow, taking a 1-1 changeup to right for a two-run single that completely erased the Yankees 2-1 lead and turned it into a 3-2 deficit. Robinson Cano turned a sweet double play one batter later to end the inning and save another run, but the damage had already been done. The lead was gone, Burnett did his little "four or five strong innings, then a meltdown" routine. Typical. Someone put it best on Twitter, watching his starts are like watching five or six innings of Kyle Farnsworth (not the 2011 version, the 2006-2008 version).
Zombie Captain
Jeter ain't dead yet folks. He can be a little knuckle-headed, like in the first inning when he bunted Gardner to second after the leadoff guy took Paulino's first pitch of the game to the foot (don't you have to wait for the starter to throw his first strike before volunteering an out?), but the Cap'n's bat has come back from the dead since coming off the disabled list. He clubbed a 1-1 changeup from Paulino the other way for a two-run triple in the sixth, turning a 3-3 tie into a 5-3 lead. At .218 WPA, it was biggest play of the game.
Since coming off the disabled list on Independence Day, Jeter has hit .319/.373/.449 in 154 plate appearances. Vintage Derek hit for a tad more power, but after his previous 1,000 PA or so, I'm not complaining. Jeter's revival has been refreshing to say the least.
Leftovers
Boone Logan replaced Burnett with a man on first and two outs in the sixth inning, and he recorded an out without even throwing a pitch. He picked Johnny Giavotella off first to end the inning. That's always fun. Boone came back out in the seventh to face the guy he was brought in to face, the rookie Mike Moustakas, and he struck him out on three pitches. Seventh Inning Guy™ Rafael Soriano got the final two outs of the inning, but not before allowing a two-out walk and double to allow a run. It's the first run he's allowed since coming off the disabled list.
One odd thing that I noticed … well, that everyone noticed because they pointed it out on YES, but Jeter stopped Burnett on his way off the mound after being lifted and said something to him. It looked to be words of encouragement, because Burnett didn't look upset or anything like that. Anyway, that's only noteworthy because Jeter almost never does anything like that. Now my curiosity is piqued.
Eighth Inning Guy™ David Robertson allowed a ground ball single in an otherwise uneventful inning, and Mariano Rivera emerged from the ashes of WWWMW™ Week to throw a perfect ninth. He got a weak grounder to first, a grounder to second (Jeter fielded it behind the bag), and a strikeout looking. He also broke a bat, sawed the lefty swinging Moustakas' stick right in half. Basically, it was vintage Rivera. Yawn.
Gardner, Jeter, Cano, and Swisher all had multiple hits, while Jorge Posada, pinch-hitter Andruw Jones, and Russell Martin had one each. Jones drove in an insurance run in the seventh will a well-placed looper, but when you're hot, you're hot. He's hitting .371/.476/.686 since the All-Star break. Granderson didn't pick up any knocks but he did walk twice. Eric Chavez had the eye sore batting line, 0-for-5 with three whiffs.
The win moved the Yankees into a tie with the Red Sox for first place in the AL East. The two clubs have identical 73-46 records, but the Yankees have a 35 run advantage in run differential. Their lead in the wildcard is a full nine games, which is a freaking ton.
Box Score, WPA Graph & Standings
MLB.com has the box score and video highlights, FanGraphs some other wacky stuff, and ESPN the updated standings.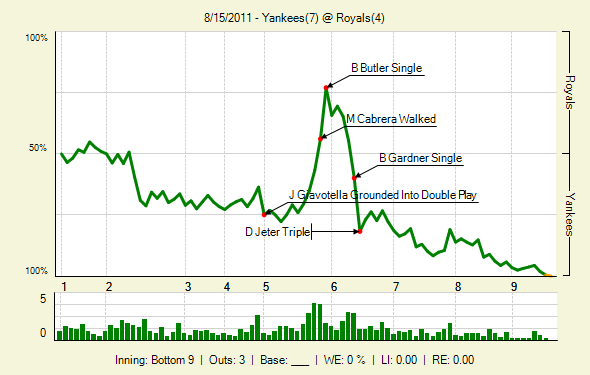 Up Next
Same two teams again Tuesday evening, when Ivan Nova will look for redemption against the Royals and fellow rookie Danny Duffy. Remember, Kansas City was the team behind Nova's worst start of the season back in May.