This game, much like the entire series, was a good old fashioned ass whoopin'. The Yankees finished off the four-game sweep of the White Sox in Chicago with a 7-2 win on Thursday night, sending them to Boston with a seven-game winning streak.

Ivan Nova, Stud
If Nova was pitching for his spot in the rotation, he did everything he needed to do to keep his job and then some. He allowed one run in the third on an infield single, stolen base, single and sacrifice fly), but he was practically untouchable the rest of the game. Ten ChiSox hitters went down on strike three, a new career high in strikeouts by three. Nova also generated a career-high 16 swings and misses, which is one fewer than he had in the entire month of May. Chicago had just six hits off him the entire game, two each by Paul Konerko and Brent Morel, and not a single one for extra bases. By Game Score (73), it was the best start of his career (the start against the Red earlier this year was a 72).
PitchFX had Nova's fastball topping out just north of 96 but mostly sitting around 92, though the key was his slider. That's the pitch they wanted him to work on in the minors, and a lot of his strikeouts came on that very pitch. Don't Bring In The Lefty did a PitchFX breakdown of Nova's arsenal after the game, so check that out. He pounded the zone (70 of 102 pitches were strikes, 68.6%), and nine of his 13 non-strikeout outs came on the infield (eight ground balls). Just five of the 27 batters he faced hit the ball out of the infield. Five! Joe Girardi said after the game that they'll continue to talk about their rotation situation, but it's pretty obvious right now that they can't not start Nova. He's simply pitching too well.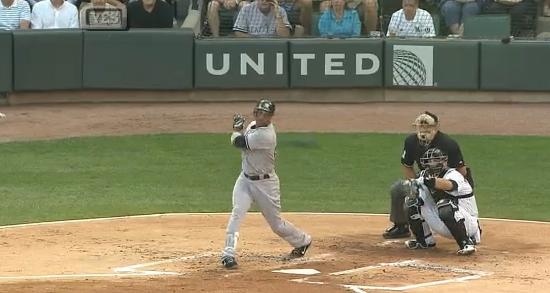 Robinson Cano, Strong
Much like they did the last few days, the Yankees broke the ice and scored the first run in this game. It came courtesy of a Robinson Cano home run, a first-pitch fastball from Phil Humber that he drove the other way and into the bullpen in the second inning. If you just watched the flight of the ball without knowing who hit it, you'd swear a right-handed batter yanked it down the line. I love opposite-field homers; they show the ability to sit back on a pitch and explode through it late, plus brute strength. Hitting a ball that hard to the opposite field can't be taught, but then against Robbie does a lot of things with the bat you can't teach.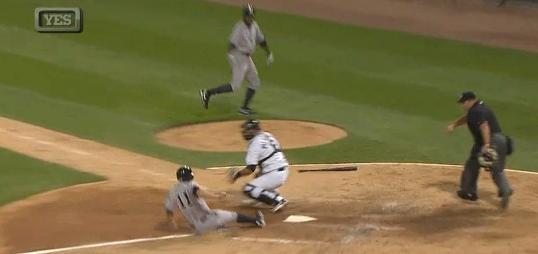 The Lead
As good as Nova was, Phil Humber was matching him through the first five innings. Brett Gardner led off the sixth with a double into right, then he moved to third on Derek Jeter's sacrifice bunt. I know I bitch and moan about bunts quite a bit, but sheesh. One of the fastest runners in the game was already in scoring position with no outs in the inning. Swing the damn bat.
Anyway, Curtis Granderson clanked a curveball along the foul line to first base after Jeter's bunt, and Gardner broke for home. Adam Dunn fielded the ball and stepped on first for the force out before throwing home. It was a great throw, right on the money and easy for A.J. Pierzynski to handle, but Gardner simply outran it and slid in as the go-ahead run. The small ball act worked in this instance, but let's not make a habit of it, mmmkay? Especially in a situation like this, Gardner on second with none out. He's scoring on any single to the outfield; no need to give up an out.
Tacking On
The way Nova was pitching, that one-run lead was enough, but they played it safe and tacked a few more on anyway. Jorge Posada singled in Cano in the seventh, then Martin plated Nick Swisher as the next batter with a sac fly. That made a 2-1 game much more comfortable at 4-1, but they didn't stop there. Martin jumped all over a Brian Bruney meatball in the top of the ninth, clobbering a three-run homer into left-center field to officially put it out of reach. It was his second homer of the series after going more than a month without one.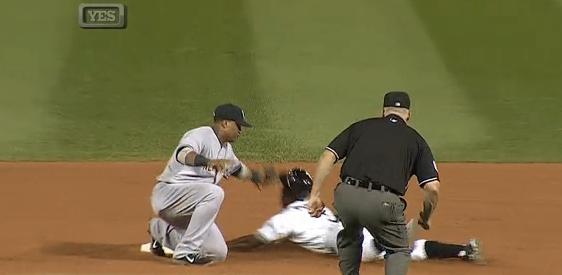 Leftovers
Nova handed the ball off to David Robertson with two outs in the seventh, and he got Juan Pierre to line out to left. Hector Noesi finished things off in the ninth, though he did give up Dunn's 11th homer of the season. I really couldn't care about that. It's a garbage time shot and Noesi challenged a struggling hitter in a 2-2 count. Fine by me. The Yankee pitching staff did not walk a single batter in the entire four-game series; you have to go back to Nick Markakis' third inning walk against Freddy Garcia on Sunday for the last time a Yankees' pitcher but a man on base via ball four. It's a span of 39 innings, the third longest walk-less streak since 1919. The 2002 Yankees went 54 IP, the 1965 Dodgers 42.1 IP. That's pretty incredible, especially since A.J. Burnett started once of these games.
Eric Chavez picked up two more hits, including one off the very top of the wall in right field. A little more wind and it would have been his second homer of the season and second in as many days. Cano had two hits while Gardner, Swisher, Posada, and Martin had one apiece. Jeter drew a walk, as did Cano and Swish. Mark Teixeira (0-for-4 with two strikeouts) was the only Yankee not to reach base in the game.
Jeter made a baserunning mistake in the eighth inning, something he never does. He was on second with one out, then froze when Teixeira hit a ground ball to third. Morel looked towards first for the force out, but instead threw to second and the tag was applied before Jeter was able to slide back in. You very rarely see the Cap'n make a mistake on the bases, so I'm glad he got it out of his system in a game the Yankees were leading by three (at the time).
And since we're talking about baserunning, I have to mention this because it's driving me nuts: sliding headfirst in first has become an epidemic with this team. Gardner's been doing it pretty regularly for a few weeks, and Martin tried it in the fifth inning of this game. I guess they're not going to be happy until someone breaks a few fingers or a wrist. Just run through the base please, it's not worth the injury, not at this point of the season with the Yankees having such a big lead on a playoff berth.
Anyway, I'm convinced the White Sox won't win more than 20 games the rest of the season (they have 52 left). They've completely checked out as though they'd rather be doing anything other than playing baseball. I'd hate to be a fan of that team given how awful they've looked. The Yankees, meanwhile, have won seven straight and eleven of their last 14. The Red Sox lost to the Indians, so the two AL East rivals will start the weekend series with identical 68-42 records, though the Yankees have a substantial edge in run differential (+173 to +138).
Box Score, WPA Graph & Standings
MLB.com has the box score and video highlights, FanGraphs some other neat stuff, and ESPN the updated standings.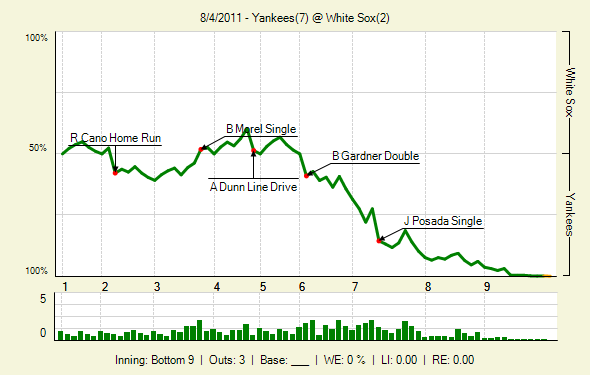 Up Next
Off to Boston for three games against the Red Sox, which should be a blast with both clubs sitting atop the division. Bartolo Colon will start the series off against Jon Lester on Friday night. If you want to head to Fenway for any of the three games this weekend, RAB Tickets can get you there.