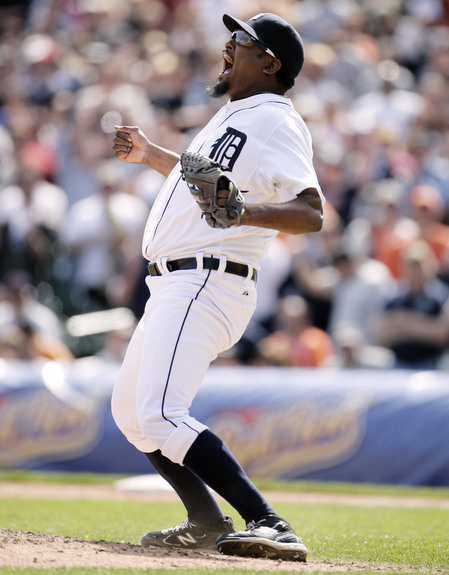 With all the talk about how great Justin Verlander is and how well Doug Fister has pitched since the trade to Detroit, it's easy to forgot that those guys have combined for just seven complete games out of 65 starts. Someone has to pitch after they leave, and that's who we're going to look at now.
The Best Closer In Baseball*
Known more for his celebrations than for his actual performance, Jose Valverde had a very nice year but hardly a great one. He did strike out 8.59 batters for every nine innings pitched, but he also walked 4.23 during the same time interval. A 42.9% ground ball rate isn't great but it's doable given the strikeouts and his home park. A fastball-splitter pitcher, Valverde has a pretty significant reverse platoon split because he rarely throws the splitter to same-side hitters.
* Assuming you think going 49-for-49 in save chances is meaningful.
The Best Setup Man In Baseball**
The guy that started all the multi-year contract madness for free agent relievers last summer, Benoit rebounded from a terrible start (7.98 ERA as late as mid-May) to finish very well (1.36 ERA thereafter). His peripherals weren't as strong this year (9.30 K/9 and 2.51 BB/9) as they were last year (11.19 and 1.64, respectively), but that's not surprising. Tough to repeat that kind of performance. Benoit's a fastball-changeup guy, which really isn't all that different than fastball-splitter. He gives up a ton of fly balls  (38.9% grounders) and has a reverse split like Valverde, but it's not nearly as pronounced. The Yankees saw plenty of Benoit with the Rays last year, so they know what's up.
** Assuming you're talking about 2010 and not 2011.
The Best Strikeout Reliever In Baseball***
If someone comes up from the minors and gives up 21 hits while striking out 67 in just 43.1 IP, you can bet they've pitched their way into high-leverage relief work. That's exactly what Al Alburquerque has done, though he's offset his sky-high strikeout rate (13.92 K/9) with an equally high walk rate (6.02 BB/9). He's the Luke Gregerson of the AL, getting an absurd amount of swings and misses (15.5%) by throwing a ton of sliders (52.4%). Albuquerque hasn't given up a run since the end of June, though there was a DL stint in July.
*** Unless you're talking about guys that threw more than 43.1 IP.
The Rest
The Tigers are carrying a dozen pitchers on their playoff roster, including all five of their starters. Either Brad Penny (5.02 FIP) or Rick Porcello (4.06 FIP) will start Game Four while the other serves as the long man, so that means no Verlander on three days rest. Phil Coke (.215/.289/.295 vs. LHB) and Dan Schlereth (.174/.273/.256 vs. LHB) are the two lefties, Ryan Perry (3.94 FIP) the spare righty.