Most of the attention paid to the Yankees-Tigers ALDS matchup has focused on the pitchers for the time being, and why not? Justin Verlander and CC Sabathia are worthy Cy Young candidates, Doug Fister's been pretty great since the trade, and the Yankees have some questions to answer later in the series. Pitching  is only half the battle thought, the Yankees have to deal with Miguel Cabrera and the rest of their offense as well.
Shutting Down Miggy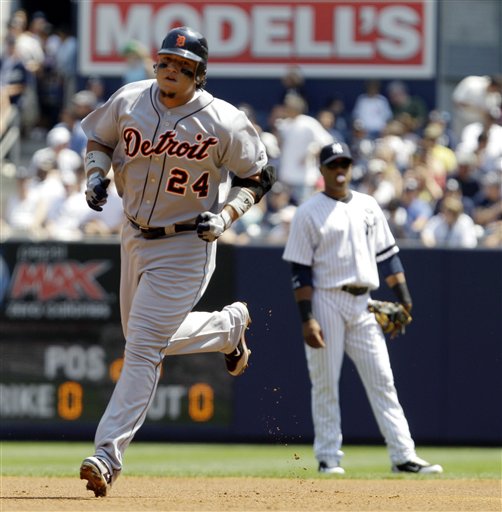 This will be the easiest section of the post. You know why? Because there's no way to shut down Miggy Cabrera, he's just too good. The guy hit .344/.448/.586 this season after hitting .328/.420/.622 last season. He's also a .374/.439/.729 hitter in 30 career games against the Yankees. There's just no stopping him, accept it. There's also little chance of stopping Victor Martinez, who hit .330/.380/.470 this year (.281/.346/.507 career against the Yanks). These two guys are just too good, even the best game planning could prove fruitless.
Therefore, the best way to lessen the impact of Detroit's 4-5 hitters is to keep the guys hitting in front of them off base. Thankfully, Jim Leyland helps out a bit with this. Leadoff man Austin Jackson got on base just 31.7% of the time this year and never topped a .333 OBP after the fourth game of the season. Three-hole hitter Delmon Young is a Grade-A hacker (.302 OBP overall, .298 with the Tigers); his value comes from the occasional homerun. Wilson Betemit has been hitting second of late and is easily the best hitter ahead of Miggy and V-Mart. His  .285/.343/.452 season line is buoyed by a .292/.346/.525 performance in MoTown. Jackson (22 steals) is their only stolen base threat, so keeping him and Young off the bases in front of he two big bats is imperative.
Don't Forget About …
… Alex Avila and Jhonny Peralta. Avila, a former teammate of David Robertson's in college, will garner some MVP votes after hitting .295/.389/.506 with 19 homers this year. He's the only significant left-handed bat in the Tigers' lineup, but he's more than held his own against southpaws this season (.279/.349/.430). Avila also does most of his hitting to the opposite field (spray chart), which is good for the Yankees because a) that's where Brett Gardner is, and b) left field is the biggest part of Yankee Stadium.
Peralta, the former Indian, had a sneaky good year at the plate (.299/.345/.478). He bats right behind Avila, who bats right behind Martinez and Cabrera. These two aren't as dangerous as the two big guys, but they're definitely not pushovers either, Avila in particular. They're the ones the Yankees will have to be really careful with, since Miggy and V-Mart figure to spend a lot of time on the bases.
Everyone Else
Both Young and Jackson are pretty bad at getting on base, as are the two remaining spots in Detroit's lineup. Magglio Ordonez has been both hurt and basically unusable (.255/.303/.331) this season. The second base platoon of Ryan Raburn (.274/.321/.486) and Ramon Santiago (.245/.301/.361) is solid at best.
Clearly, the Tigers' offensive attack revolves around Cabrera and Martinez, with Avila doing a great job of being the third wheel. Keeping Jackson and Young off base will be pretty important, as will keeping Peralta under wraps when the three  guys in front of him inevitably reach base. It's a potent offense (.336 wOBA), but there are definitely spots where the Yankees can pick their poison, so to speak.