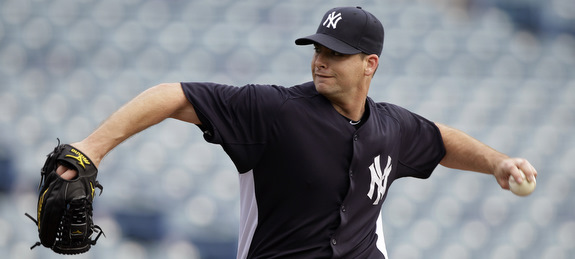 The last two games have been on extreme opposite ends of the spectrum for Boone Logan. He got two huge, huge strikeouts with the bases loaded to escape a jam on Tuesday night, but then he allowed the game-winning two-run homer on Wednesday. A night of good followed by a night of bad, and it seemed to fit right into the story of Logan's season: he didn't get the lefties out when he had too, but he got the righties out. It's backwards.
In the series opener, Boone allowed a single to the lefty Carl Crawford to load the bases before striking out the switch-hitting Jarrod Saltalamacchia (LOL) and the righty Darnell McDonald. Yesterday he gave up the homer to lefty Jacoby Ellsbury that basically won the game for the Red Sox. Now, Logan did rebound to get both Adrian Gonzalez and David Ortiz after the homer, but by then the damage was done. Coming into the series, left-handed batters were hitting .235/.300/.425 in 91 plate appearances off the Yankees' lefty specialist. Effective, but not exactly lock down given the power numbers. On the other hand, righties were hitting just .216/.286/.255 in 56 plate appearances off Logan.
Of course, Boone did have a little bit of a revelation in Cincinnati after Alex Rodriguez pulled him aside and told him to have a plan for each pitch, and since then he's been much better. After tagging him for a .300/.391/.425 line in his first 25 games (.167/.259/.167 vs. RHB), lefties have hit just .200/.289/.489 off Logan in his last 26 games (.267/.312/.333 vs. RHB). Definitely some big time improvement, though he's still giving up far too many extra base hits to same-side batters. A lefty specialist allowing a .289 ISO to lefties over half his season workload is … awful.
Obviously, small sample size rules apply here. Logan's faced just 154 batters this year, which is nothing. That's the life of a reliever though, these guys are just going from one small sample size appearance to the next, which is why Boone's reverse split and backwards season isn't terribly surprising. Anything can happen in a limited sample, but it's still rather annoying to see. Hopefully he continues to be as effective against lefties as he has since A-Rod's pep talk, just without all the untimely extra base hits.