Every other week, Jamie O'Grady channels the 2005-version of Michael Kay by "Looking Back. Looking Forward." to get you caught up on what just was, and what soon will be with the New York Yankees.
LOOKING BACK: So what did you miss?
By now you've probably seen or read the accounts of Major League Baseball's Game 162-madness on Wednesday night. With each League's Wild Card up for grabs – and four teams (Boston, Tampa Bay, St. Louis and Atlanta) vying for the two remaining postseason slots – a confluence of improbability, fate and justice occurred, the likes of which none of us are likely to again witness in our lifetimes.
Which got me to (gasp) thinking…
For some time now, we've been hearing that the National Football League has usurped MLB as the most popular sport in the land. The numbers back it up, too, as last year was the first time that a prime time World Series game failed to draw as many viewers as an NFL game being broadcast concurrently. Heck, even I was watching the Saints beat the Steelers on Monday Night Football instead of the 2010 Fall Classic. In fairness, the 2009 Yankees-Phillies match-up did beat MNF head-to-head just one year earlier, but the overall trend is indisputable and likely irreversible. Or is it?
There is simply no way that the NFL (and it's wimpy 16-game schedule) is able to replicate what can happen at the end of MLB's six-month regular season. Wednesday's penultimate games had it all: comebacks with two outs and two strikes in the bottom of the ninth inning(s); players once buried on the bench, or better yet, just called up from the minors, making the unlikeliest of heroic contributions; and season's fates hinging and turning on seemingly innocuous base-running blunders and pitching substitutions. It was all on display.
In a 15-minute span late Wednesday night, a virtually infinite amount of 2011 pitches, swings and managerial moves came to a head in one glorious and riveting crescendo. These games served as irrefutable evidence that Major League Baseball remains both viable and formidable, and I encourage everyone to stop comparing and contrasting America's pastime with its worthy pigskin-obsession. Both are amazing, in very different ways.
Besides, football could never have produced a fantasy outcome like this one (achieved by my 12th-year keeper squad on the last day of the season):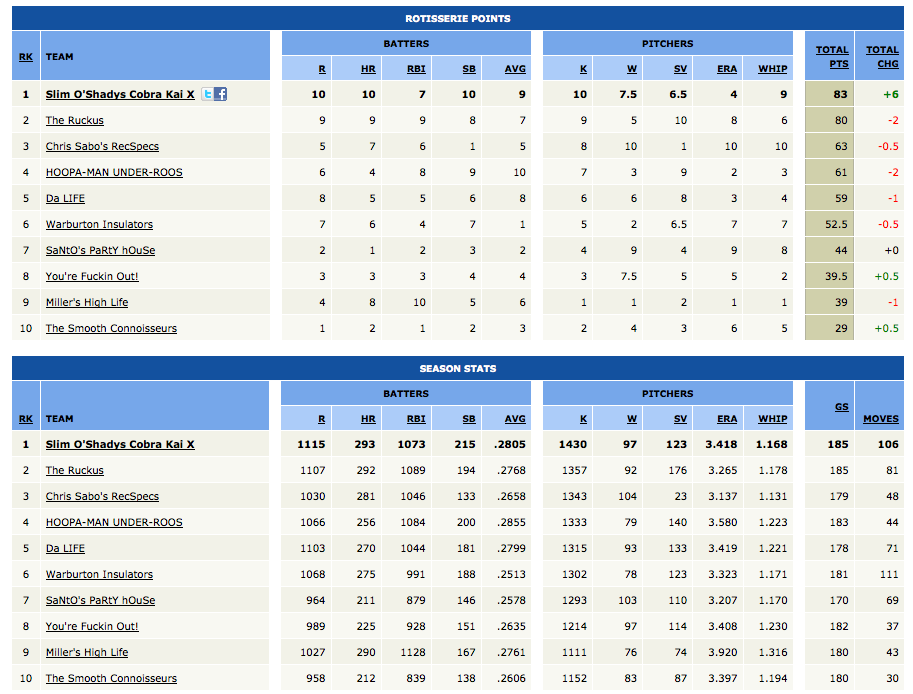 What we learned:

9/16 – 9/18 @ TOR – I could tease Blue Jays fans about another hapless campaign by their franchise, but I'd actually have to find a Blue Jays fan first. Surely, that would be a fruitless exercise, but this Toronto season-postmortem by Bruce Arthur is a must-read for any baseball fan. On a personal note, I'd like to wish Brandon Morrow – he of the 11-11 record, 4.72 ERA and incongruous 10.2 k/9 – a joyous off-season. Despite his best efforts to repeatedly submarine my fantasy team, I emerged victorious nonetheless. Also, nice job by 1996 Cy Young Award thief winner, Pat Hentgen, as bullpen coach for the Blue Jays this year; he showed great poise in using the bullpen phone. Oh, and Cy Young runner-up Andy Pettitte? Busy somewhere in the greater Houston area, misremembering to count his $125,332,416 in career earnings. (Prediction: NYY win 2-of-3) (Actual: NYY lose 2-of-3)

9/19 v. MIN – Way back in 2006 – I still had thick, lustrous hair back then – I wrote on MLB.com that fantasy owners should say more yes on Morneau. Sadly, it might soon be time for the Twins to say "no mas" on the former AL-MVP, whose 2011 season was somehow worse than his lost 2010 campaign was. Look, concussions are no laughing matter – unless you're Gary Busey – but when you hit four home runs in 264 at-bats, it's something of a red-flag for management. I like Morneau, and Canadian-born ballplayers sure are awesome, eh, but small-market teams like Minnesota can't afford to swing-and-miss on big-ticket items. A free agent after the 2013 season, Morneau's days with the Twins may be numbered. (Prediction: NYY win makeup game) (Actual: NYY win makeup game)

9/20 – 9/22 v. TAM – If there's one thing you can predict in baseball (and there really isn't, Suzyn), it is that doubleheaders can never, ever be swept. And so the when the Yankees clinched the AL East by winning two games in one day, it was yet another sign that the Apocalypse is nigh. By the way, you might recall that in my last piece, I advised you to keep an eye on young Tampa whipper-snapper, Matt Moore. Well, I probably should have told you to keep both of your eyes on him. 11 Ks in five innings in his first Major League start? That's almost Strasbergian. Should be awesome watching him confound New York for the next six years until we buy him. (Prediction: NYY split 4-game series) (Actual: NYY win 3-of-4)

9/23 – 9/25 v. BOS – Early this morning came word from Ken Rosenthal that Terry Francona will not be retained by the Red Sox. Yeah, that makes a lot of sense. Clay Buchholz didn't throw a pitch after June 16. Kevin Youkilis compiled 40 at-bats after August 17. John Lackey had the worst statistical season by a Red Sox pitcher in franchise history. Carl Crawford signed a 7-year, $142m contract to impersonate a 37-year-old Johnny Damon. Tim Wakefield started 23 games. David Ortiz totaled one home run and eight RBI during the month of September. Yeah, like I said, that makes a lot of sense. Don't get me wrong, Boston endured an epic meltdown this season, and Francona's lack of leadership didn't help matters, but you can't just part ways with the guy that brought you two World Championships after a century of futility. It's just too bad Ozzie Guillen decided to go to the Florida Miami Marlins. Just imagine the post-game press conferences that coulda been. Hilarity would have ensued. (Prediction: NYY lose 2-of-3) (Actual: NYY win 2-of-3)

9/26 – 9/28 @ TAM – And speaking of the Red Sox, I don't want to hear any complaining about Joe Girardi's management of the team during this series, as the great Harvey Araton of the New York Times wondered on Thursday. You see, the Yankees achieved this little thing called "winning their division," but by doing so, afforded themselves the luxury of resting key veteran players and aligning their pitching staff as they saw fit. Make no mistake, the Yankees played these games to win, even if their A-lineup wasn't present for all three games. Boston has no one to blame but themselves, and maybe Mark Wahlberg, who the universe seems hellbent on blessing with every success possible. So take that, Marky Mark, Ben Affleck, et. al. (Prediction: NYY win 2-of-3) (Actual: NYY get swept)
LOOKING FORWARD: What can't you miss?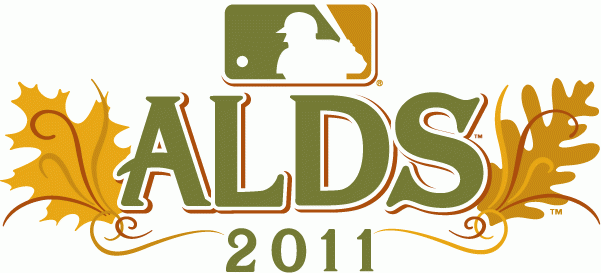 Well, duh, there's a baseball game scheduled for tonight at the big ballpark in the Bronx. If you're so inclined, tickets can still be had via StubHub for as little as $60.00. Sure, you'll need binoculars to spot little Brett Gardner, but at least you'll be in the building.
What we expect to learn:
Folks a lot smarter than me have got the ALDS preview thoroughly covered here at RAB, so I'll be brief:
It doesn't take a rocket scientist to tell you that beating the Tigers starts and ends with beating Justin Verlander. Sure, the Yankee staff must pay close attention to both Miguel Cabrera and Victor Martinez – .374, 10 home runs in just 107 at-bats and 17 career-homers, respectively, against New York), and Doug Fister (he barely knew her!) has been pitching like Tom Seaver of late (8-1, 1.79 ERA since being acquired by the Tigers mid-season), but the prohibitive Cy Young Award favorite and likely MVP-winning Verlander is the key chess piece for Detroit.
Amazingly, the fearsome Yankee lineup fared quite well versus the Tiger-ace in 2011, as Verlander compiled a mortal 4.50 ERA in two starts, both no-decisions. Additionally, New York worked 8 walks in 12 innings against the righty, a formula they'll need to repeat in the ALDS in order to get his pitch-count up as quickly as possible.
Oh, by the way, the Yankees have their own ace, CC Sabathia, but there are red flags abound. If Sabathia's 2.64 September strikeout/walk ratio and career 4.66 ERA and 1.56 WHIP in the postseason weren't enough to make you worry, he's also sporting a no-so-nifty 4.54 career-ERA and 15-12 career-record against Detroit.
In the end, I suspect the ghosts will be joined by mystique and aura once again during the ALDS, and the Yankee lineup will bail out their suspect starting pitching. Combine their offense with David Robertson and Mariano Rivera, and there's reason to believe.
Having already proven myself inept in the prediction business, there's no reason to stop now.
YANKEES IN FIVE
And that's all she wrote. I'll see you back here throughout the playoffs, unless you follow me on Twitter, in which case I'll see you every five seconds or so.