A three-game winning streak with a little history thrown in? Sign me up!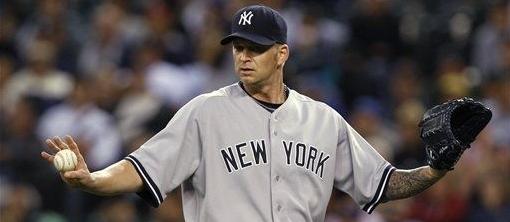 Burnett Settles Down
The Yankees jumped out to an early lead thanks to a Robinson Cano solo homer and a Charlie Furbush wild pitch in the second inning, but of course A.J. Burnett wasn't having any of that "protect the lead" nonsense. He allowed a leadoff double to Miguel Olivo to open the very next half inning, let him move to third on a wild pitch, and then watched him walk in to score on Brendan Ryan's two-out single. A sacrifice fly in an adventurous third inning knotted the game up at two.
Then something weird happened; Burnett settled down and was damn effective the rest of the way. Here's what makes that really interesting: he did so after abandoning his new mechanics. He went back to the old "hands at the waist" setup, though I did notice that his hands were still up at his chest from the stretch. Anyway, A.J. wrapped up his outing by retiring eleven of the final twelve men he faced, seven via the strikeout. His eleven punch outs are a new season high and his second most as a Yankee. He whiffed a dozen Texas Rangers back in August 2009.
Ten of those eleven strikeouts came on the curveball, which he threw 40 times out of 103 pitches. All but six of his 13 swings and misses came on the hook as well. I've seen a few starters pitch exclusively from the stretch when they had delivery issues (Tim Lincecum's done it, and Ubaldo Jimenez did it during his no-hitter), but I can ever remember seeing a starter scrap part of his delivery and go back to an old motion in the middle of a start like Burnett did in this game. I'm curious to see what delivery he uses going forward, but it'll obviously be too little, too late to save his rotation spot going into the postseason. Two runs in six innings against the weakest of weak lineups is a fine job though, and that's what A.J. did on Tuesday night.
The Cano Show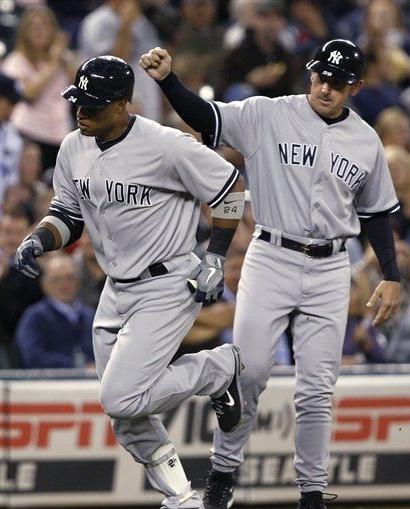 As I said, Cano opened the scoring with a shot homer to right to lead off the second inning. Rather generic Robbie homer, a hanging breaking ball that met that sweet, sweet swing. Jesus Montero (more on him in a bit) followed that up with a single, then moved to third on Andruw Jones' double, then came in to score the second run of the game/inning on a wild pitch. An evil homer and a manufactured run in the same inning, the best of both worlds.
The score remained 2-2 until the sixth, which Nick Swisher led off with a booming double to center. I guess his elbow is doing just fine. Mark Teixeira moved him over to third on a bloop single, then Cano brought the run in with a fielder's choice, barely beating out the double play. Not that RBI mean anything, but Robinson has now driven in 111 runs this season, a new career-high and tied with Curtis Granderson for the most in the AL. There's nothing wrong with liking to see Yankees atop various leaderboards, no matter how outdated the stat. As he is most nights, Cano was a big part of the offense in this one.
The Formula
With a one-run lead in hand and Burnett over 100 pitches, Joe Girardi rolled out his cookbook end-game relief plan. Rafael Soriano came in to face his former team, and managed his first 1-2-3 inning in twelve appearances. David Robertson came out for the eighth, but things got sticky. Dustin Ackley opened with a single, Mike Carp struck out, Justin Smoak walked, then he and Ackley pulled off a double steal when Miguel Olivo struck out. For whatever reason, Girardi decided to have Robertson intentionally walk Adam ".229/.272/.356" Kennedy to load the bases.
I'm of the belief that all managers suck, just that some suck less than others. Girardi's a fine manager, great with bullpens and solid all around, but that intentional walk was spectacularly stupid. I mean, it's among the dumbest things I've ever seen him do. As awesome as Robertson is, he's not exactly Mr. Pinpoint Control, and now he was forced into a spot where a walk meant a tie game. Yeah, it ended up working out because Trayvon Robinson struck out, but that still doesn't make a good idea. They really got away with one there. Free baserunners in a close game are a bad idea, folks, especially with two outs. Anyway, he got away with it.
With a one-run lead in the ninth inning, in came the great Mariano Rivera. Wily Mo Pena went down swinging. Ichiro slapped a single through the left side. Kyle Seager struck out. With one out left in the game, Ichiro broke for second, but Russell Martin's throw beat him to the bag and Derek Jeter applied the tag. Out. The game was over, and Mariano had his 600th career save, only the second man ever to accomplish that. Fittingly, three future Hall of Famers were involved on the final play. Trevor Hoffman's all-time record of 601 is next up on the milestone checklist, and I suspect Mo won't be stopping there. Congrats to Rivera, the undisputed greatest off all-time.
Leftovers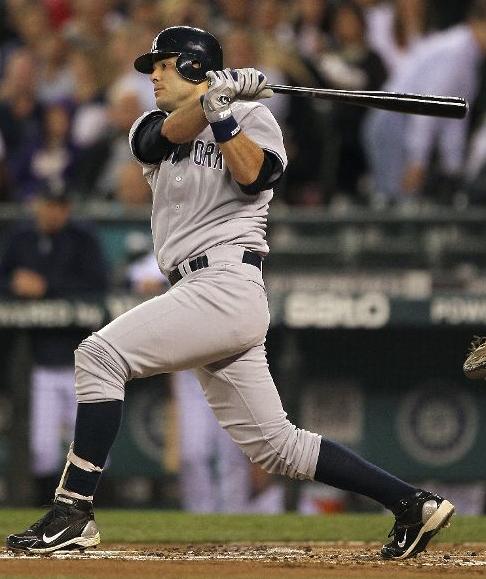 Montero had himself a nice little game, going 2-for-4 with a single, a double, a long fly ball to the warning track in left-center and a GIDP. He did make a baserunning gaff though, getting caught too far off second on a ground ball to short. Here's a fun fact though: Montero's first professional plate appearance came against Furbush back in 2007, and he took him deep. Here's the DotF of that game, which links to the box score. Those two also faced each other a few times while in the High-A Florida State League in 2009. Pretty safe to say that Jesus had a decent idea of what to expect in this one.
Cano and Montero were the only Yankees with multi-hit games, but Jeter, Swisher, Tex, Jones, and pinch-hitter Curtis Granderson all had a knock each. The bottom three of the order – Martin, Eduardo Nunez, and Brett Gardner – combined to go 0-for-9 with five strikeouts, a total eyesore. For the second night in a row and only the fifth time all season, the Yankees did not draw a single walk on offense. Go figure.
The Red Sox housed the Blue Jays while Rays lost to the Orioles, so the Yankees are up four and eight games in the division and wildcard races, respectively. The magic number to clinch a playoff berth is down to just eight. It could happen this weekend.
Box Score, WPA Graph & Box Score
MLB.com has the box score and video highlights, FanGraphs some other stuff, and ESPN the updated standings.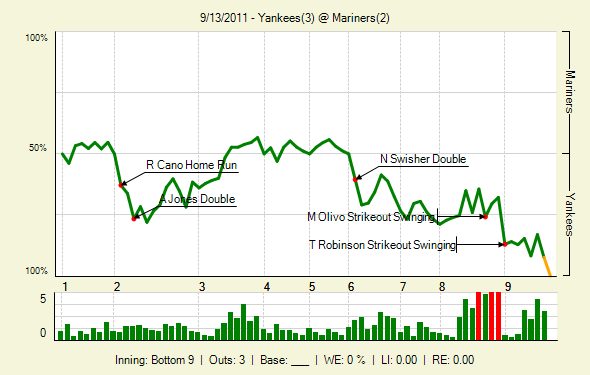 Up Next
Because the Yankees are not allowed to have getaway days, they'll go for the sweep of the series at 10pm ET on Wednesday. Sucks so much. Ivan Nova gets the ball against Jason Vargas.