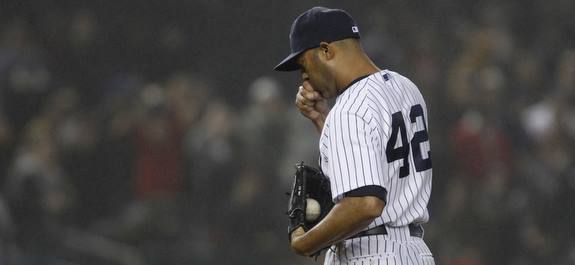 As Yankees fans, we're privy to seeing a lot of great things on the field and a lot of history being made. Just this year we saw Derek Jeter pick up his 3,000th career hit in a way only one other man has done (a homer), and last year it was Alex Rodriguez's 600th career homer. We've seen Roger Clemens get his 300th career win and Mike Mussina his 2,800th career strikeout in recent years, but one little piece of history seems to be flying under the radar late this season: Mariano Rivera is closing in on the all-time saves record.
Yesterday's win gave Rivera his 38th save of the season and 597th of his career. Only the great Trevor Hoffman has closed more ballgames in his time, a total of 601 career saves. Lee Smith is a distant third on the career saves list at 497. With 23 games left to play and the Yankees piling up the wins down the stretch, there's a pretty strong chance that Mo will become the second member of the 600 save club and even surpass Hoffman as the all-time saves king before the season ends. It's not a lock, but it's certainly possible.
Perhaps the lack of buzz surrounding Rivera's pursuit of the record has to do with saves being a silly stat on a micro level (like wins or RBI). On a macro level though, over the course of an entire career, they do bear some meaning. For one, a saves total of that caliber indicates longevity in an occupation that rarely has any. We see it every year, closers come and go at a moment's notice, losing their jobs to the next big thing who eventually loses his job to the next big thing, and so on. The heightened awareness of the ninth inning in today's game puts any closer meltdowns in the national spotlight, so teams are quick to make a change. Longevity and durability in the role with perhaps the greatest turnover in the game is impressive.
On the other hand, perhaps it has to do with the fact that we already know Mariano is the greatest closer of all-time, with or without the saves record. With all due respect to Hoffman, Mo has allowed 73 fewer earned runs and walked 33 fewer batters despite throwing 113.2 more innings (in a tougher division) in his career. That doesn't even count postseason heroics, which are obviously influenced by the teams they played on. Add in Rivera's 42 career playoff saves, and he's at 639 compared to Hoffman's 605. But again, you can't hold the fact that Hoffman played on a generally bad to mediocre team against him.
With any luck, Mariano will pick up those last five saves to surpass Hoffman's all-time record at some point before the end of the season, just so we can watch the celebration and all the recognition that comes along with it. If he doesn't get it this year, well that's fine too, because we already know that Mo is the greatest reliever of all-time and don't need the extra validation. I would like to see him get the record in the coming weeks because Rivera is perpetually humble and always team-first, and I want to see him get honored and celebrated for his accomplishments. Like Jeter and his 3,000th hit, it's okay for Mo to sit back, soak it all in, and make it all about himself for once.