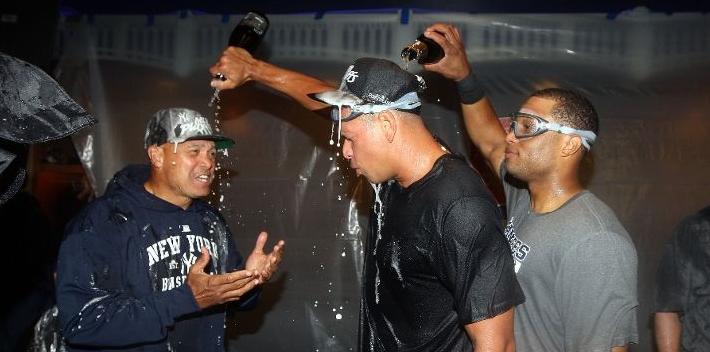 I didn't think the Yankees would win the AL East this year. I thought they could have won it, there's always a chance, but back in March and April and even as late as August, I figured they were going to have to settle for the wildcard spot. There's no shame in that, but like many others I figured the Red Sox were simply too good. I think I said this in a podcast or in a chat at some point before the season, Boston was better than New York, but not ten or 15 games better. Three or five games better over the course of the season, and that's a pretty close race.
It's better to be lucky than good, and obviously the Yankees had some luck during their run to the division title. Every division champ needs some luck, they need that unexpected breakout and surprise veteran addition, especially in a division with two other 90+ win teams. Freddy Garcia and Bartolo Colon so far exceeded expectations that I can't even put it into words. There was a legit chance that neither guy would make it through May, but here they are in the final week of the season with ~3.80 ERA's in ~150 IP each. Ivan Nova exceeded expectations as well. For all the doubt about New York's pitching staff, it was the pitching that doomed the Red Sox down the stretch.
Are we a spoiled fan base? Of course we are. Eleven division titles in a 14-year span and 16 playoff appearances in the last 17 years will do that to you. We've seen a 600th homerun and a 3,000th hit and an all-time saves record fall within the last 18 months, so another division title hardly seems noteworthy. However, I feel like this division title is sweeter than any of the other recent ones, I guess because I didn't expected them to win it for the first time in a long time. I'm not going to call a $200M team an underdog, but this year is about as close as they can get to being one.
The last seven games of the season are almost an afterthought at this point. The only thing left on the agenda is clinching homefield advantage, and  that should be wrapped up by the weekend. The focus can now officially shift to getting guys rest, lining up the rotation, sorting out the last two or three playoff roster spots, and simply preparing for baseball's biggest crapshoot. A division title doesn't guarantee anything, and once the playoffs start next Friday, the Yankees will have the same one-in-eight chance as every other club that made it. Enjoy the stress-free baseball for the next week, now's the time to just sit back and enjoy baseball for nothing more than the love of the game.