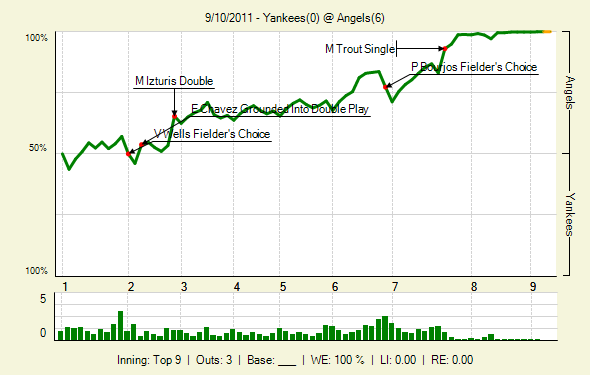 Do I hear four? Yes, I do hear four losses in a row. Let's recap…
Once again, the Yankees offense didn't bother to show up. The picked up just four hits and not a single walk, and over their last 25 innings they've scored exactly one run (Jesus Montero's solo homer on Friday) and had just four batters get beyond first base. Four! Dan Haren is the first pitcher to throw a first complete game shutout against New York this season, and I don't think he even broke a sweat. It was a thorough dismantling of a team of a team that couldn't bring someone home if they were a high school quarterback in their dad's BMW.
CC Sabathia wasn't great or even good (13 baserunners in six innings), but one run in six innings is a very winnable game. He needs to get back to being on a normal five-day schedule very soon because he just hasn't been right since this whole six-man rotation thing started. I can totally see Sabathia being the kind of guy that thrives on too much work rather than not enough.
Best part of the game was easily Jorge Posada's return to catching. Russell Martin suffered a bruised right thumb courtesy of a foul ball and Joe Girardi presumably didn't want to lose the DH by putting Montero behind the plate, so in same Posada. Sure enough, he threw out the first (and only) baserunner that attempted to steal. For a guy that hadn't caught a competitive inning in eleven months, he didn't look half bad.
The Rays walked off with a win against the Red Sox, so the lead in the wildcard shrunk to seven games while the lead in the division remained at 2.5 games with 18 to play. Here's the box score, here's the FanGraphs stuff, and here's the standings.
Good news: Martin's x-rays came back negative, but Montero will catch Sunday as the regular backstop gets a few days to rest his bruised digit. Meanwhile, the Yankees will try to salvage the series when Freddy Garcia gets the ball against Ervin Santana at 3:35pm ET.