Do you know how long it had been since the Yankees played their last normal, 7pm ET home game before Tuesday night? Eighteen days. Blame day games, blame rain delays, and blame a ten-day road trip for that, so it was nice to get back to that familiar routine. The familiar routine of weekday evenings in the Bronx and wins in the standings.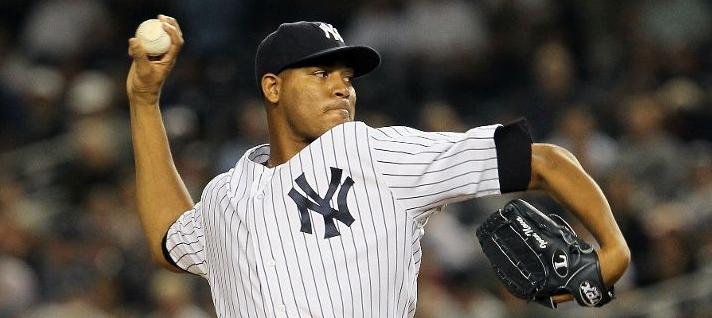 Number Two Starter
The Yankees have been searching for a viable number two starter since the day Cliff Lee agreed to return to Philadelphia, but apparently they had one right under their nose the whole time. Ivan Nova was really good in this one, holding the Rays scoreless through 7.2IP on 103 pitches. He didn't completely shut them down (his only 1-2-3 inning was the first), but he scattered six hits (one double) and three walks while timing his three strikeouts well. Nova also pitched out of a bases loaded, no out situation in the seventh (shallow fly ball, double play).
Wins are dumb, but it's worth noting that Nova has won his last dozen decisions, the most by a rookie since Larry Jansen in 1947. His season ERA is down to 3.62, his record up to 16-4. If you'd have said that Nova would have this kind of season back in March, I probably would have called you crazy. The kid is probably going to start Game Two of the ALDS next weekend, and he's certainly earned it.

OMG RISPFAIL WTF
It had been 18 days since the Yankees last played a 7pm ET game at home, and they celebrated by leaving 18 runners on base. Seriously. It's the most runners a Rays opponent has ever stranded, and it's by far the most the Yankees have stranded this year. The previous high was 15 on May 11th, but guess what? That was an eleven inning game. The previous high for a nine inning game was 13, which they did against the Cubs and also against the Red Sox a few weeks ago (Jesus Montero's first game, the one with Russell Martin's huge go-ahead double off Daniel Bard).  They left one man on base in the second, two men on base in the first, fourth, sixth, and eighth, and the bases loaded in the third, fifth, and seventh. Yikes.
Despite all that RISPFAIL, the Yankees did score five runs, three on Curtis Granderson's bases clearing double in the second. Eric Chavez singled in a run earlier that inning, and then Grandy singled in another run in the fifth. That wasn't really a single though, Casey Kotchman bobbled the grounder and Cesar Ramos flubbed the relay. I'll take it. Curtis is now 8-for-11 with three doubles, two homers, four walks, and two strikeouts in his last three games, so I think we can consider the slump over.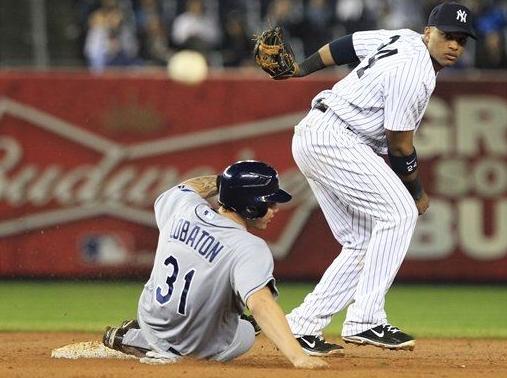 Leftovers
Aside from the Grandyman, four others had multiple hits: Derek Jeter (also a walk), Eric Chavez, Martin (also a walk), and Brett Gardner. Mark Teixeira singled and both Robinson Cano and Nick Swisher doubled, plus all three drew a walk as well. Alex Rodriguez was the only Yankee without a hit, but he walked twice.  Everyone got in on the action, solid offensive night aside from all those runners left on base. You know what they say though, I'd rather have 'em on and strand 'em than not have 'em on at all. They say that, right?
Anyway, the bullpen was a two-man show after Nova left. Boone Logan was brought in to face the lefty Matt Joyce, but the righty Brandon Guyer pinch-hit and popped out in foul territory to end the eighth. Luis Ayala worked a scoreless ninth. That's all she wrote.
The Rays lost, obviously, so the lead on the wildcard spot increased to eight full games. Robert Andino and the Orioles came back against Jonathan Papelbon and the Red Sox, so the lead in the division climbed to six games (seven in the loss column). You're welcome for keeping you ahead in the wildcard race, Boston.
The magic number to clinch a playoff spot is just two, the magic number to clinch the division is just three, and the magic number to clinch homefield advantage is just five. The first two could happen within the next 24 hours. Seriously.
Box Score, WPA Graph & Standings
MLB.com has the box score and video, FanGraphs some more advanced stats, and ESPN the updated standings.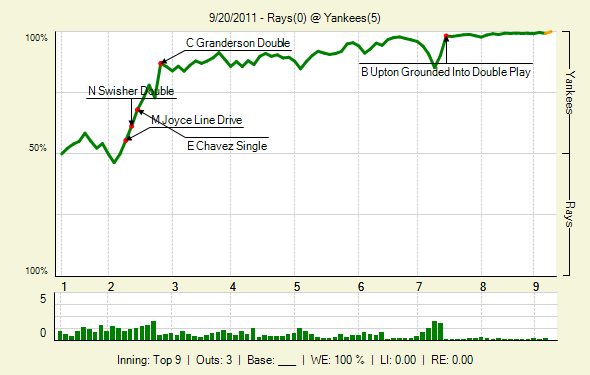 Up Next
Let's play two! These same two teams will play a doubleheader on Wednesday, with the scheduled starters being some combination of Phil Hughes, CC Sabathia, Jamie Shields, and Jeremy Hellickson. Game one starts a little after 1pm ET, and you can get there with RAB Tickets.