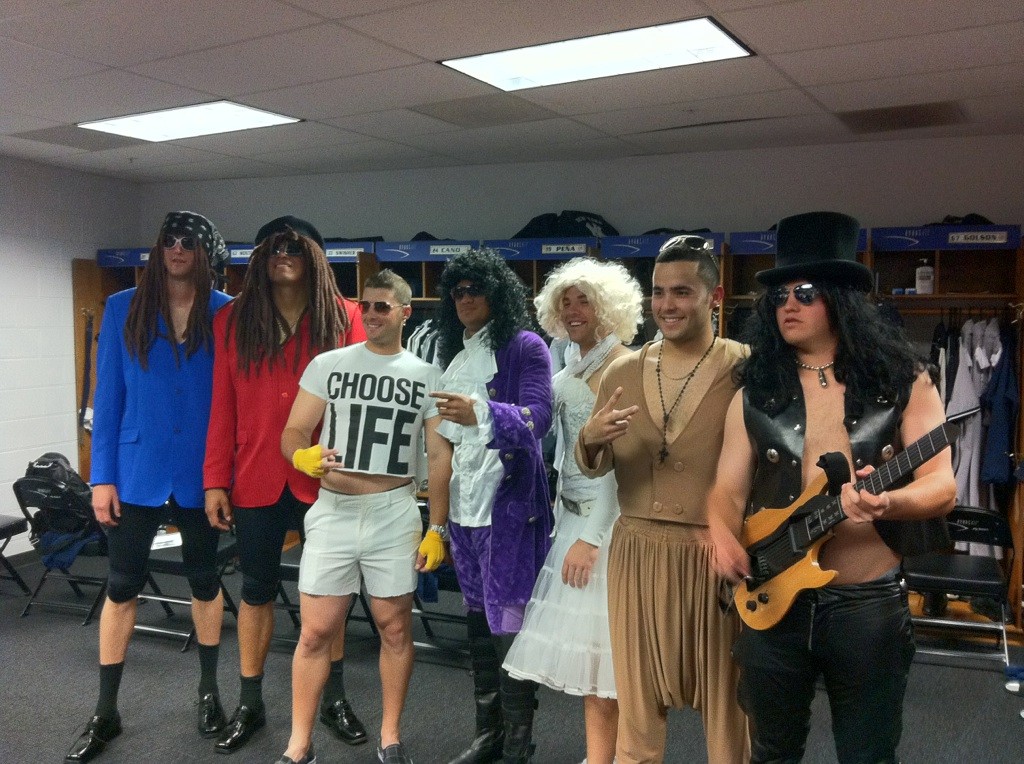 The story of the night is clearly what happened on the field, but that's between the Rays and Red Sox. The Yankees (finally) got busy with their annual rookie hazing tonight, dressing the kids up as various 80's and 90's musical megastars. Jesus Montero broke out the parachute pants and was MC Hammer. Brandon Laird was Slash from Guns n' Roses. Andrew Brackman and Dellin Betances were Milli Vanilli. Hector Noesi dressed up like Prince and George Kontos was a different George, George Michael. Austin Romine drew the short straw; he had to dress up like Madonna and go out on a date with Alex Rodriguez. Okay, I made that last part up, but Romine was definitely the material girl. Phil Hughes zipped him up.
I'll be honest, the Yankees are getting soft. Who cares about dressing up in the middle of the series? They've got to get these kids dressed up when they're hanging cities, preferring to or from Toronto so they have to go through customs. Weak  sauce, Yankees. Someone needs to step up next year and take the bull by the horns.
Anyway, there's wasn't too much to talk about as far as the actual game, so let's recap…
Russell Martin asked home plate ump Paul Schrieber if he stretched before the game, because he "seemed kind of tight." Schrieber was not too pleased, so that's what led to the  ejection. I'll  give Russ some creativity points, but the zone really wasn't that  bad.
Other than possibly Phil Hughes, none of the team's playoff pitchers will pitch on Wednesday. Joe Girardi wants to give them two full days off before the ALDS begins. A player might manage that game, but only if it doesn't mean anything in the wildcard race. Based on what happened tonight, it absolutely will, one way or the other.