Best loss  of the season? Best loss of the season. I can't believe I'm saying such a thing, but with everything already clinched, I have no issues with the Yankees losing a game so the Rays could tie the Red Sox for the wildcard lead with two games left in the season. This is pretty amazing, folks.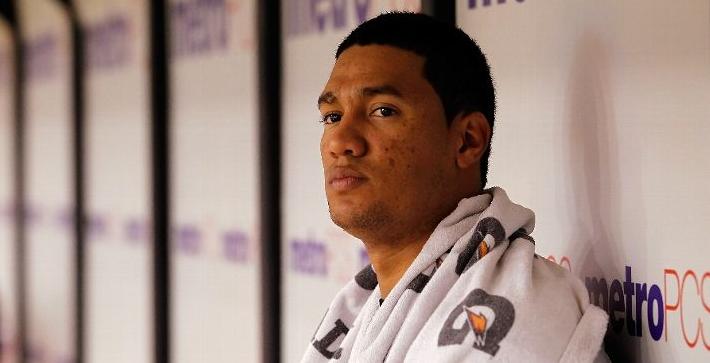 Gassed
Hector Noesi has done a really nice job for the  Yankees this season, but the only problem is that the vast majority of his work has come in low-leverage relief spots. Because of that, it's not much of a surprise that he looked completely gassed after his pitch count crept north of 40-45 or so. Noesi allowed three runs on five hits and two walks in two innings and change, throwing 59 pitches. Tough spot for the kid, but what can you do. His overall body of work has been encouraging this season.
Raul Valdes relieved him and retired two of the three lefties he faced. The one exception was Johnny Damon, who pulled an outside slider through the right side of the infield for a ground ball single. Good process, bad result. Since coming to New York, Valdes has faced a total of 14 left-handed batters, and he's given up four hits (one double, the rest singles) and struck out five. There's talk that he could make the postseason roster, but I have no interest in seeming them carry a second LOOGY in the playoffs unless it's a legit shutdown guy (which they don't have). Joe Girardi won't be able to help himself with the matchups, and having an inferior pitcher (like Valdes) out there in a potentially big spot just because he happens to throw with the correct arm isn't in the team's best interests.
Back To The Bullpen
With his inflamed back keeping him out of action for the last two weeks or so, Phil Hughes returned to the Yankees as a reliever in this game. It's hard, if not impossible to differentiate between what was rust and what was Hughes  being Hughes, but the end result is that he threw 36 pitches across 1.2 IP, allowing one hit (a double) and two walks against two strikeouts. His fastball velocity was in the 92-94 range, so no significant spike. Girardi indicated that Hughes might pitch again Wednesday, but I'm not sure that will happen after this pitch count. I bet Phil makes the ALDS roster, but he almost certainly shouldn't.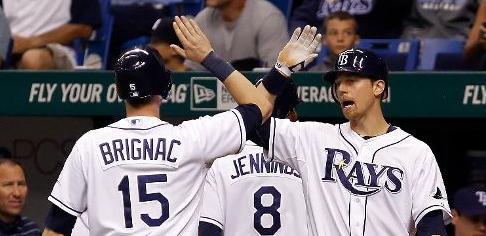 Leftovers
The entire Yankees offense was basically Robinson Cano. He hit a first inning solo homer to dead center and then singled in another run in the third, going 2-for-4 on the day. The other ten hitters (counting a defensive replacement and a pinch-hitter) went a combined 4-for-27. Jamie Shields has been shutting the Yankees down all season, nothing was different in his final regular season start of 2011.
How about home plate ump Paul Schrieber showing up Russell Martin during that fifth inning ejection? No, you can't argue balls and strikes, but Schrieber stopped play, walked in front of the plate, and got in Martin's face. That's definitely over the line. If you're going to toss a guy, then toss him. Don't make a spectacle out of it. I'm sure Schrieber will be disciplined in a timely manner. (nope)
Oh, and speaking of Martin, I sure hope someone gave him a stern talking to after he slid head-first into first to beat out an infield single in the second inning. Everything's clinched already, why risk  some broken fingers? Playing smart > playing hard.
Get this, Jorge Posada made not one, but two nice defensive plays throwing runners out at the plate in the first three innings. He's really going out with a bang; the game-winning hit in the AL East clinching game, the homer off Wakefield on Sunday, and now the two plays in this game. Neat stuff.
Obviously the Red Sox lost to the Orioles, allowing the Rays to tie them for the wildcard. In other out of town news, the  Tigers walloped Cleveland, so if the Rangers win tonight, they'll remain one loss up on Detroit. If they lose, the two teams will have the same record. This is important because the Yankees will face whichever team finishes with the worse record in the ALDS. If they finish with the same record,  it'll be Yanks-Rangers  because Detroit won the season series over Texas. The Rangers are playing the Angels out on the west coast right now, and you can follow that game here.
And finally: holy Desmond Jennings! When Derek Jeter doesn't hit .300 this year, that will be why. What a catch.
Box Score, WPA Graph & Box Score
MLB.com has the box score and video highlights, FanGraphs the nerdy stuff, and ESPN the updated standings. You don't really need to check them, the Yankees are still in first.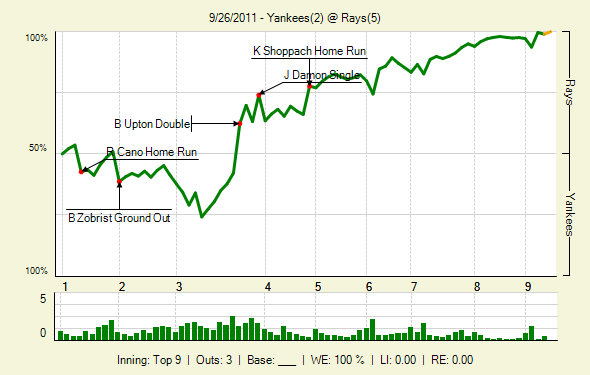 Up Next
The second to last game of the season, that's what's up next. Bartolo Colon will start against Jeremy Hellickson on Tuesday night. Another loss would not be upsetting. At all.