The last time the Yankees were losing by ten or more runs after just four innings of play (like they were in this game) was October 2nd of 2009, a game they lost to the Rays after clinching the AL East. Ah history, love how it goes and repeats itself like that.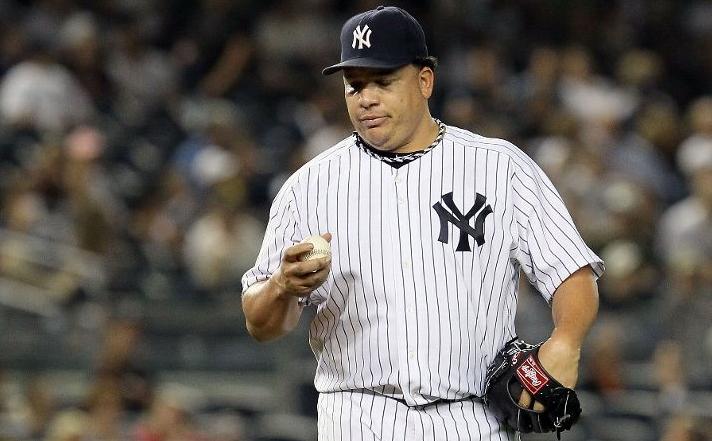 BartoLOLo CoLOLon
Wow, what a terrible start by Bartolo Colon. Granted, a Derek Jeter throwing error in the second didn't help matters, but wow. The big guy allowed seven runs (five earned) on seven hits and a walk in just three innings, and pretty much everything was hard hit. Bart's now allowed 30 runs in 39.1 IP over his last seven starts, which isn't exactly what you want to see so soon before the postseason. It is what it is though. Hopefully Freddy Garcia settles down with the homeritis and stabilizes the third spot in the rotation.
Brackman, Betances & Montero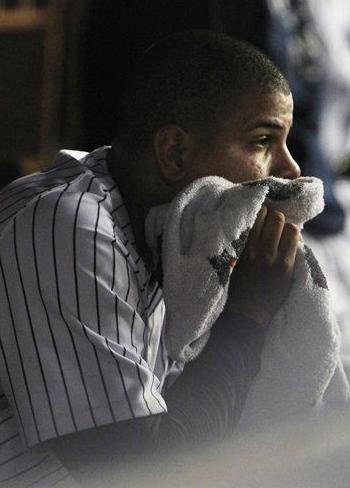 You can see why the Yankees gave Andrew Brackman all that money, that's definitely a first round arm. It's not first round command of course, but Brackman was sitting 90-93 with the cutter and showed both a curve and a slider. I've never heard about the cutter before, did he pick that up sitting in the bullpen, or is it just a lack of information? Either way, he allowed a single and a walk in 1.1 IP of work.
Dellin Betances was an eighth round pick, but he showed off a first round arm by firing some mid-90's fastballs with a sharp curve. His command needs work as well, but that's no surprise. Betances walked four and hit a batter in just 0.2 IP, and everything was up. Classic symptom of overthrowing. Two-thirds of the Killer B's debuted, making this one of the most exciting blowout losses I can remember.
While that was happening, Jesus Montero was busy going 3-for-3 with two walks. One of the hits was a double, and he laid off some tough offspeed pitches for balls as well. So a really good day for one prospect, an okay day for another prospect, and a really bad day for another prospect. Nice little  microcosm of the Prospect Rule of Three.

Leftovers
The Triple-A Scranton Yankees managed to score eight runs … well, the Scranton Yanks and Andruw Jones manged to score eight runs. Jones clubbed a two-run homer and also singled in a run, and both Eduardo Nunez and Ramiro Pena had multiple hits. Chris Dickerson, Austin Romine, Nick Swisher, Jorge Posada, and Brandon Laird had one hit each, and Montero obviously contributed to the offense.
Matt Moore was stellar, striking out 11 batters in just five innings in his first career start. It'll be tough to separate what was really him and what was a side effect of the Yankees celebration on Wednesday night, but that's a problem for the Rays bloggers. The kid's not the best pitching prospect in the game by accident though, he sure was fun to watch. The pitching rich get richer.
Scott Proctor was worse than Colon, believe it or not. He allowed a pair of two-run homers and five runs total in just an inning of  work. Aaron Laffey allowed a run and recorded four outs before giving way to Brackman. George Kontos cleaned things up with 1.1 scoreless innings at the end of the night.
Both the Rangers and Tigers lost on Thursday, so the magic number to eliminate each from the homefield advantage race dropped to one and two, respectively. That should be taken care of by the end of the weekend, if not sooner.
Box Score, WPA Graph & Standings
MLB.com has the box score and video highlights, FanGraphs some other stats, and ESPN the updated standings.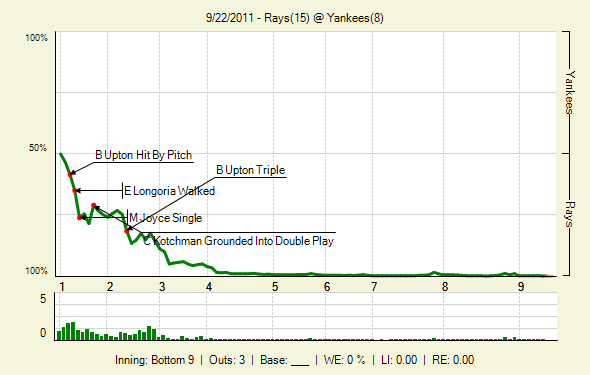 Up Next
It's time to welcome the Red Sox to town … for a meaningless series. Meaningless for the Yankees, that is. Those guys have quite a bit on the line. Garcia gets the ball against Jon Lester on Friday night.