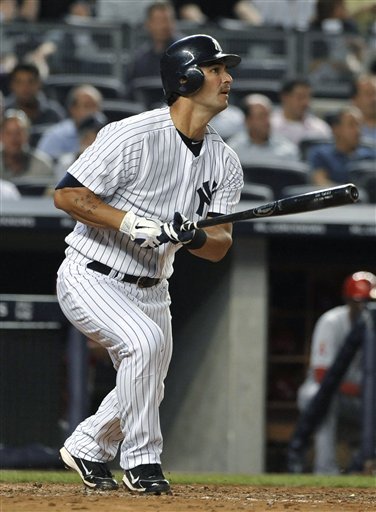 It wasn't supposed to work. When the Yankees agreed to bring Eric Chavez to Spring Training as a non-roster invitee, it was supposed to be nothing more than a sidebar story for a weeks before the two sides parted ways before the end of camp. Chavez hadn't been healthy in years and even when he was healthy, he didn't produce. There was no risk involved, but it didn't exactly qualify as a high-upside signing either.
Chavez came to camp and got his fair share of playing time (45 plate appearances), and he hit. Boy did he hit. A .395/.422/.558 batting line with just six strikeouts, but most importantly, he stayed healthy. There wasn't even a day-to-day situation, no lingering soreness, a tight something, nothing at all. Chavez did his work and stayed healthy, and he performed well enough that the Yankees took him north out of Spring Training as their backup corner infielder.
After a pinch-hitting appearance in the second game of the season, Chavez sat on the bench for more than a week and didn't start a game until the team's eighth of the season. Filling in at DH in Fenway Park, the former Oakland Athletic went 3-for-5 with a pair of opposite field doubles off the Green Monster. He started at third base the next day and picked up another hit. Chavez's playing time gradually started to increase, and by the team's 25th game of the season, he was hitting .290/.405/.355 with twice as many walks (six) as strikeouts (three) in 37 plate appearances.
The power production wasn't there, but that wasn't all that surprising given his history of back and shoulder issues. The important thing is that the Yankees had a rock solid left-handed bat available off the bench, a veteran player that would put together a quality at-bat. Chavez's season came to halt on May 5th, when the inevitable happened and he got hurt. He suffered a deep bone bruise in his right foot rounding the bases on a triple in Detroit, an injury that kept him on the shelf for more than two months, a total of 72 team games.
When he finally did return, Chavez got regular starts at third base because Alex Rodriguez was on the shelf with his knee injury. He went 11-for-32 in his first eight games back, then started to see some more time at DH. A month later, his season batting line sits at .274/.331/.363 in 148 plate appearances, or about 148 more than I expected him to get before the season. He also has three hits and a walk in ten pitch-hitting appearances, and his defense at the hot corner has been surprisingly awesome. I figured he'd lost a step in the field after all the injuries, but he's been legitimately fantastic with the glove, living up to the Gold Glove reputation.
The Yankees came into the season with their best bench in a long time, opting to shore up the reserves in the offseason rather than in-season like they had in the past. Chavez was a total flier, it was impossible to expect anything from him given his lengthy injury history (just 154 games played from 2007-2010), but he's been a very value reserve player for a team that has dealt with injuries, especially on the infield. He embraced his role, the first time in his life he wasn't playing everyday, and the Yankees have reaped the rewards.