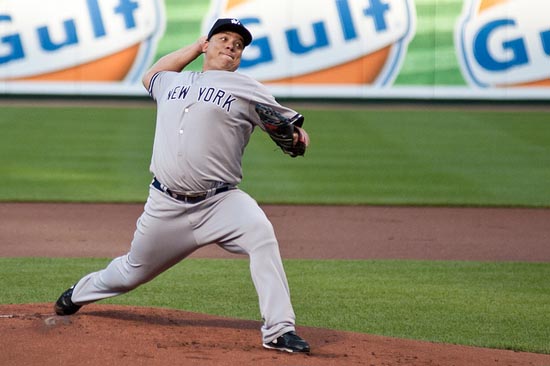 Seemingly lost in the fact that the Yankees lost last night – whether that's due to an anemic offense against one of the better pitchers in the game or bad bullpen management – was the fact that Bartolo Colon went out there pitched his sizable butt off. Sadly, Jered Weaver also pitched his butt off, and it seems like success is based on percentage of butt pitched off, rather than objective size of butt. If objective butt size was the case, Weaver probably would have lost pretty badly to Bartolo. Regardless of butt proportion, this is probably the best start we've seen out of Colon since he pulled his hamstring on June 11th vs. Cleveland.
The pitching line tells the beginning of the story quite clearly: 7 IP, 6 H, 1 R, 0 ER, 1 BB, 5 K. It's an extremely good start, with the only blemish being Derek Jeter's error and the lone walk to Bobby Abreu. During a long roadtrip, getting length like that is invaluable. To get a little nerdier, this game gave Colon his second-best game score since his hamstring injury (67), though his best game score post-injury (68) was against the Mets, so it shouldn't really count at all. Another thing that it seemed Colon had remastered was his efficiency: in his outing, only three batters had at bats where they saw six pitches or more (two of them being hits), and the most pitches any hitter saw against Colon was seven (Mark Trumbo, who flew out). On the other side, Colon was able to deliver at-bats with three pitches or less to 17 of the 28 batters he faced. This allowed a man who hasn't thrown this many innings since 2008 to get through seven complete frames on only 99 pitches, touching 90 twice in his last inning of work.
One of Colon's biggest keys for success has been his two-seam fastball and its sharp movement that he uses to gather up called strikes. His previous start in Toronto, he threw 42 two-seam fastballs, which was the only pitch that he had a negative linear weight on during that game (-1.38). Yesterday in Anaheim, he threw 50 of them for a linear weight of -1.08, which while it was slightly less impressive than his previous start, it has been and continues to be significantly better than all his other pitches. A few starts ago when he bombed against Oakland, he threw only a handful of two-seamers, in contrast to how he usually uses the pitch as his bread-and-butter. It seems that, between yesterday and his start in Toronto, whatever confidence he may or may not have had in the pitch has certainly been replenished.
An additional reason for Colon's success has been the massive amounts of called strikes that he's gotten. His 27% called strike percentage is easily the highest in the league – behind him is Carlos Marmol with 23% and Kyle Lohse at 22%. Over the season, batters have began to try to adjust to this by at least taking hacks at his pitches and hoping they get something out of it or fouling them off in a two-strike count. Last night Colon's five strikeouts skewed in the looking direction, but not heavily: three called verses two looking. However, even though batters are trying to get a handle on the sides of the zone, Colon is still beating them, especially on the inside to lefties/outside to righties:
?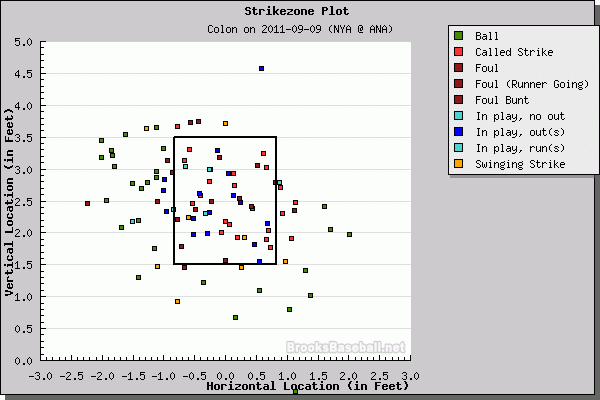 Check that out. There's 9 called strikes on that side of the plate, one hit, a few fouls and an out. On the other side, there's three called strikes, mostly outs and a few foul balls as well. While Colon can still throw some considerable heat (especially considering his age, physical condition, and innings pitched), it's location and precision that has made him into the successful pitcher he was last night.
While there are obviously concerns about Colon: innings, called strikes, his somewhat rotund form – these kinds of outings are the ones that settle those doubts in my mind. Regardless of the actual outcome of the game, there's no denying that Colon put up a stellar start against an offense that, while not the most impressive, can certainly do some damage if they're feeling up to it. It's just bad luck on his part that he was matched up against Weaver, who dominated everyone except for one measly right-handed twenty-one year old. What's that kid's name? Oh, he's probably not that important anyway. Either way, no matter what kind of opposition is planted in front of Bartolo Colon, it seems like when he's getting his calls and his stuff is on, he can roll right on through them. With his pitches, I mean.