Tuesday night's series opener against the Red Sox was one of those "get the lead and hang on for dear life" games, but Wednesday's game was a back-and-forth affair that ended with the Yankees on the wrong side of a 9-5 score.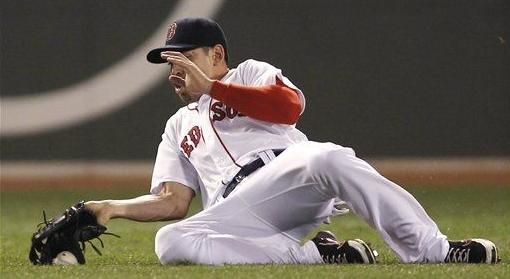 An Early Lead
Josh Beckett has crushed the Yankees this year, absolutely buried them, but this game was different. The Yankees jumped out to a 1-0 lead in the third inning when Eduardo Nunez hustled out a double to leadoff the inning and moved to third on Frankie Cervelli's ground out. He scored on Derek Jeter's bloop single. The ball was in Jacoby Ellsbury's glove, but not in the pocket and it flopped out as he hit the ground on the slide. Jeter kinda willed the ball onto the ground as he ran down to first, and sometimes you need a lucky little bounce like that against a really good pitcher like Beckett.
Giving It Back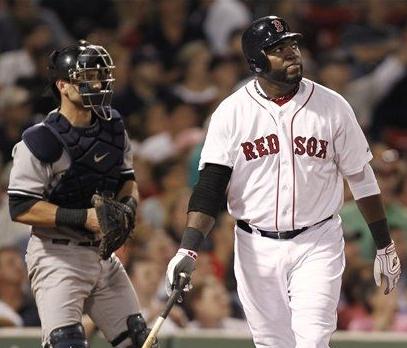 Unfortunately, the 1-0 lead lasted all of eight pitches. Phil Hughes threw the ball pretty damn well in the first two innings, but Marco Scutaro (Mah-co Scutah-ro in Boston) led the bottom of the third off with a single and Ellsbury followed with a double. When you have men on second and third with no outs against a team like the Red Sox, escaping with no more than two runs allowed allowed is a minor miracle. Dustin Pedroia drove in a run with a ground out, then Adrian Gonzalez flew out to center for the second out.
That brought David Ortiz to the plate, but the Yankees chose to walk him intentionally. I usually hate putting runners on base on purpose, but in this spot I actually didn't mind it. Ortiz came into the game with a .467/.500/.867 batting line against Hughes in 18 career plate appearances while Jed Lowrie sported a .256 wOBA against righties. The plan would have worked if Phil didn't leave a changeup up in the zone that Lowrie drove to right for a run-scoring single and a 2-1 run. Shutdown innings, they're a son of a bitch.
Hughes rebounded with a 1-2-3 fourth inning (the first and only perfect frame by a Yankee in the series), but he gave up a two-run homer to David Ortiz with two outs in the fifth. It was a 3-2 count and frankly it wasn't a terrible pitch, a 92 mph fastball right at the knees, but Ortiz golfed it out to dead center for a 4-1 lead. If the pitch has one more mile of an hour on it or is just half-an-inch further outside, it's off the end of the bat for a routine fly ball. Game of inches, you know? Hughes was thisclose to allowing just two runs through five innings, which I think was a lot more than we all expected coming into the game.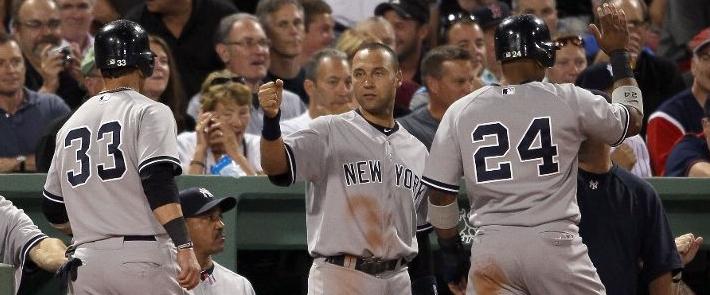 Answering Back
The homer was deflating, but there's a reason games don't end after deflating moments. Beckett started the top of the sixth at just 75 pitches, but he gave the Yankees some life by hitting leadoff man Mark Teixeira with a curveball in the foot (clearly not intentional for all the blood lusters out there). Robinson Cano jumped all over a 2-1 fastball for an RBI double to left center (yes, Tex scored all the way from first I'm an idiot, he moved to second on a wild pitch first), then Nick Swisher worked a hard fought walk to put two men on with no outs.
After four straight curveballs to end the encounter with Swisher, Zombie Eric Chavez came back from the dead and jumped all over a first pitch fastball from Beckett. It was down the line into right, but Josh Reddick completely misplayed the ball and it rolled by him, all the way back to the wall. An average runner would have had an inside-the-park homer, rather easily I think, but Chavez settled for the two-run triple (the official scorer ruled it a double and error, which I don't agree with) and a 3-2 lead. Nunez drove him in with a sacrifice fly one batter later, and just like that, the Yankees had scored more runs in the sixth inning off Beckett than they had the entire season up to that point. They were up 5-4 all of a sudden, but one run leads in Fenway Park are never safe, not when there are twelve outs left.
Nope, Nevermind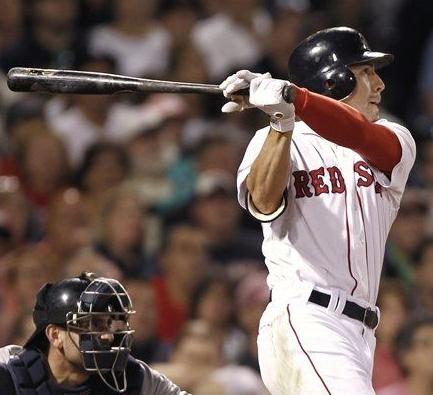 Hughes went out to start the sixth, and I figured Joe Girardi had him on a real short leash. Things looked pretty grim when he fell behind Carl Crawford 3-0 to open the inning, but Phil rebounded to run the count full and get a weak pop-up. Hughes then got ahead of Reddick 0-2, but he got a little too cute and ended up walking the Red Sox right fielder. That was a pretty big no-no, especially since the hacktastic Reddick came into the game with just five unintentional walks in his last 117 plate appearances.
Hughes remained in the game to face the reanimated corpse of Jason Varitek, who he'd already blown away twice in the game. With the hit-and-run on in a 1-1 count, Varitek threw his bat (not literally) at an outside curveball, and managed to slap the ball fair down the third base line. It was a total defensive swing, he was bailing pretty badly and hacked at it only because the runner was in motion. Brett Gardner misplayed the ball in left (it looked like he expected it to carom off the sidewall and out into left, but it didn't), allowing Reddick to score and Varitek to move to second. The lead was gone and the go-ahead run was in scoring position.
Girardi left Hughes in to face one more batter, and his faith in his starter was justified when Scutaro flew out harmlessly to center for the second out. At 100 pitches on the nose, Phil's night was done, his final pitch a 92 mph heater. Earlier this year he was topping out at 92, now he's hitting that with his 100th pitch. By no means was it a great outing, but it was world's better than what we all expected. Yeah, I just told you what you expected. Deal with it.
Anyway, Boone Logan was brought in to face Ellsbury, who came into the game with three hits in five career at-bats off the Yankees' lefty specialist. Logan fell behind in the count 3-1 then caught a little too much of the plate with a 95 mph fastball, which Ellsbury drove it out to left center and over the monster for a 7-5 lead. Shutdown innings, eh? They're a son of a bitch.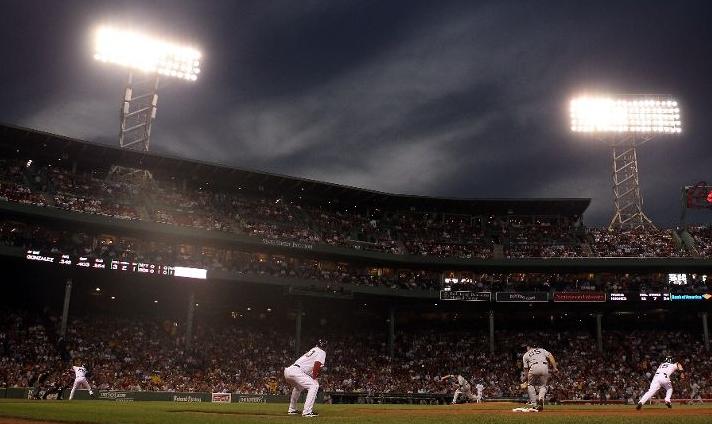 Leftovers
Ellsbury's dinger was the game-winning hit, but Luis Ayala served up a two-run homer to Varitek in the bottom of the eighth to put it even further out of reach. Ayala has now put eight men on base and allowed seven runs in his last three outings (4.2 IP). It's the world's most deceptive 1.97 ERA, I'll tell you what. Ayala did a fine job this summer as the last guy in the pen, but he might be in danger of losing his 40-man roster spot sometime this month. The last thing a team needs to worry about in September (and potentially in the postseason) is the last guy in the bullpen, a mop-up guy. If he keeps pitching poorly, he might not be around much longer.
Tagging Beckett for five runs in seven innings is a pretty big accomplishment given how he pitched against them earlier this year, but the Yankees had some chances to score early. Brett Gardner led the game off with a single to right, but for reasons that defy logic and common sense, Jeter bunted him to second. I mean, I guess anytime you have a chance to bunt away an out against a pitcher like Josh Beckett in the first inning, you have to take it. It's just good baseball, playing the game the right way, you know? Unsurprisingly, the Yankees didn't score in the inning. They also left runners on first and second in the third, a man on first in the fourth, and a man on first in the fifth. The final dozen men they sent to the plate in the game made outs.
Jeter was the only player on the team with two hits (he also stole a base), though Nunez, Cano, and Chavez all had extra base hits. Gardner had the leadoff single. Curtis Granderson, Swisher, and Chavez drew walks while Teixeira got hit by the pitch. Frankie Cervelli had nothing to clap about, he went 0-for-4. The Yankees actually went 3-for-8 with runners in scoring position, which is a .375 average but I'm guessing still complaint worthy.
I was watching on YES, but apparently the ESPN booth for the broadcast was Curtis Schilling, Nomar Garciaparra, and Dave O'Brien. O'Brien, in case you don't know, is the Red Sox's regular radio play-by-play guy. No bias in that booth, of course. At least Michael Kay called them out on it.
The loss moves the Yankees back to 1.5 games behind the Red Sox for the top spot in the AL East, and the Rays beat the Rangers to move to within 7.5 games of the wildcard. The magic number to clinch a playoff spot remained at Paul O'Neill, number 21 in the sidebar.
Box Score, WPA Graph & Standings
That WPA graph had so much potential, it's a shame it didn't reach it's ceiling. MLB.com has the box score and video highlights, FanGraphs some other stats, and ESPN the updated standings.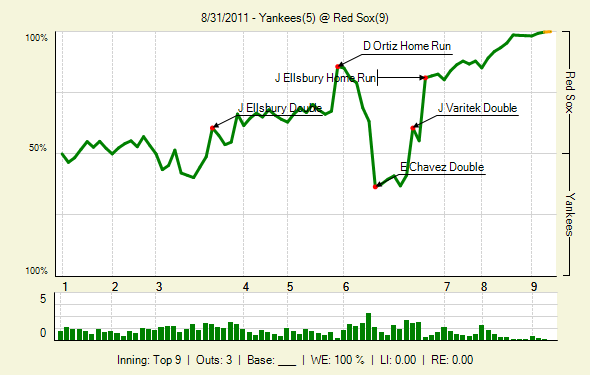 Up Next
The rubber game falls into the hands of … A.J. Burnett. Even better, he'll be opposed by Jon Lester. Reverse lock, right? Right?!? Seriously though, look at the bright side: Jesus Montero is coming, and that is the most exciting news of the season, bar none.