Joe Girardi spoke about three steps after this game, and step one is complete: the Yankees have clinched a playoff spot thanks to today's win. Step two is winning is the division, and step three is clinching homefield advantage. We can worry about steps two and three later … woo playoffs!!!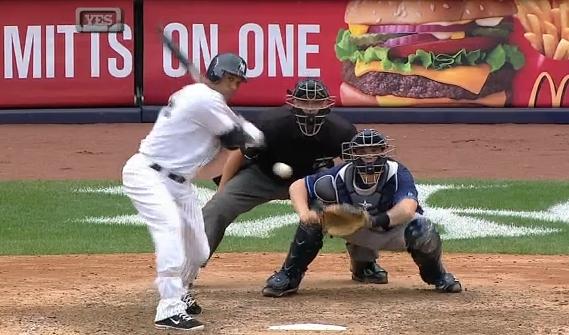 Comeback
We'll talk more about the pitching staff in a bit, but the Yankees were down 2-1 heading into the eighth inning. Jamie Shields, who has shut the Yankees down several times this year, was doing it again and started that eighth inning at 108 pitches. His 110th pitch cost him, a hanging changeup that Eduardo Nunez clubbed out to left for a game-tying solo homer. Give the kid in the front row some props too, it was a nice catch. Shields remained in the game after the homer, but he clearly wasn't at full strength.
After pinch-hitter Eric Chavez struck out, Brett Gardner slapped a single the other way to end a seven pitch at-bat. He stole second soon thereafter (more on that later), but it didn't really matter because Derek Jeter ended up walking anyway. Joe Maddon finally came out to get Shields, 120 pitches into his day, and brought in the lefty J.P. Howell to face Robinson Cano. We all know that Robbie rakes lefties,  so Howell did himself no favors by falling behind in the count 3-0 and then 3-1. That 3-1 offspeed pitch was too far up in the zone, and Cano drove his MLB-leading 79th extra-base hit (a double) to left-center. Both Gardner and Jeter scored, completing the three-run comeback inning and giving the Yankees a 4-2 lead with three outs to go.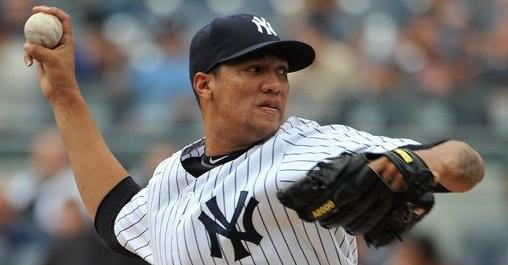 Bullpen on Parade
With Phil Hughes continuing to be sidelined by back spasms (he went for tests), the emergency start went to Hector Noesi. With just 50-60 pitches at his disposal, Noesi gave up two runs (two-run homer by Desmond Jennings) in what should have been three innings, but will go in the books as 2.2 IP. Replays showed that Evan Longoria was out at first on an infield single, the would-be third out that instead extended the inning. No biggie, the Yankees benefited from a similar call last night. It happens.  Noesi threw 55 pitches total.
Raul Valdes was next, and he struck out Johnny Damon to end the inning after allowing a single to Matt Joyce. He also chipped in a scoreless fourth inning with two more strikeouts. Valdes has faced seven left-handed batters with the Yankees, giving up one hit (to Joyce) and getting one ground ball out while striking out the other five. Not a bad late season showing, better than Royce Ring last September anyway.
Exit Valdes and enter George Kontos. The right-hander had been stretched out to 50-55 pitches late in the Triple-A season, but he only threw ten pitches in the fifth. Fly outs by Jennings and Longoria were sandwiched around a B.J. Upton single before Aaron Laffey came in to face all the lefties. Joyce took a slider between the numbers before Damon struck out to end the inning. Casey Kotchman doubled down the line to open the sixth, then Cory Wade replaced Laffey after Jose Lobaton's fly out.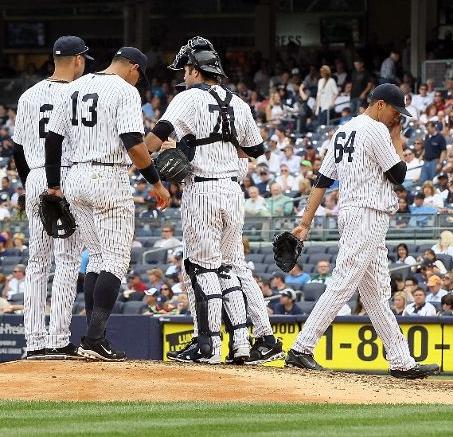 Wade came in and did what he's been doing pretty much all year, escaping the inning unscathed by striking out Sean Rodriguez and getting Reid Brignac to ground out. He needed some help from Jeter though, the Cap'n ranged to the first base side of second base (no, really) to make the play on the ground out. The seventh inning for Wade went like the fifth inning for Kontos, an Upton single between outs by Jennings and Longoria. Next up was Boone Logan, who retired Joyce on one pitch and then allowed two of the three men he faced in the eighth to reach base. Luis Ayala bailed him out by whiffing Ben Zobrist (pinch-hitting) and Brignac, and he got himself a win for his troubles when Mariano Rivera worked a 1-2-3 ninth.
All told, the Yankees used eighth pitchers this afternoon, only three of whom were on the Opening Day roster. They combined to hold Tampa to two runs on nine hits, two walks, and two hit batsmen, and they struck out ten. Given the circumstances, you couldn't possibly ask more from these guys. The majority of them spent the year in the minors, but they went toe-to-toe with Shields and gave New York a chance to win. Bravo, fellas.
Leftovers
The Yankees sure have had a tough times with Shields this season, but they got off to a good start by scoring right in the first inning. Jeter grounded a single back up the middle, and two batters later A-Rod doubled over Upton's head in center. One run, two hits, and we were just four batters into the game.
Between the first and the eighth, the only other time they mounted any sort of rally came in the fifth, when Nunez singled before stealing second and then third. Stealing two bases in one inning is impressive enough, but it's even more impressive when you do it against a guy that had allowed a total of three steals in his first 31 starts of the season. The Yankees stole three bases in the game. Unfortunately, Austin Romine shot a line drive right at Longoria, who caught the ball for an out and doubled Nunez off the bag. Just a tough break, Romine put together a nice seven-pitch at-bat and hit the ball hard. Dems the breaks.
With the two steals in the fifth, Nunez now has stolen 21 bags this season, giving the Yankees three players with 20+ steals for the first time since 2007. Gardner and Curtis Granderson are the two other 20+ steal guys this year, and the 2007 trio was A-Rod, Damon, and Bobby Abreu.
The win clinched a playoff spot, but also raised the lead in the AL East to a season-high 6.5 games and dropped the magic number for the division title to just two. That's why Jeter is still celebrating his  3,000th career hit in the sidebar. The magic number to clinch homefield is four.
Box Score, WPA Graph & Standings
Now that is a great WPA graph. MLB.com has the box score and video highlights, FanGraphs some other stuff, and ESPN the updated standings.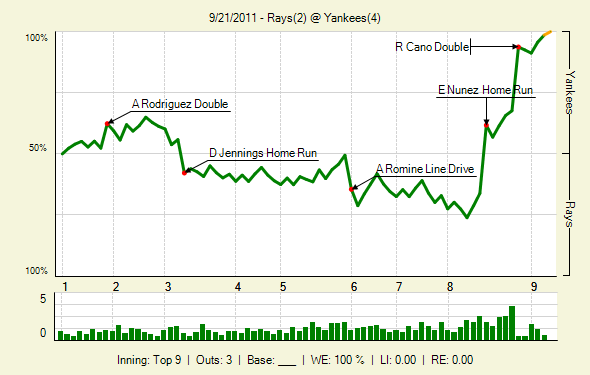 Up Next
They're playing two today, so check back in at 7pm ET tonight for CC Sabathia vs. Jeremy Hellickson.