Yanks drop opener to Jays on Molina walk-off hit
By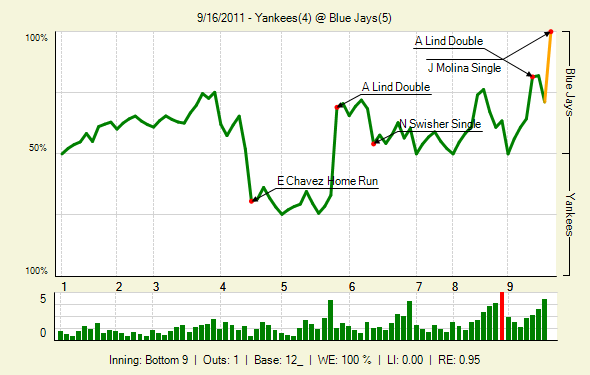 The Yankees are back from the west coast, but perhaps the offense and CC Sabathia's command decided to stay behind and enjoy the nice weather for a few extra days. Let's recap…
How many more six-inning, 120-pitch outings are the Yankees going to let CC Sabathia throw before they cut the crap with this six-man rotation? This was basically the fourth start in a row he's done that. Don't get me wrong, I was in favor of the six-man rotation … back in August. We're in mid-September now, well beyond its expiration date. Sabathia gave up another ten hits (fifth time he's done that in his last ten starts) and walked another four batters (second start in a row), and once again the story of his game was his command, or lack thereof. His velocity is more than fine and he's still piling up the strikeouts (eight), but he's throwing way too much pitches. They need to get him back on normal rest, like right now. There's not much schedule left, they can't let this go on any longer.
After Sabathia exited, the bullpen usage was textbook. Rafael Soriano struck out the side in the seventh, David Robertson wiggled out of a jam in the eighth, and a reliever not named Mariano Rivera gave up the walk-off hit in the ninth. Tie game on the road, gotta save that closer for the save spot, you know. Cory Wade served up the walk-off hit for a second game in a row, but not before Boone Logan failed to get out the lefty he was brought in to face (double by Adam Lind). Logan's been quite good at that this year, giving up extra base hits to lefties. At least Jose Molina got the game-winning hit, not some other Blue Jay jerk. I can't hate on Molina, he's a championship Yankee.
The offense was basically Robinson Cano, Nick Swisher and Eric Chavez. Swisher doubled in Cano in the first and then singled him home in the seventh. Chavez clubbed a two-run homer to dead center in the fourth. The Yankees had just five hits after picking up just four (in twelve innings) in the last game. Cano, Swisher, and Chavez combined to go 5-for-12 while everyone else in the lineup went 0-for-19 with two walks (Curtis Granderson and Brett Gardner). That's it. It looked like the offense was getting back to being itself during the first two games in Seattle, but I guess not.
The Red Sox beat the Rays, so the lead in the division dropped to 3.5 games (four in the loss column) while the lead in the wildcard remained at 7.5 games. The magic number to clinch a playoff spot dropped to just six. Here's the box score, here's the FanGraphs stats, and here's the standings.
The second game of this three-game set will be played Saturday afternoon at 1:07pmET, when Bartolo Colon takes on the rookie Henderson Alvarez.