Pretty forgettable game on Sunday, one of those classic "end of a long road trip" games when entire team seemed like they just wanted to go home. The Jays won 3-0, handing New York their seventh loss in their last eleven games.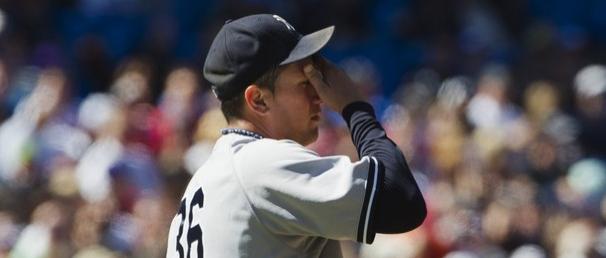 The Homerun Regression Tour Continues
Like Bartolo Colon on Saturday, Freddy Garcia did not make it out of the fifth inning. He allowed three runs, two on solo homers by Adam Lind, making it three straight starts in which he's allowed exactly two homers. Since the end of that 69 IP homerless streak, Sweaty Freddy has allowed seven homers in just 14 IP. The third run scored on a sacrifice fly after Garcia threw a ball away on a bunt attempt. Three runs on five hits and three walks in 4.2 IP raised Garcia's ERA to 6.00 in 21 IP against Toronto this season. Against everyone else, he has a 3.38 ERA. I don't think I'm alone in saying: thank goodness they don't play the Blue Jays again this year.
No Fight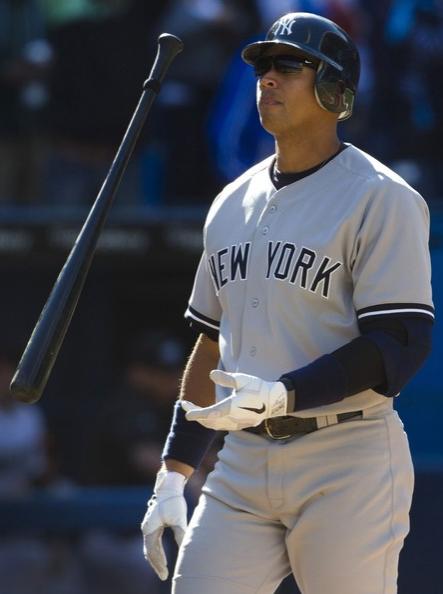 With the season winding down and the Yankees having a pretty comfortable lead on the playoff spot, Joe Girardi understandably rested some of his regulars on Sunday afternoon. Derek Jeter, Mark Teixeira, and Curtis Granderson did not play at all, and Robinson Cano got a half-day off at DH. Unsurprisingly, they struggled on offense. Eduardo Nunez (of all people) was the lone bright spot, going 3-for-4 with a double. He would have had a fourth hit (and another double) if it wasn't for a nice lunging catch by Eric Thames in left, a ball hit right to the warning track. Of course, Nunez got thrown out at second trying to stretch a single into a double at one point, another example of the team's recent baserunning stupidity.
Aside from that, the Yankees went a combined 2-for-26 with a walk, striking out nine times against Brandon Morrow. They worked the count well early, forcing the righty to throw 39 pitches in the first two innings, but he settled down and needed just 68 pitches for the final six frames.  Frank Francisco threw a chair scoreless ninth, striking out Alex Rodriguez to end it.
Leftovers
Aside from Scott Proctor (one intentional walk, one unintentional walk, one hit, one out) and Aaron Laffey (walked the only man he faced), the bullpen was pretty solid. Luis Ayala bailed Garcia out of a bases loaded jam in the fifth then tacked on a perfect sixth. Raul Valdes, pitching for the first time as a Yankee and the first time since August 29th, made a nice impression by striking out Lind and Colby Rasmus looking. He might get another look this week, just because. George Kontos threw one pitch, getting out of the eighth because Russell Martin threw someone out stealing. That's really it, not much more to talk about.
The Rays beat the Red Sox (again), so the lead in the division remains at 4.5 games while the lead in the wildcard shrunk to 6.5 games. The magic number to clinch the division is down to seven, the magic number to clinch a playoff spot just five.
Box Score, WPA Graph & Standings
MLB.com has the box score and video highlights, FanGraphs has some more advanced stats, and ESPN has the updated standings.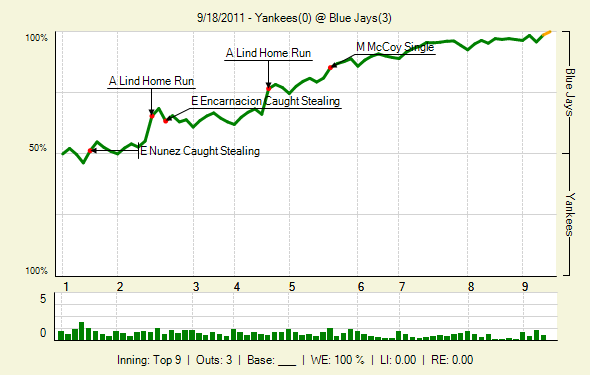 Up Next
At long last, it's time for the Yankees to go home. They're going to play a one-game makeup with the Twins on Monday afternoon, a 1:05pm ET start that will feature A.J. Burnett and Scott Diamond. Minnesota is just 9-36 since July 30th, and they're without Joe Mauer, Justin Morneau, and Jason  Kubel due to injuries.