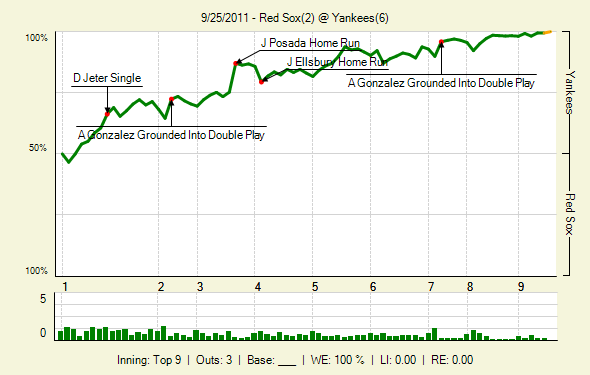 Two recaps for the  price of  one, eh? Some deal. Let's start with the afternoon game…
The story of game one was clearly A.J. Burnett. The perpetually shaky right-hander struck out six and allowed five hits across 7.2 IP, giving up just two runs on a pair of Jacoby Ellsbury solo homers. His game score of 65 tied his best since June 18th, a span of 18 starts (the other 65 came in Seattle two weeks ago). I still don't think they should give him a playoff start,  but it was good to see A.J. finish his season on a  high   note. David Robertson relieved him, and recorded the final four outs of the game without incident (three strikeouts).
After bunting and running their way to two runs off  Tim Wakefield in the first, the highlight of the  scoring was Jorge Posada clubbing a  no-doubt two-run homer in the third. Joe Girardi did a classy thing by batting Jorge cleanup in his last regular  season start at Yankee Stadium, and he responded with the bomb that made it 4-0. Pretty awesome  stuff.
Here's the box score and  FanGraphs stuff.
That about sums it up for the first game, so let's dive into  the second game…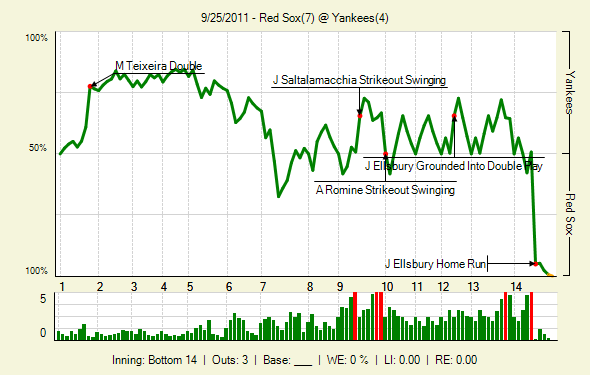 The home portion of the regular season is over, and it's off  to Tampa for the final three games of the 2011 season. Hector Noesi will start against Jamie Shields on Monday night.