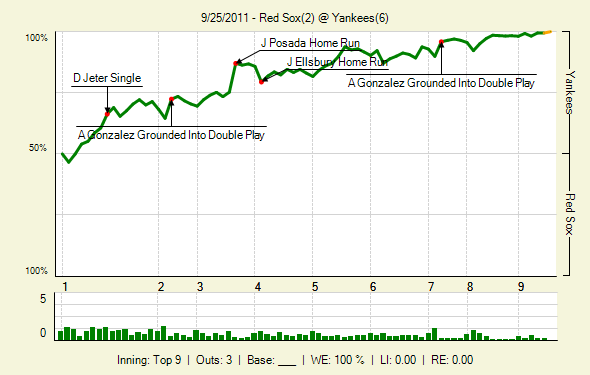 Two recaps for the  price of  one, eh? Some deal. Let's start with the afternoon game…
The story of game one was clearly A.J. Burnett. The perpetually shaky right-hander struck out six and allowed five hits across 7.2 IP, giving up just two runs on a pair of Jacoby Ellsbury solo homers. His game score of 65 tied his best since June 18th, a span of 18 starts (the other 65 came in Seattle two weeks ago). I still don't think they should give him a playoff start,  but it was good to see A.J. finish his season on a  high   note. David Robertson relieved him, and recorded the final four outs of the game without incident (three strikeouts).
After bunting and running their way to two runs off  Tim Wakefield in the first, the highlight of the  scoring was Jorge Posada clubbing a  no-doubt two-run homer in the third. Joe Girardi did a classy thing by batting Jorge cleanup in his last regular  season start at Yankee Stadium, and he responded with the bomb that made it 4-0. Pretty awesome  stuff.
Here's the box score and  FanGraphs stuff.
That about sums it up for the first game, so let's dive into  the second game…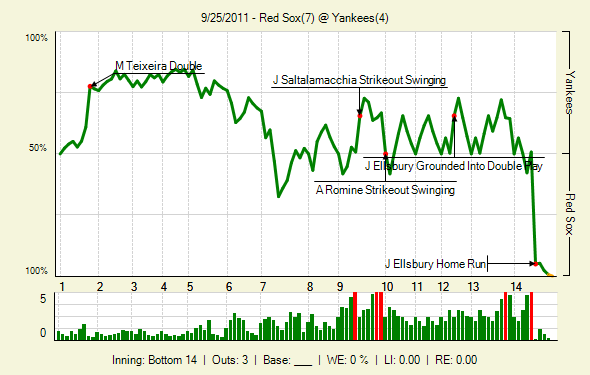 Once upon a time, many innings before the game ended, Mark Teixeira gave the  Yankees a quick three-zip lead when his double off the top of  the wall turned into a makeshift inside the park homer. A throwing error by the catcher sure helped out as well. That was basically it for the offense though, they scored another run in the seventh on a sac fly, but they had just two hits in eleven innings after the second inning.
Ivan Nova started strong, but really gave up some rockets the second and third time through the order. The end result was four runs in 6.1 IP, coming on eight hits. The bullpen behind him was really good (Boone Logan, Rafael Soriano, Mariano Rivera, Raul Valdes, Cory Wade, and Aaron Laffey combined for seven scoreless innings), at least until Scott Proctor came in and promptly put two guys on base and served up a three-run homer to Ellsbury in the 14th inning. You just knew it was over as when Proctor came in.
The Yankees had their chances to win, of course. Austin Romine struck out with the bases loaded to end the ninth, and Brett Gardner struck out to end the 13th with men on second and third. Oh well. Alex Rodriguez, Russell Martin, and Derek Jeter remained glued to bench after playing the day game, understandably.
Here's the box score, FanGraphs stuff, and updated standings.
The home portion of the regular season is over, and it's off  to Tampa for the final three games of the 2011 season. Hector Noesi will start against Jamie Shields on Monday night.