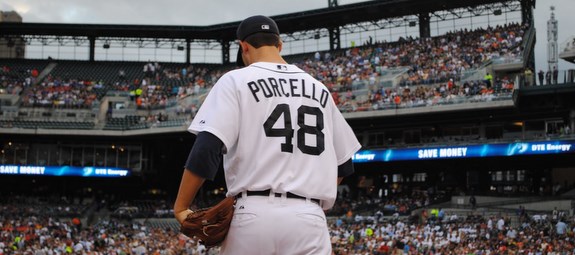 With their season on the line, the Yankees will face a local kid in tonight's Game Four. Rick Porcello, a graduate of Seton Hall Prep in West Orange, already has three full big league seasons to his credit despite being a professional for just four years. He didn't spend a single day in either Double-A or Triple-A before cracking the Tigers' opening day rotation in 2009, and the lack of experience has shown a bit. Although this will be his first career playoff start, Porcello did pitch well (two runs in 5.2 IP) in Game 163 against the Twins as a rookie.
Performance
A true ground ball reliant pitcher (we'll get to why in a bit), Porcello owns a 4.75 ERA with a 4.06 FIP and 4.02 xFIP in his career. The ERA is obviously poor, but the peripheral-based stats are almost exactly league average during his three-year career. He doesn't miss bats (4.84 K/9 career) but he doesn't walk anyone (2.38 BB/9 career), and obviously he gets a bunch of grounders (51.9% career). His 2011 performance is right in line with his career totals (5.14 K/9, 2.27 BB/9, and 51.4% grounders).
Still just 22 years old, Porcello has shown no home/road split during his career simply because he doesn't give up enough fly balls for Comerica Park's spacious outfielder to matter. Left-handers have hit him substantially better both this year and over his career though, and we'll look at why right now.
Pitch Selection

(via Texas Leaguers and FanGraphs)
After taking Porcello in the first round of the 2007 draft, the Tigers sent him to High Class-A in 2008 and put him on a pitch count. In an effort to pitch deeper into games, the right-hander developed a two-seamer to get quick ground ball outs, and that's been his approach ever since. Once a power pitcher with two swing-and-miss pitches in his four-seamer and slider, Porcello is now essentially a sinkerballer by choice.
Two two-pitch pitchers like Max Scherzer, Porcello uses a fastball-slider approach against righties and fastball-changeup against lefties. He uses his curve so infrequently that it's not worth mentioning. At more than a full run worse than average (per 100 thrown), Porcello's changeup is his worst pitch, and that's why he struggles against lefties. He has to get them out with his fastball, the changeup just isn't good enough to consistently rely on. All of his other pitches are right around league average, close enough that it's not worth getting worked up over.
Pitching Pattern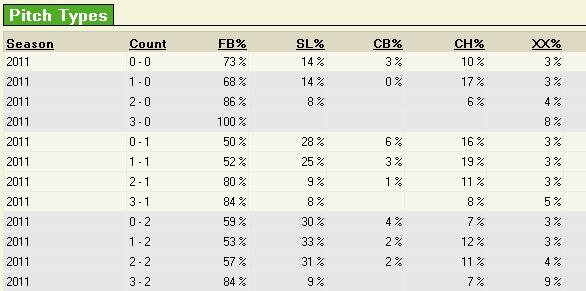 (via FanGraphs)
The XX pitch is an undefined pitch by PitchFX, the system was unable to classify it. Perhaps it's a slurve or cement-mixer changeup, something that doesn't fit into one of the other pitch categories. A junk pitch. At 3-9% in the various counts, he throws a decent amount of them.
Like most sinkerballers, Porcello is very fastball heavy, even with two strikes. His first pitch strike percentage has increased every season of his career (61.4% in 2011 compared to the 59.4% league average), so he does a decent job of getting ahead of hitters. Not an extraordinary job though, the Yankees will be able to work the count a little bit more than they were against Justin Verlander, who seemed to be 0-1 then 0-2 on everybody. Porcello will let them put the ball in play and that's a good thing, the Tigers have a shaky infield defense (especially at short and at first) and you want to force those guys to make the plays. If the sinker's really working, it could be a long night for the offense. If not, Porcello will have to battle for every out. The latter has been true more often than the former in his career.