If you're going to win a championship, you're going to need to get unexpected contributions from unexpected players, and that's exactly what the Yankees got on Tuesday night. Facing elimination, the Yankees played an almost flawless game to extend the ALDS to a winner take all Game Five.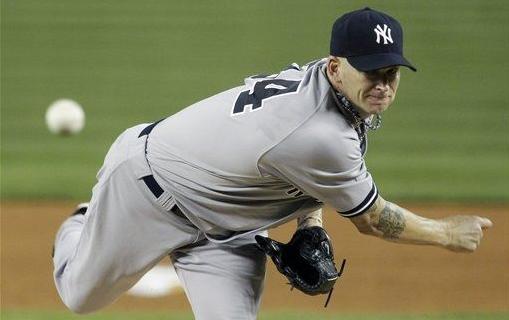 I Believed In A.J.
Okay, no I didn't, and I don't think many of you did either. I don't blame you, A.J. Burnett has been decidedly awful for two years now, and nothing about having him start a win or go home game sounds appetizing. But then … this. Five-plus innings, one run. That's all the Tigers got off him. Best case scenario? Absolutely the best case scenario. Funny thing is, it started rather ominously.
I'm going to talk more about this in a bit, but Curtis Granderson saved Burnett's bacon with a great catch in the very first inning. A.J. walked the bases loaded (one was intentional) and gave up a rocket, but his center fielder bailed him out with a great catch. Like I said, this had to be a total team effort. Bad A.J. was in the building, but the TBS cameras showed Burnett and Larry Rothschild chatting on their way to clubhouse after the inning. Whatever they talked about, it worked. A.J. came out throwing grenades in a perfect, ten-pitch second inning, then tacked on a scoreless third inning on 13 pitches.
Victor Martinez led off the fourth inning with a homer, then two batters later Jhonny Peralta doubled. The bullpen was working, just like it was in the first inning, but Burnett got former Yankee Wilson Betemit to swing over top of a curveball at his shoes for strike three to end the inning. A scoreless seven-pitch fifth inning followed, then A.J. came out for the sixth. He got two quick outs before Don Kelly singled, and that was the end of his night. We spent all day talking about the need for a quick hook, and Joe Girardi obliged. After 81 effective pitches, Burnett's day was done.
Like it always seems to be, the key to the game was A.J.'s curve. Nineteen of the 30 curves he threw went for strikes, four for swing-and-misses. Thirteen of his 14 non-strikeout outs came on the ground, so he had some movement on his fastball and kept the ball down. You can't say enough about the job Burnett did in this game, facing elimination. He proved basically everyone wrong, keeping a very good lineup in check for far longer than anyone expected. Give that man a round of applause.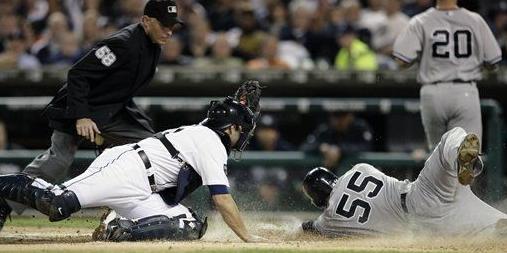 The Cap'n Capitalizes
While everyone focuses on the futility of Alex Rodriguez, Mark Teixeira, and Nick Swisher, Derek Jeter went a very quiet 0-for-4 with three strikeouts in his last four at-bats with men on base in the series, stranding a total of eleven ducks on the pond. With Jorge Posada on first (hit-by-pitch) and Russell Martin on second (single), Jeter came to the plate with one out in the third after one of the dumbest sacrifice bunt attempts I can remember. Brett Gardner couldn't get the thing down, not that he should have tried to in the first place (playing for two runs with Burnett on the bump? nope), fell behind in the count, then made an out without even advancing the runners. That brought Jeter to the plate with a chance for redemption.
Rick Porcello was getting the high strike all game long, so I don't know if it was a conscious decision to go upstairs with the sinker to Derek, but that's where it went. The Cap'n drove the 1-0 offering basically over Austin Jackson's head in center for a double, scoring both Jorge and Martin. Russ had to slide around the tag at the plate, showing off some of his sneaky good baserunning skills. The Yankees were up two-zip in the third, but I think we all knew that the score was going to change at some point, and by a whole lot. At +.179 WPA, Jeter's double was the biggest play of the game.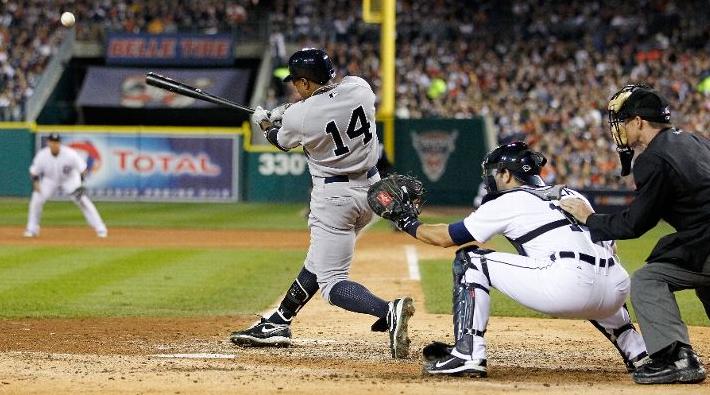 Everything Clicks (Part One)
The Yankees held that 2-0 lead until V-Mart's solo shot in the fourth, but they responded a half-inning later. Martin led the inning off with a single, then Gardner went the other way for a single. Another stupid bunt attempt followed, except this time Jeter bunted it back to the pitcher who got the force at third. It was truly awful, I have no idea why this team plays for one or two runs with a pair of ~5.00 ERA guys on the mound. And you know Derek did that on his own, he does that all the frickin' time.
Anyway, up come the super amazing Curtis Granderson, who we're going to talk about in the next section. Porcello jumped ahead of him 0-2, but the former Tiger hooked one of those upstairs sinkers into the right field corner for a run scoring double. Robinson Cano was intentionally walked to loaded the bases, and all the Yankees needed from A-Rod was a fly ball. He gave them that fly ball, another 0-2 pitch, deep enough to center to score another run and increase the lead to 4-1. That was much more comfortable than 2-1, but the game was hardly over.
Flyin' Curtis
As I said a minute ago, Burnett does not last long enough to pitch as well as he did with some help from his defense. After loading the bases on those three walks in the first, Kelly smoked a fastball to dead center that appeared headed for some unoccupied piece of outfield. Granderson seemed to misread the ball hit right at him, first taking a step in before breaking back. Grandy ran for a few steps then lunged, snaring the line drive while in a full extension. He crashed to the ground with the ball in his glove, ending the threat and the inning. Remember how I said that 13 of the 14 non-strikeout outs Burnett record were on the ground? This was the one exception.
Five innings later, Granderson did it again. Burnett was out of the game at this point, having just given way to Rafael Soriano with a man on first and two outs in the sixth. Peralta, who doubled last time up, jumped all over a first pitch cutter and drove it out to left-center. It was ticketed for the gap and would have definitely scored Kelly from first with two outs, but Granderson was on his horse and ran the ball down. He dove, another full extension, and grabbed the ball about a foot off the ground. He seemed to knock the wind out of himself, but the catch was made and the inning was over. The combined WPA of the two catches is +.097 (.071 + .026), but they were far, far bigger in reality.
Everything Clicks (Part Two)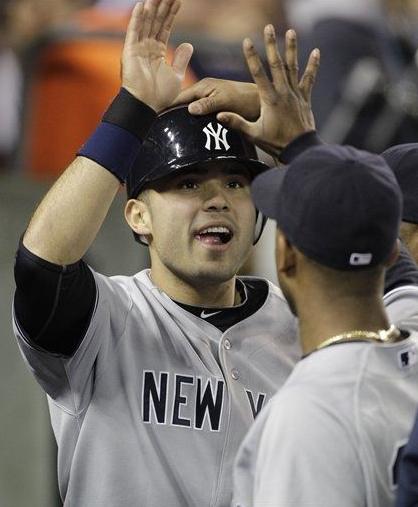 The score remained 4-1 into the eighth inning, when something weird happened. The 3-4-5 hitters started hitting. Crazy, I know. A-Rod opened the inning with a line drive single to second. Teixeira followed that up with a dinky little infield hit that hugged the third base line, but hey, I'm not complaining. Sometimes a little thing that like that can a guy going. Swisher loaded the bases with no outs on a ground ball single through the left side. Tex and Swish were taking their first right-handed at-bats of the series (off former Yankee Phil Coke), so perhaps that helped them out. Both guys are considerably better against lefty pitching.
Posada's been the team's most consistent hitter all postseason, but with the bases loaded and a lefty on the mound, Girardi went to the bench and called on Jesus Montero. Jim Leyland countered with the right-hander Al Alburquerque, but since Montero is the backup catcher, Eric Chavez did not replace him to get the platoon advantage. It didn't matter though; Alburquerque balked in a run (Jesus works in mysterious ways) before Montero singled through the left side for another run. That made him the third youngest player in Yankees history to pick up a postseason hit, behind only a pair of guys named Joe DiMaggio and Mickey Mantle. That's pretty awesome.
Martin reloaded the bases with a walk, then Gardner singled in a run and loaded the bases yet again. Jeter and Granderson struck out, but Cano and A-Rod took care of business with a pair of run-scoring singles. It was Alex's second hit of the inning, two more than he had the entire series up to that point. A 4-1 game was suddenly a 10-1 game, and pretty much all the pressure was gone. It was a comfortable lead, and we all (cautiously) starting making plans for Game Five on Thursday night.
Leftovers
Big ups to the bullpen. Soriano recorded four outs on just nine pitches (one thanks to Granderson's diving catch), Phil Hughes came in throwing darts in the eighth (very 2009-esque, no hyperbole), and Boone Logan wrapped things up by striking out the side in the ninth. Ten up, ten down, and six strikeouts. Great job by these three, especially Soriano, who didn't have the safety net of a huge league.
A-Rod looked pretty good at the plate, and it wasn't just the two late singles. He hit three moderate-to-deep fly balls in his first three trips to the plate, so his timing seems to be coming back a bit. Any positive signs, we have to take them. Everyone in the starting lineup had a hit except for Posada, who reached on the hit-by-pitch. A-Rod, Martin, and Gardner all had two hits, as did Montero off the bench. He's just that damn good. Jeter, Cano, and Martin added walks. The entire team combined to go 6-for-14 with men in scoring position (.429), with most of the damage coming in that six-run eighth inning.
John Smoltz has been very anti-Yankees in this series, though I don't know if it's his Detroit roots or just some leftover bitterness from 1996 and 1999. Anyway, during that big eighth inning, he tried to play this game off as a "good loss" for the Tigers, because it allowed them to get ready and focus on Game Five. Yeah, it's definitely a "good loss" when you put yourself on the brink of elimination. Give me a break.
Play-by-play guy Brian Anderson redeemed Smoltz a bit by talking about the Yankees' catching depth during Montero's first at-bat. He obviously mentioned Montero and Austin Romine, but he also dropped Gary Sanchez's name in there. That was pretty cool.
WPA Graph & Box Score
Those last two stress-free innings were big, my blood pressure needed that. MLB.com has the box score and video, FanGraphs some other neat stuff.
Up Next
Good pitching, good hitting, and good defense, so now the Yankees will play a Game Five. These two clubs have Wednesday off, then will regroup at Yankee Stadium on Thursday night for the right to play the Rangers in the ALDS. That game was supposed to start at 8:37pm ET, but apparently it's been bumped up to regular old 8pm ET now that the other ALDS has been decided.