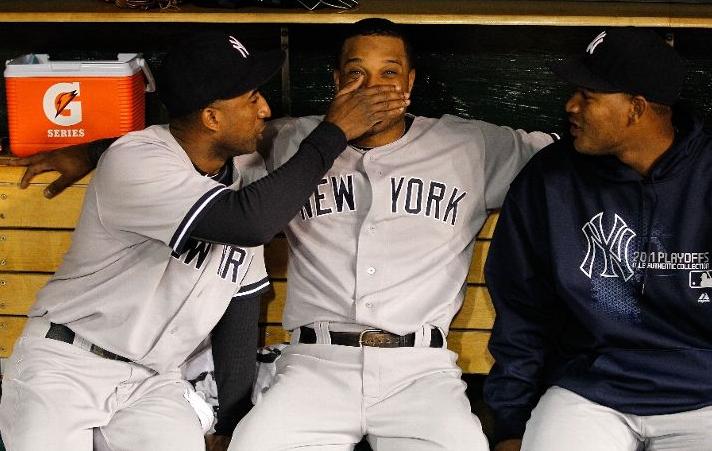 Just before the playoffs began, the Yankees took what seemed to be the inevitable step of installing Robinson Cano as their new number three hitter. Mark Teixeira just wasn't cutting it against right-handed hitters, and Cano was one of the team's top two offensive players for the second straight season. The move was made and it paid immediate dividends in Game One of the ALDS. Robbie had two doubles and a grand slam in the rout of Detroit, but the funny thing is that Cano never projected to be this type of hitter when he was in the minors.
In an Insider-only piece for ESPN today, Kevin Goldstein wrote about Cano and his transformation from a good prospect to a great big leaguer (if you have a Baseball Prospectus subscription, you can read the article here). The Yankees signed Cano out of the Dominican Republic way back in January of 2001, giving him just a $100k bonus. That's less than half what they gave Dioner Navarro one year earlier, and Yanks VP of Baseball Ops Mark Newman explained that not even the Yankees expected Robbie to be this good.
"He wasn't the highest-profile player by any stretch of the imagination," said Newman to Goldstein. "He was a shortstop, but he couldn't run; he was even a 40 (on a grading scale of 40-80) back then, so there was just nothing flashy about him. But we liked his bat, especially his hands, and so he had the one tool that trumps all others."
Cano never cracked Baseball America's top 100 prospects list, and it wasn't until he was on the cusp of big leagues that he even garnered a top two spot in the Yankees farm system (I thought he was the team's best prospect before 2005, but no one asked me). Cano hit .301/.356/.497 in half a season at Double-A in 2004 before a second half promotion to Triple-A, and he was hitting .333/.368/.574 in 24 games with Columbus before being called up to replace the oh so terrible Tony Womack in 2005. He showed the same skills he shows now (insane amounts of contact, few walks, gap power to all fields), just not as refined.
Goldstein asked Newman and various anonymous scouts about what helped Cano take that next step. "I'd love to point to some obvious change in his swing or approach, but when you ask me how he [turned] into the player today, it's just hard work," said one scout. Newman backed that up, adding that his upbringing may have also played a role in his development. Cano's father Jose played in the big leagues, albeit briefly, and we heard all about their relationship during the Homerun Derby. Robbie and Jose still work out together in the offseason, so you can only imagine what they did before Cano established himself as one of the game's best.
A few weeks ago I said I would like to see the Yankees sign Cano long-term this offseason, something like five years with an option even though they hold club options for his services through 2013. Regardless of whether they do that or not, Robinson has clearly gone from prospect afterthought to homegrown superstar, and is now the central focus of the team's lineup. Talent is obviously part of it, but hard work also helped Cano take that step, a step that has sure been fun to watch.