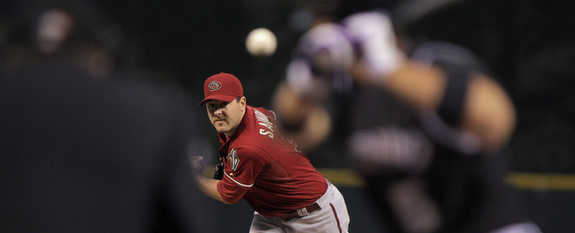 Shaun asks: I see on MLBTR that Arizona might non-tender Joe Saunders. Do you guys like him? Would you trade anything to get him before they let him go to keep him off the market? This is all hypothetical of course! Thanks!
To answer the second question first, no I would not trade something for Saunders to keep him from hitting the market. MLBTR projects his 2012 salary at close to $9M his third time through arbitration, and that's just not happening. Saunders isn't good enough to give up something of value for the right to pay him that much. I'd wait until Arizona non-tenders him before even considering him for a spot on the Yankees.
Saunders had a nice year in 2008, but he's been consistently below-average ever since. He did manage a 4.57 FIP in 203.1 IP in 2010, but that stands out compared to a 5.17 FIP in 2009 and a 4.78 FIP this season. Like Jon Garland, Saunders has managed to get the reputation of being a ground ball guy even though he doesn't actually get a ton of ground balls (44.5% in 2011, 45.5% career). He does have the "doesn't miss bats" part down pat though (4.58 K/9 and 6.2% swings and misses in 2011, 5.02 and 6.7% career, respectively). His walk rate is probably his best attribute (2.84 BB/9 in 2011, 2.87 career).
I think we have enough info here to say Saunders is back-end starter at best, we're talking more than 600 IP in the generally weak AL West and NL West since he was last league average (in terms of FIP) in 2008. I worry about the inability to miss bats and the general lack of ground balls, especially moving into the AL East. I'm sure the Yankees would love to add a southpaw to the rotation to help counteract Yankee Stadium's short right field porch, but I don't think Saunders is a guy they can count on to consistently do that.
There is another angle worth considering here, and that's a relief role. Saunders completely shut down lefties this season, holding them to a .212/.240/.341 batting line with 40 strikeouts and six walks in 181 plate appearances this season. His career split isn't nearly as good, so I could just be a one-year fluke. It is worth noting that Saunders did throw his curveball less frequently in 2011 while beefing up the usage of his slider, which could certainly explain the improvement against lefties. It's something to keep in mind, but I'd prefer to wait until he's actually on the market before digging deeper into his validity as a reliever.
I wouldn't have any interest in Saunders as a starting pitcher, unless he was willing to come absolutely dirt cheap (like, a million bucks or so), but he's somewhat interesting as a lefty reliever. If there's one thing we know about the Yankees, it's that they place a high value on left-handed bullpen arms. I suspect that Saunders won't have any trouble finding work as a starter this winter, maybe not at $8-9M, but I'm sure some team like the Pirates, Marlins, or Padres would be willing to guarantee him a rotation spot. I'm just not sure I see a fit for him in New York at a reasonable price.