I swear, one of these weeks I'm going to do a Jesus Montero-free mailbag. Maybe next week, just to see how it goes. Hopefully you folks don't revolt or something. Anyway, we've got two Montero-related and three non-Montero-related questions this week. The Submit A Tip box in the sidebar is the easiest (and preferred) way of sending questions in. Thanks.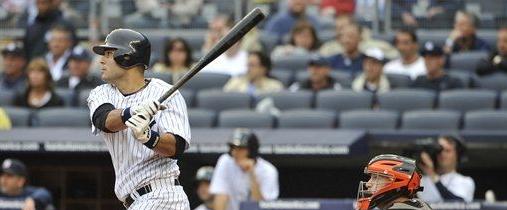 Chris asks: I wrote to you guys earlier about Montero's conditioning assignment. What is the pro of keeping him as a catcher? Just trade value? Look at all the catchers that break down because of the position. Mauer being a great example. I'd rather keep that bat in an area where he can remain healthy for a LONG time.
That's the exact reason why the Nationals moved Bryce Harper to right field the instant they signed him two summers ago, and I can see that side of the argument. The pros of keeping Montero at catcher, not that he's much to write home about back there, is that he'd simply be more valuable at that position, both to the Yankees or in a potential trade. Catchers that can rake are rare and therefore extremely valuable. The downside if obvious, he and his bat would need regular days off, the nagging injuries, etc.
I agree with moving him to a position that will allow him to play every day and theoretically remain productive, but what position is that? Okay, DH is obvious, but what else is there? Mark Teixeira still has five years left on his contract, so first base isn't much of an option even though it's the most logical spot. The outfield isn't going to happen, at least not anytime soon. That's not the easiest transition to make. Split duty at DH and behind the plate, maybe 100 games at DH and 40 behind the dish, seems like the most logical plan for Montero next year, then reevaluate after the season.
Evan asks: Assuming, and I know this is a huge assumption, that Albert Pujols signs anywhere besides with the Cardinals, do you think a Shelby Miller for Jesus Montero swap makes sense?
I don't, actually. If the Cardinals lose Pujols, they'll just stick Lance Berkman at first and play Allen Craig in right, or use Craig with a platoon partner, something like that. Obviously Montero wouldn't catch for them with Yadier Molina around. Miller is arguably the best right-handed pitching prospect in the game, but he's thrown just 86.2 IP above A-ball. That's not enough of a sure thing to get back in a Montero trade in my book. I'd prefer a player that's unquestionably ready to step in and play in the big leagues right now, kinda like Jesus.
Nick asks: Who are the prospects that can replace Nick Swisher after 2012?
There aren't any really, and that's part of the reason why the Yankees brought in guys like Justin Maxwell and Jordan Parraz last offseason. Their outfield depth at the upper levels of the minors is pretty thin. Melky Mesa has a long way to go before he can be considered a viable big league option, and both Abe Almonte and Mason Williams are years away from being options. Slade Heathcott needs to stay healthy for a full year before we can think him getting to Double-A, nevermind the bigs. If the Yankees let Swisher walk after 2012, they'd have to fill the position from outside the organization. Either that or take a big hit in production.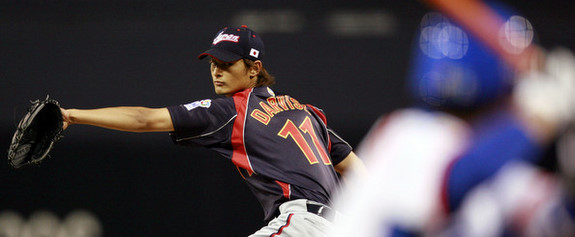 Kevin asks: Will Yu Darvish generate a posting fee as high as Dice-K? Will a shallow free agent market balance out the recent dismal big Japanese pitcher free agent history i.e workload, adapting to a new culture? Who would you choose considering price between Darvish and Wilson? Is it possible to grab both and fill out the rotation with C.C., Wilson, Darvish, Nova and Hughes? Thanks.
I don't think anyone knows what kind of posting fee Darvish will require, it's all guesswork. It's worth noting that although the Red Sox won the right to negotiate with Daisuke Matsuzaka with that $51.1M bid, the second highest bid was $39-40M by the Mets. Boston really blew everyone out of the water for Dice-K. Darvish is supposedly better than Dice-K, but baseball salaries have come down a bit in recent years, and I do think Matsuzaka will scare some teams into lowering their bid. It only takes one team to go overboard though, and I'm willing to bet it takes at least $40M or so land him.
As for Darvish vs. C.J. Wilson, I'd rather go with Darvish. Wilson is the safer bet, sure, but Darvish offers more upside (and more risk) and is considerably younger. There's also the benefit of keeping the draft pick and saving money because the posting fee is not counted towards the luxury tax. Wilson is the safe move and is probably the better bet in 2012 and 2013, but over the next five or six years, Darvish is the guy I want. And no, I don't think the Yankees, or any team for that matter, will land both guys this winter.
Anthony asks: I was wondering if you can see the Yankees trading Phil Hughes this offseason. He's been with the team for a while now (since '07, no?) and we've only seen him perform to his expectations just twice: as a lights out reliever in '09 and as a dominant starter in the first half of the '10 season. What would someone like Hughes get the Yankees in a trade?
Hughes' value is at an all-time low right now, so I can't imagine they'd get much in return. He's not that young anymore, nor is he cheap and under team control for another half-decade. He'll make something like $3-4M in 2012, his second time through arbitration, then become a free agent after the 2013 season. I could definitely see the Yankees trading him, but I doubt they'd get anything special in return. Maybe another kid like Hughes, struggling to take the next step at the big league level. The Yankees aren't exactly in a position to give away potential starters though, so I'm not sure I'd be okay with dealing him for another reclamation project just because.