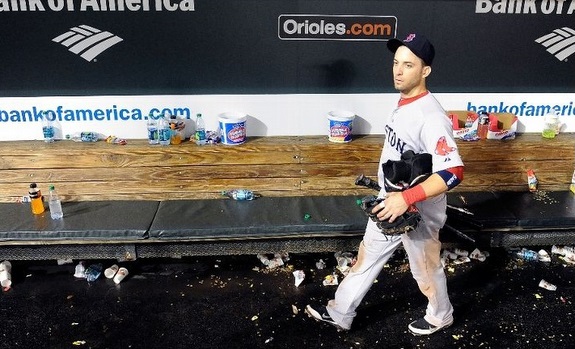 Eli asks: The collapse of the Red Sox this year was absolutely fantastic to watch but I think people forget that they had the best record in baseball for most of the season and they have a talented roster that is largely going to remain the same. Everybody's acting like they're a train wreck of a team but aren't you at least a little worried they're going to come out next season hungry, angry and with something to prove?
I agree. This sort of stuff tends to happen after dramatic events, which is why you see a lot of "this team is build to last" or "they have dynasty potential" talk after a team (in just about any sport) wins a championship. We also hear about how a team needs to be rebuilt after every playoff series loss like clockwork. It's an emotional over-reaction, but it's just human nature. We feel great during the good times and awful during the bad ones.
The Red Sox collapsed this year because just about their entire pitching staff fell flat on its face during the last month of the season. They also happen to play in an extremely tough division, and a collapse like this takes two to tango. If the Rays don't get hot down the stretch, Boston is in the playoffs and who knows what happens. I'm willing to bet both Terry Francona and Theo Epstein are still with the team. As Joel Sherman pointed out this morning, the Red Sox won 90 games and were baseball's biggest disappointment this year. The Cardinals also won 90 games, but they were the game's best story. It's all about perception and expectations.
Getting to the actual question … yeah, I expect the Red Sox to again be a really good team in 2012. Hell, they've already improved just by getting John Lackey out of the rotation (via Tommy John surgery). It's harsh, but it's true. They have a ton of dead money coming off the books in J.D. Drew, though much of it will go towards arbitration and contractual raises. Clay Buchholz figures to get healthy over the winter, as does Bobby Jenks and Kevin Youkilis. Even if they don't, they're still right back where they started at 90 wins or so.
I'm sure that team will come out with a chip on its shoulder and all that, but it only lasts so long. The 162-game season can be a humbling experience. I kinda rambled here, but the point I want to make is don't sleep on the Red Sox next year. They have some very real problems to address (as do the Yankees), but also a boatload of talent and the means to right the ship quickly. I expect Boston to be not just a good team in 2012, but a great team.