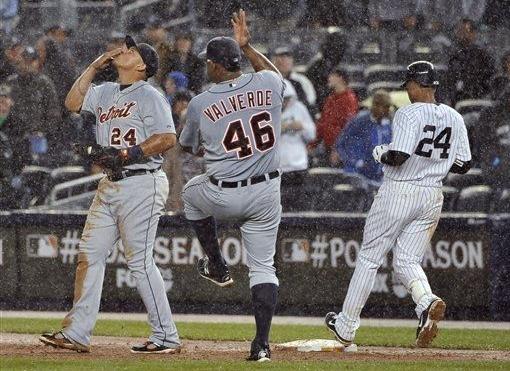 Even before we knew that the Yankees and Tigers were going to play in the ALDS, I wanted to see Jose Valverde blow a save in the postseason. The Detroit closer had gone a perfect 49-for-49 in save chances this season despite shaky peripherals (3.55 FIP, 71st out of 134 qualified relievers), prompting many old school types to dub him the best closer in baseball. They even gave him an award for it. We know that's not true though. Add in the way over the top celebrations, and we all had every reason to want to see Valverde blow a save.
After the Tigers won Game Two of the ALDS, the right-hander declared that "the series will finish in our house … They have a good team, but the series is not (coming) back to New York." This came after Valverde allowed four of the seven men he faced to reach base that night, turning a 5-1 lead into a 5-3 lead while stranding the tying run on base. He walked the tight rope again the next night, but again held on for the save. The Yankees won Game Four, and now the series is coming back to New York despite Valverde's proclamation.
Heading into tonight's Game Five, it's almost a certainty that Jim Leyland will use his closer at some point, win or lose. I still want to see him blow a save, but given the circumstances, I'd rather see him not even get a chance tonight. A walk-off win against Valverde to eliminate the Tigers would basically be the most amazing thing ever, but I'm not sure I can deal with the stress. That 10-1 score in Game Four was stressful enough. I'll happily take about a dozen first inning runs over rubbing Valverde's nose in the mud any day of the week. The Yankees have bigger fish to fry than some closer spouting guarantees.