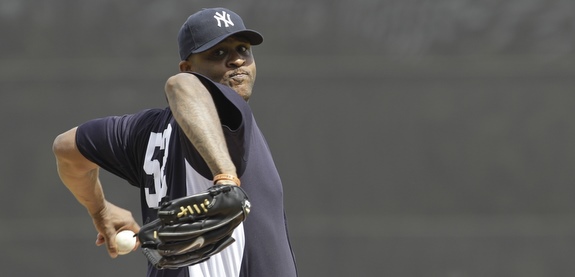 Barring something completely unforeseen, CC Sabathia will opt out of his contract with the Yankees a few days after the end of the World Series. That doesn't mean he hates New York or anything like that, it's just a smart business move on his part. We'd all do the same thing. The Yankees will undoubtedly try to re-sign their ace, though the intensity of their pursuit and the number of other teams that get involved remains to be seen.
Contracts for elite players like Sabathia are difficult to predict because there are so few comparables out there. Sabathia already holds the record for the largest contract ever given to a pitcher, but it's tough to see him topping the original seven-year, $161M deal he signed prior to the 2009. I see four points of reference for Sabathia's new contract, at least four "major" points of reference. Let's recap…
Four-years, $92M
This is what is left on Sabathia's current contract, the money he is leaving on the table by opting out. Obviously he and his agent believe they can find more than this on the open market (assuming they opt out), and they're almost certainly right. In a perfect world, CC would just not opt-out and stick around under the terms of his usual agreement, the right amount of years and dollars from the team's perspective.
Five-years, $120M
When Cliff Lee spurned the Yankees and went back to Philadelphia, this is the guaranteed contract he took from the Phillies. There's a vesting option for a sixth year, but we're only concerned about guaranteed dollars at this point in time. Options and buyouts can be manipulated to do anything. I figure the negotiations for Sabathia's new contract start here, since he's still younger than Lee was last winter and has a much longer track record of success and durability.
Six-years, $132M
According to Jerry Crasnick, this was the Yankees' final offer to Lee last winter. Again, this is guaranteed money only. If they were willing to go that far for a guy that hadn't done anything for them, shouldn't they be willing to do at least that for a comparable pitcher that's already helped them win a World Series? I'm sure Sabathia and his agent will play that card, I know I would.
Seven-years, $161M
As I said earlier, this is contract Sabathia is already working under, the largest ever for a pitcher. I can't imagine he'll get this many years or this many dollars this time around, but stranger things have happened.
* * *
These are just reference points for Sabathia's next deal, I'm not saying he'll get exactly that amount for exactly that many years. I'd love love love if he'd take the five-year, $120M package, but I suspect it'll end up being closer to the six-year, $132M deal. That's not based on anything, just a hunch. Who knows, maybe he'll surprise everyone and stick around. I wouldn't hold my breath though. Anyway, a post like this is screaming for a poll, so let's do it.
What would be the largest contract you'd offer Sabathia this offseason?