The best-of-five is now a best-of-three, and the Tigers have homefield advantage. The Yankees late rally came up short in Game Two on Sunday, but that's better than going down without a fight (O'Neill Theory!). The 5-3 loss sends these two teams to Detroit with the series tied at one.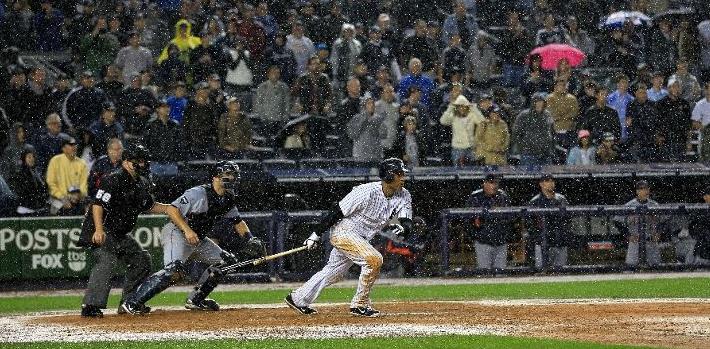 The Ninth Inning
We'll start at the end of the game, because that's really the only part of the game that got Yankees fans off their feet. Down 5-1 to start the frame, Nick Swisher hit a solo homer on Jose Valverde's very first pitch. Pretty good start. Jorge Posada worked the count full then hit a triple (!!!) to almost dead center. It was a legit triple too, over the head of Austin Jackson and off the wall. No one fell down, nothing like that. The Yankees had one run in with a man on third with no outs already, so they were definitely in business.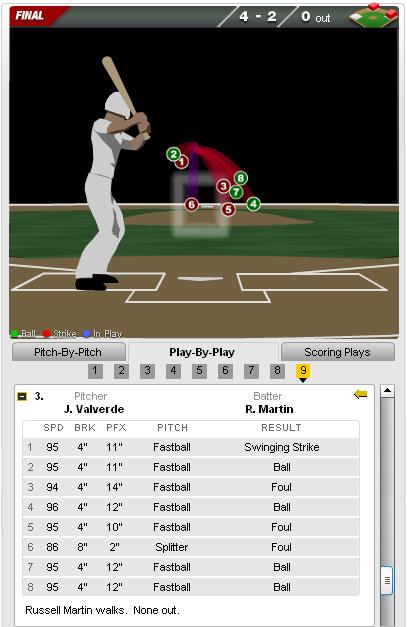 Russell Martin came to the plate, and his at-bat really defined the Yankees brand of offense. Martin saw eight pitches total, including a) two fouls on tough fastballs just off the outside corner, and b) a take of a similar pitch for a ball to put men on the corners with none out after the walk. You can point to his batting average all you want, but at-bats like that are part of makes him so valuable. Martin stood his ground and fought off tough pitcher's pitchers until he got something to hit. When he didn't get something to hit, he took his base and brought the tying run to the plate. Just a monster at-bat, I can't say enough about it.
That brought Andruw Jones to the plate, who took over in left after Eric Chavez pinch-hit for Brett Gardner earlier in the game. We'll talk more about that decision later on, don't worry. A fastball hitter against a fastball pitcher, Andrew ripped a line drove to right that Don Kelly caught for the first out. Very hard hit ball, just not in the right spot. Posada scored to make it a 5-3 game, but there was one out. The second out came one batter later, when Jeter swung through an inside fastball for strike three. The Cap'n also ended the fifth and seventh innings, both times with two men on base.
The Yankees were down to two outs, but they had the right guy at the plate. Curtis Granderson crushes fastballs and hit the second most homers in all of baseball this year, and one swing of the bat could have tied the game. He got ahead in the count 2-0, but fouled the third pitch back. Alex Avila should have made the catch near the Tigers dugout, but he slipped on the Yankees logo in the on-deck circle and the ball fell harmlessly. It was a huge break, giving the Yankees more life when they had no business having it. Three pitches later, Granderson was on first base via a walk, representing the tying run. That brought Robinson Cano to the plate, who is exactly who we all wanted to see up in that spot.
Already 29 pitches into what was supposed to be an easy outing, Valverde was one mistake away from losing the game. He went after Cano with the hard stuff, and Robinson was pretty late on a few of them. The first pitch was a called strike and it might have been his best one to hit, the next three fouled off. With the rain starting to come down, Valverde went to the splitter and got Cano to ground out weakly to second. Inning over, game over. The Yankees fought hard to put themselves in a position to win, but it wasn't meant to be. On the bright side, Valverde had to throw 34 high stress pitches, which could have an impact in the next game or even the one after that.
Freddy Sez: Why Am I Pitching To Miggy?
Freddy Garcia's afternoon didn't start all that well, but there's really no shame in giving up a two-run homer to Miguel Cabrera. He's one of the best hitters in the world, and it was a bit of a Yankee Stadium special to boot. Bad job letting Magglio Ordonez (3-for-3 in the game, really?) be on base when Miggy did his thing. It was a bad start, but that's all it was. Garcia retired 13 of the next 14 men he faced, taking the ball into the sixth inning without breaking a sweat. Okay, that last part probably isn't true. I'm sure Sweaty Freddy was sweating.
Anyway, things unraveled in that sixth inning, all thanks to an error by Jeter. Austin Jackson hit a grounder to short, but the throw was in the dirt and Mark Teixeira was unable to make the scoop. The leadoff man was on and the heart of the order was looming, but the bullpen was not yet doing anything. Ordonez picked up his third hit after that, putting men on the corners with none out. Now it was a real mess, but in stayed Garcia. It was the right move for at least one batter, because Delmon Young struck out to setup a potential rally-ending double play. The problem? Cabrera was due up.
Why Garcia was allowed to pitch to him, I'll never quite understand. The Walk Bonds Chart says to not walk him in that spot, but if they didn't want to intentionally load the bases, that's at least a spot for a strikeout reliever. Instead, Miggy hooked a hanging changeup back up the middle, scoring Jackson from third to increase his team's lead to three-zip. Still in there, Garcia then allowed a single to Victor Martinez to make it four-zip. That ended his day, and Boone Logan managed to escape the inning with two strikeouts.
In between the first inning homer and the sixth inning, error-induced rally, Freddy pitched really well. Four runs in 5.1 IP doesn't really do his performance justice; he walked zero and whiffed six guys, getting nine of his remaining eleven outs on the ground. It's the postseason, I think Joe Girardi should have been a little more liberal with the bullpen in that spot. Freddy gets some applause from me, he gave the Yankees a chance to win.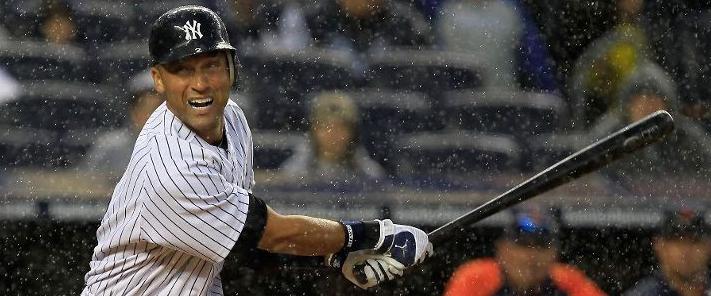 Where's The Offense?
Freddy gave the Yankees a chance to win, but the offense definitely did not. Max Scherzer, he of the 5.23 ERA on the road this season, took a no-hitter into the sixth inning before Cano broke it up with a bloop single to left with one out. It tied the longest no-hit bid against the Yankees in playoff history, matching the 5.1 IP that Paul Abbot and Norm Charlton held New York hitless in Game Four of the 2001 ALDS. They were late on Scherzer's fastball and behind on his offspeed pitches, which is why they hit basically nothing hard.
Granderson got them on the board with a solo homer to leadoff the eighth, but it wasn't until that ninth inning that the Yankees mustered any kind of quality rally. Everything else seemed to die before it even got going. Scherzer was very good (just two hits and four walks in six innings), but the offense didn't exactly put up much of a fight. After throwing 27 pitches in the first inning, the Tigers' right-hander needed just 36 over the next three innings.
Girardi's Decisions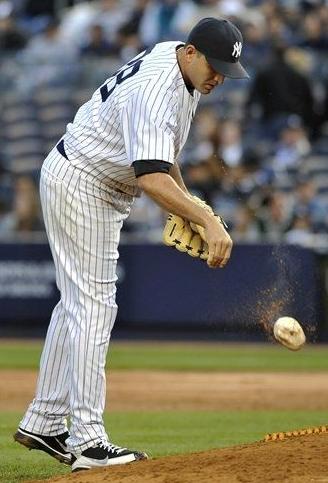 Lots of talk about two moves made by Girardi in this one. First, he pinch-hit Chavez for Gardner in that seventh inning, only to watch Joaquin Benoit strike him out on three pitches. I liked the move, but apparently I'm in the extreme minority. The Yankees hadn't put a damn thing together all game, so I figured the change of pace was worth a shot with the most powerless hitter on the team at the plate. I didn't expect a homer, just something more than Gardner looking at some fastballs down the middle before rolling over for a ground out. Yes, I know Benoit has good numbers against lefties because of his changeup and all that, but we're talking about one at-bat. The past X number of lefties not getting hits does not make it less likely that Player Y will get a hit next time up.
The second decision was using Luis Ayala in the ninth, which is completely indefensible. I don't like to talk in absolutes, but this was clearly the wrong move as soon as he jogged out of the bullpen. Ayala was completely ineffective in Game One and also in the final game of the regular season, and sure enough he allowed a run that seems pretty big considering how the ninth inning played out. Girardi talked about being able to use his top relievers for three days in a row before the game, well where were they? He managed that inning like it was some meaningless regular season game, not the playoffs.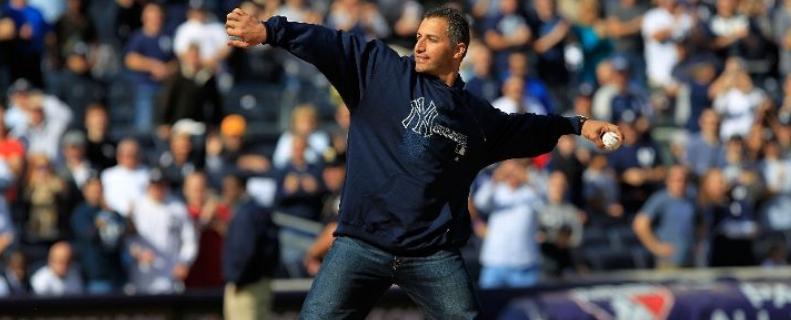 Leftovers
It's pretty obvious that Alex Rodriguez can't bat cleanup tomorrow. He went 0-for-3 with a walk in this game and is 0-for-8 in the series, and he just hasn't been right since the knee and thumb problems. Bat Teixeira cleanup, move A-Rod to fifth, that's it. Otherwise Detroit will pitch around Cano all series and not pay for it. Also, you gotta love the boos coming back. Alex is such an easy target, everyone just piles on and uses him as an outlet for their frustration. Jeter (-.206 WPA, by far the worst in the game) plays a major role in the death of three rallies and commits an error that leads to a multi-run inning, but hey, let's boo A-Rod!
Ayala was pretty awful, but Logan did his job to escape that sixth inning. He did balk the two runners over before getting his two strikeouts though, a gentle little reminder that it's never easy with Boone. Cory Wade threw 37 pitches across two scoreless innings to kinda keep things in order. You can argue that someone better, Rafael Soriano or David Robertson maybe, should have been pitching those innings, but I don't have the energy to argue it anymore.
Granderson, Cano, Swisher, and Posada were the only Yankees with hits. You know what the first three did already, and Jorge added a single back up to the middle to his ninth inning triple. Granderson, Cano, A-Rod, Swisher, Posada, and Martin all drew walks as well, and Russ even took a pitch to the hands to reach base. Jeter, Teixeira, and the Gardner/Chavez/Jones spot did not reach base. Unlike Game One, Cano came to the plate just once with men on base, and that was the game-ending at-bat. In fairness, Granderson did hit a homerun in front of him in one of the four baserunner-less at-bats.
Gardner slid head first into first base (again), so naturally he was out. That's an epidemic with this team, it goes back to Melky Cabrera, but no one seems to care. The entire organization seems to think that it actually helps you get to the base faster. One of these days someone will break a wrist, maybe even someone important like Martin, and I guess that's what it'll take wake everyone up, or least someone with some pull in the organization.
Box Score & WPA Graph
MLB.com has the box score and video highlights, FanGraphs some other stuff.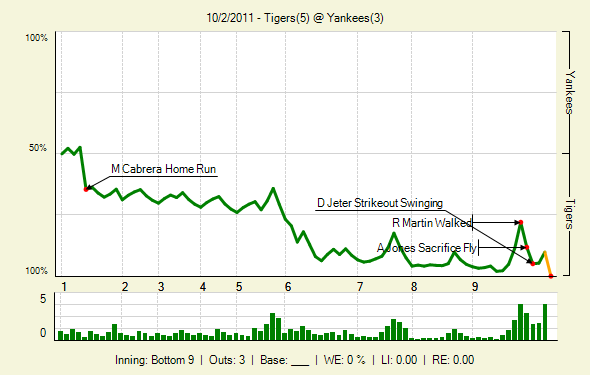 Up Next
Like I said, it's a best-of-three series now, and both teams have their ace going on Monday. CC Sabathia and Justin Verlander will each make their second start of the series following the Game One rain suspension,  and although it's not a true "must win" for either team, it sure is a game neither can afford to lose with A.J. Burnett and Rick Porcello lined up for Game Four.