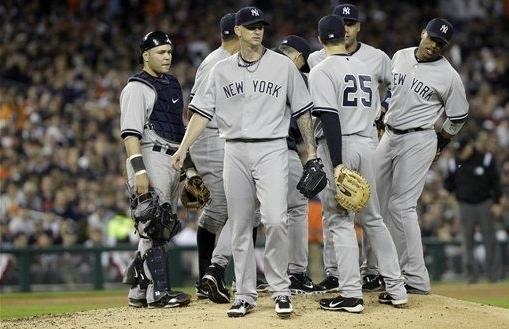 Two Octobers ago, A.J. Burnett outdueled Pedro Martinez in Game Two of the World Series one night after Cliff Lee thoroughly manhandled the Yankees in Game One. I called it the most important game of the season a few days later, and as Burnett has struggled terribly over the last two seasons, we've always been able to look back at that Game Two start as his redeeming quality. Help the Yankees win a World Series, especially as a starting pitcher, and you'll be welcome in this town forever.
As we've gotten further and further away from the 2009 World Series though, the less we've been able to use that Game Two start as a crutch. Yes, it happened and Burnett was amazing, but one game doesn't make a five-year contract. A.J. continued to pitch terribly with no end in sight, but the team gave him the opportunity to wash his hands of the last two years last night. It wasn't by design, some poor weather forced them to give him that opportunity, but they gave it to him nonetheless. Last night, in Game Four of the ALDS, he delivered and added another big game to his Yankees resume. Sounds weird, but it's true.
You know the situation. It was an elimination game on the road against a team that has a really good offense and was still riding the high of Justin Verlander's dominance in Game Three. Burnett had nothing going for him before the start, just the support of his teammates and manager, and the forced support from us fans. We didn't have faith in him, you all know this, but we were all in his corner because of the uniform he wore. In a way, A.J. had nothing to lose. No one expected much from him, so it would have been really tough for him to disappointment. Anything productive would be a pleasant surprise.
Although I still consider that Game Two start to be Burnett's "signature moment" in pinstripes, remember the context. That wasn't an elimination game, it was a "lose and you're down 2-0 in the best-of-seven series heading to Philadelphia for three games" game. Certainly a crummy situation, but not lose or go home. His actual performance was worse last night, but I think his performance relative to expectations was far great than it was that late-October night against Pedro. That's what makes it's so amazing.
Burnett won't get a pass on his performance during this last few years because of a pair of well-timed gems, but it certainly softens the blow a bit. And remember, the biggest game of the season is not exactly a fixed event. Last night's game was only the biggest game of the season until the Yankees won. Now the biggest game of the season is Thursday night, Game Five. That one will be in the hands of Ivan Nova and basically all of his teammates other than Burnett. A.J. won't be available after pitching last night, but he earned the day off anyway.