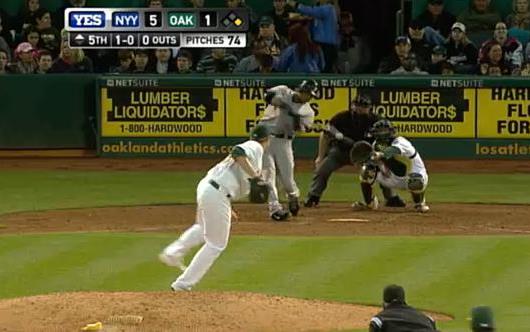 Personally, a good blowout always gave me confidence. When you look at a team that absolutely goes to town on another team, it brings to mind the messiest intangible: momentum. In a sport where play goes uninterrupted during a game, like hockey or basketball, momentum makes a little more sense. But in baseball, pauses are routine, and what we may think of as momentum still has a lots of empty space. Even in a quicker sport, it's hard to think momentum might work when a day goes by in between one game and the next.
When the Yankees gave the Tigers a proper whooping in game 4, there was a good feeling: the bats were alive. The hitters had their eyes on the ball. AJ Burnett had actually pitched a pretty decent game against a relatively decent lineup! The bullpen had done pretty well! How could anything go wrong? But then, a small part of me crept into my brain, thinking about a blowout the Yankees had given to Oakland, where they'd hit a record three grand slams. The next day was a seven-run loss to Baltimore. This got me thinking: was there a hangover effect involved in these blowout games? The Yankees have always been a heavy-slugging team, but maybe their collective arms (and bats) got tired after all those runs in one night. As I'd feared, the Yankees' bats got quiet, and then went without much of a run-related peep into the dark night of the offseason.
For this experiment, we'll assume that a "blowout" entails winning by 7+ runs. I'm using 7+ as my measure over Baseball Reference's 5+, just because I feel like saying the Yankees blow the team out almost 20% of the time is a little absurd. I'll ratchet up the amount of runs needed for a blowout to see if there is a certain amount of good pitching and hitting that makes a team tired for the next day. If you don't like it, feel free to talk about how much you hate me in the comments.
Anyway, by the 7+ measure, the Yankees had 17 blowouts, the biggest being the Grand Slamorama against the A's (22-9) and the smallest being an August game against Minnesota (8-1). After a blowout, the Yankees went 11-6, which says that even when the Yankees weren't scoring a lot of runs, the pitchers were at least helping out. In the blowout games, the Yankees banged out 216 runs (average of 12.7 R/G), but in the game-afters, they only managed 84. I don't think this is because they were tired, actually, but rather that it's just really hard to score a lot of runs, even against a crappy team. The Yankees only managed to score 10+ runs in back-to-back games once, and both were blowouts. It was against the (sigh) AL Champion Texas Rangers on June 14th and 15th. Curiously enough, 84 runs over 17 games is about 4.8 runs/game, and Yankees averaged about 5.4 runs/game, and Yankees averaged about 5.5 runs/game over the 162 game season, so it is a little under, but not by much. On the hitting side, over an 162 game season, the Yankees had a 3.63 ERA (which is good for fourth in the AL, by the way). During blowouts, the pitching staff's ERA actually went down (3.23), so there wasn't any pitching to the score going on, at least in this sample. The hangover-over blowout effect looks just like another great example of confirmation bias and selective memory. We remember unusual events even if they're uncommon, like blowing a team out and losing the next day, which the Yankees only did six times in an 162 game season.
Let's bump it up. Let's say it that you have to score 8 runs to have a blowout. In this case, the Yankees only had eleven blowouts. They scored 159 runs over these 11 games, bumping their average R/G up to 14.4 (!). After blowouts of 8 R+, they went 7-4, an almost identical win percentage to 7+. The Yankees pitching picked up a 3.81 ERA (all the runs were earned), slightly higher than their season norm. We'll bump it up just one more, to 9+ runs equaling a blowout. This lowers the sample to seven games, and the Yankees scored 114 runs and averaged 16.2 runs per game, which is pretty awesome (even if it's only a seven game sample). The pitching staff held opponents with a 4.71 ERA, which is significantly higher. Although you could argue there's a pitching-to-the-score argument here with these two consecutive raises, I don't think it's that the score caused the bad pitching, I think it's because you have to score a lot of runs to have that high an ERA and still lose. In other words, the bad score doesn't cause the pitching, but the massive offense causes the bad pitching to be included in the winning numbers.
To keep the sample marginally sized, we'll return to blowout = 7+ and throw down some more stats from that. The Yankees had all 17 of their 7+ run blowouts verses 10 teams, six of which were under .500 (MIN, SEA, CWS, BAL, OAK, and CLE). The Indians, Mariners, Twins and Rays were blown out by only 7 runs and were all blown out once. Not surprisingly, they had the most blowouts verses Baltimore (4) and (amusingly) the second-most vs Texas (3). The Yankees also blew out 3 other playoff teams (TBR, MIL, & TEX), and, to put the icing on the cake, Boston.
In conclusion, the Yankees score a lot of runs. I think we had a really good offensive club here, guys.