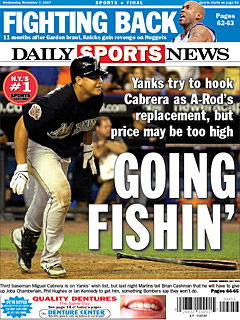 Four years ago this month, Alex Rodriguez opted out of the final three years of his contract, and at the time Brian Cashman was adamant the Yankees would not re-sign him. "How can we?" said the GM. "We lose all our money from Texas." A-Rod was owed $72M during the remaining three years of the deal, but the Rangers were responsible for $21.3M of that. As soon as he opted out, Texas was off the hook.
A few weeks later, Hank Steinbrenner went over Cashman's head and inked the reigning AL MVP to another ten-year contract. In between the opt-out and the re-signing, there were plenty of rumors about who the Yankees were targeting as their next third baseman. I remember talking about Wilson Betemit playing full-time, Miguel Tejada, Scott Rolen, Ryan Zimmerman (the next big thing at the time), you name it. One player that was both on the market and a trade target of the Yankees was Miguel Cabrera, who just helped the Tigers past the Yankees in the ALDS. This four-year-old Mark Feinsand column has the details…
Brian Cashman met with the Marlins at about 6 p.m. last night at the GM meetings. No offers were made, but a source with knowledge of the situation said the Marlins made it clear that the Yankees would have to include either Phil Hughes, Joba Chamberlain or Ian Kennedy in any trade for Cabrera, something the Yankees are not willing to do.

The Yankees would likely offer a deal involving their next tier of prospects, which includes Alan Horne, Humberto Sanchez, Ross Ohlendorf and Jose Tabata.

"The Marlins have evidently let it be known that he's available, so we're looking into it," Hank Steinbrenner said. "But everything is really very preliminary."

[snip]

"I'm sure I'll be challenged like I have been in the past on those guys," Cashman said. "No one is untouchable, but some guys are less touchable than others, and those guys fall into that category. I will be tested a lot and this organization will be tested a lot on that."
Joe Girardi had just been hired as Joe Torre's successor, and he had managed Cabrera during his lone season at Florida's helm. "I didn't have any problems with him," said the skipper. "I had him and I know what he did for me. He's a great player and a smart player. He really understands the game of baseball. I loved having him." Cabrera was just 24 at the time, and was coming off a .402 wOBA season, his third straight over .399. He was getting super expensive through arbitration, and the tight-walleted Marlins just couldn't afford him.
We were in the middle of our "Save The Big Three" campaign back then, but that had nothing to do Miggy Cabrera. It was all about Johan Santana. We didn't want to Yankees to trade any of Hughes, Joba, or IPK for Johan simply because there was just one year left on his contract and he'd shown signs of decline the previous year. For Cabrera, an elite hitter still yet to reach his prime, I'm sure we would have felt differently. I know I would have.
Cabrera (and Dontrelle Willis) eventually went to Detroit for a six-player package highlighted by Andrew Miller and Cameron Maybin, an offer the Yankees likely could have matched. Baseball America ranked Maybin and Miller as the sixth and tenth prospects before the season, respectively, while Hughes and Tabata were fourth and 27th, respectively. The rest is just filling in the blanks. The question is: what would happened next?
For one, A-Rod's time in pinstripes would have been over. Maybe he goes to the Dodgers, maybe he goes to the Red Sox, maybe he goes to the Mets. Who knows. All I know is that albatross contract would be gone, at least to a certain extent. Miggy signed an eight-year deal worth north of $150M before he ever played a game for the Tigers, so you have to figure the Yankees would have locked him up to something similar. Still, I feel a lot better about Miggy for the next six years than I do Alex.
Of course, Cabrera was a third baseman in name only. He lasted just a year-and-a-half at the hot corner for the Tigers, so chances are Mark Teixeira would not be a Yankee either. Is Adrian Beltre playing third base? Casey Blake? Derek Jeter? Jose Bautista? If Hughes and Tabata get traded, that means the Xavier Nady-Damaso Marte deal looks very different, perhaps involving Austin Jackson instead. Jackson to the Pirates means no Curtis Granderson, since a condition of the Tigers dealing their center fielder was that they got a young center fielder in return. Would a Cabrera trade have meant that Ian Kennedy would still be a Yankee with Brett Gardner in center?
We could spend all day dreaming up scenarios, but it's worth mentioning that as great a hitter as Miggy is, he's not without his demons. He's had three separate alcohol-related run-ins with the law; one involving an argument with his wife, one involving some strangers at a restaurant, and another when he got busted for DUI. I'm not sure how that would have gone over with the media hounds we have here in New York, but who knows how things play out in the first place. A trade changes everything, it changes career paths and it changes lives.
It's easy to sit here and say the Yankees should have traded Hughes and whoever else for Cabrera given what we know now, but it's never that simple. Miggy in pinstripes could have meant no 2009 World Series, or it could have meant multiple championships.  The only thing I'm pretty sure of is that he would have raked, raked and raked and raked in a much friendlier ballpark than the one he's playing now. It's the great what if, the question we can't answer but can enjoy debating.