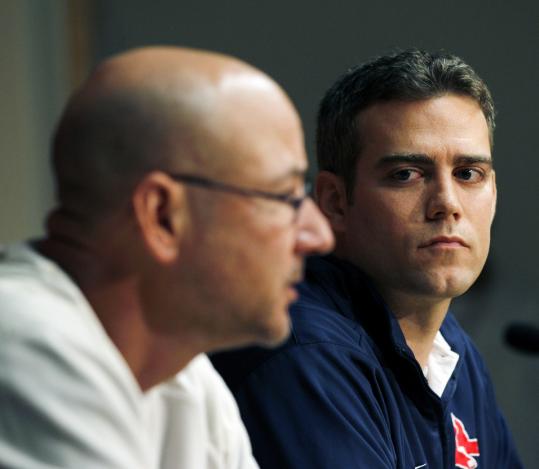 You've surely seen it by now, but The Boston Globe's Bob Hohler published this exposé on the Red Sox and their clubhouse issues on Wednesday, shedding light on some very real problems. I recommended reading the whole thing, but if you don't have time, Craig Calcaterra has a nice little recap. The stuff about starting pitchers drinking in the clubhouse during games, Jacoby Ellsbury's isolation, and the general lack of leadership are genuine problems, but there's also some personal stuff about Terry Francona that I don't think was relevant or anyone's business. The Francona stuff is a classic Red Sox smear job, a tactic they've employed after every major break-up during the John Henry era.
While all that was going on, long-time GM Theo Epstein was busy finalizing a deal to go to the Cubs, eschewing the final year of his Red Sox contract so he could try to end another curse*. Joel Sherman says Epstein had already made it clear he was leaving after his contract expired for personal and professional reasons, so ownership let him go now. Ben Cherington, one of the best GM prospects in the game, figures to take over after serving as Epstein's top lieutenant for basically forever.
Reportedly, Epstein's new deal with the Cubs will pay him $15M over five years, which almost assuredly makes him the highest paid GM in the game. The Yankees are in the middle of supposedly peaceful talks with Brian Cashman about a new contract, and despite what Ken Rosenthal says, I have to think Epstein's deal will have a trickle down affect. Cashman's tenure with New York has been more successful than Epstein's with the Sox, especially if you want to look at the short-term, the last four or five years. Point to the payroll if you want, but I'm pretty sure those guys in Boston have done a bang-up job of proving that spending money on free agents isn't as easy as it looks.
The last six weeks or so have been a full blown collapse for the Sox, and not just in the standings. Epstein's gone, Francona's gone (and ownership is bringing up personal info to throw him under the bus), revelations about a fractured clubhouse are coming to light … it makes you appreciate the Yankees, doesn't it? Cashman's contract talks are going smoothly, just like Joe Girardi's did last year, there are no issues (we know of) in the clubhouse, there's no chaos at all. The Red Sox franchise has to be embarrassed by what's happened over the last few weeks, but it's nice and quiet for the Yankees. Yeah, they lost in the ALDS, but as our neighbors to the north are showing, there are much worse fates than that.
* Can you imagine that? Ending the Red Sox curse then ending the Cubs curse? That would be some legacy.