It's hard to believe that given all the uncertainty surrounding the Yankees rotation coming into the season, things were actually worse down the stretch in 2010. Andy Pettitte was on the shelf, Phil Hughes was fading, and both Javy Vazquez and A.J. Burnett were disasters. Dustin Moseley drew some spot starts, as did the young Ivan Nova, a kid the Yankees left exposed in the Rule 5 Draft just one year prior. He pitched well (but not great) last September, enough to earn him a long look in Spring Training this season.
It was going to take a lot for Nova to pitch his way out of the rotation in camp, and he did no such thing by allowing just eleven hits and four runs in 20 IP across four starts and one relief appearance. Much like the end of 2010, Nova struggled to get through a lineup multiple times in April, completing five innings just once in his first three starts of 2011. A rather pointless extra innings relief appearance against the Blue Jays on April 19th seems to mark the end of his problem with retiring matters the second and third times around.
Nova allowed a total of four runs (three earned) in his next three starts, keeping the White Sox, Jays, and Rangers in check for 20 IP. The Royals roughed him up for eight runs in three innings on May 12th, but he rebounded and allowed no more than three runs in four of his next five starts. His best start of the season came on June 20th in Cincinnati, when he held the Reds to one run on four hits and no walks in eight innings, striking out seven. Nova was sporting a 4.12 ERA with rather mediocre peripherals (5.0 K/9 and 3.6 BB/9 with ~55% ground balls) on July 1st, a performance that earned him a trip to the minors when Phil Hughes was ready to come off the DL.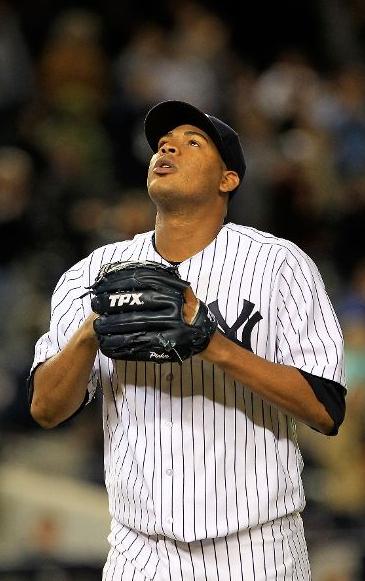 The Yankees wanted Nova to focus on improving his slider in Triple-A, promising him a return trip to the bigs at some point. He made just three starts in the minors, allowing six runs in 16 IP, but the important thing is that he struck out 18 and walked just two. A line drive to the ankle put him on the shelf for about a week, but Nova returned to the Major League rotation at the end of July and looked like a change man. He dominated the Orioles and ChiSox in his first two starts back, allowing just three runs and one walk against 16 strikeouts in 14.2 IP. The Yankees planned to send him back to minors after the start against Chicago, but he pitched so well they just couldn't do it. Nova allowed more than three runs just twice in eleven starts after coming back up, pitching to a 3.18 ERA with 5.7 K/9, 2.4 BB/9 and ~52% grounders.
That post-demotion performance earned Nova the Game Two assignment in the ALDS, though some rain shenanigans meant he was technically coming out of the bullpen in relief of CC Sabathia in Game One. He held the Tigers to two runs in 6.1 IP in the win, and both runs were inherited runners that came around to score while he sat in the dugout. Nova's season did end on a bit of a sour note, as he allowed two homers in two innings of work in the deciding Game Five, leaving the game with a tight forearm. An MRI revealed a Grade I flexor strain, an injury that is expected to heal during the offseason and have him ready in time for Spring Training.
Nova will get some serious consideration for Rookie of the Year after going 16-4 with a 3.70 ERA, the most wins by a Yankees rookie since Stan Bahnsen won 17 games in 1968. Only two rookies have won more games this century (CC Sabathia and Justin Verlander with 17 apiece), and his season-ending stretch of 16 straight starts without a loss was the longest by a rookie in at least 25 years. Nova was a touch better than league average with a 4.01 FIP thanks to his 0.71 HR/9, the 23rd lowest among the 94 starters that qualified for the ERA title. Thank his 52.7% ground ball rate for that. All 13 of the homers he allowed were solo shots, and only three came at homer-happy Yankee Stadium.
It goes without saying that Nova was one of biggest bright spots for the 2011 Yankees, and he will be counted on for much more going forward. His confidence was through the roof late in the season, and that slider the brain trust wanted him to work on improved to the point where it was his go-to pitch by the end of the season. The flexor strain is a bit of a concern, but it's the first arm-related injury of his entire career and he's got all winter to rest. The hard part comes now, and that's doing it again for a second year in a row. I'm sure Nova knows this and is ready for the challenge.