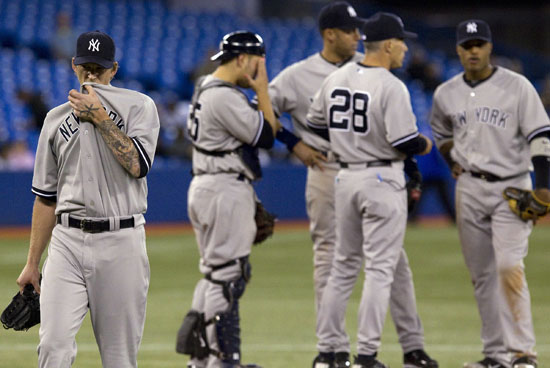 Like every non-CC Sabathia member of the rotation, A.J. Burnett was a giant question mark heading into the season. He was coming off one of the worst seasons by a starting pitcher in Yankees' history, the first player to wear pinstripes and throw 180+ IP with an over-5.00 ERA, but his team needed him. Unlike the other non-Sabathia members of the rotation, Burnett was making huge money with multiple years left on his contract, and that was undoubtedly a factor why he was being given such a long leash.
A.J.'s season started with reports of a mid-winter sit down with new pitching coach Larry Rothschild, and sure enough he came to Spring Training with some revamped mechanics. Nothing major, they just cut short the turn in his delivery to help keep him more on line with the plate. Like last season, Burnett's 2011 actually started out pretty well. He used those new mechanics to carry a 3.38 ERA through his first eight starts, culminating with seven one-hit, one-run innings against the Royals on May 11th. The peripheral stats did not agree with the ERA though; A.J. had a ~4.25 FIP through those eight starts.
The Rays tagged Burnett for six runs in 5.2 IP on May 16th, then a couple starts later the Red Sox hung eight runs on him in 5.2 IP. That 3.38 ERA ballooned to 4.37 in the span of five starts, though a handful of appearances against NL teams in interleague play helped knock that down to 4.05 heading into early-July. Burnett had thrown at least five innings in all 17 starts up to that point, so he was at least sparing the bullpen and generally keeping the Yankees in the game. Not exactly what you want from a guy making that kind of money, but after the disaster of 2010, expectations had been lowered.
Burnett barely held his own (18 runs in 31.2 IP) in five July starts, then the wheels really came off. He allowed seven or more runs three times in five August starts, including once each to the punchless White Sox and even punchlesser Twins. After getting knocked out of the game in the second inning by Minnesota on August 20th, A.J.'s ERA sat at 4.96 and he appeared to have words with Joe Girardi while walking off the mound. The two (along with catcher Russell Martin) maintained that he was talking to the home plate umpire, and although it created some headlines that week, the situation was diffused rather quickly.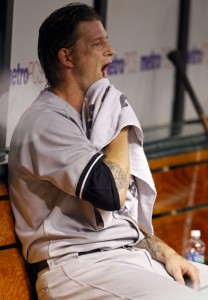 After throwing 7.2 IP of two-run ball against the collapsing Red Sox on September 25th, Burnett's final start of the season, his ERA sat at 5.16, lower than last season but not enough to be meaningful. He's basically repeated his 2010 performance, his second straight season of 180+ IP with an over-5.00 ERA and the second in franchise history. A one-batter relief appearance in the final game of the season served as a tune-up in what was supposed to be a relief role in the ALDS, but the weather forced him into a Game Four start with the season on the line. Burnett pitched well in that game, not great, but good enough to help the team win. He held the Tigers to one run on four hits and four walks in 5.1 IP, though Curtis Granderson saved his bacon with a pair of nice defensive plays.
On the bright side, Burnett's curveball was much better in 2011 than it was in 2010, helping him post his highest swing-and-miss rate as a Yankee (10.0%) and return to the days of at least eight strikeouts per nine innings (8.18 K/9 to be exact, 11th highest in the league). His 49.2% ground ball rate was his best since 2007 as well, but that's pretty much the end of the good news. At 1.47 HR/9, A.J. was the second most homer prone pitcher in the AL and third most in all of baseball, trailing only Colby Lewis (1.57) and Bronson Arroyo (2.08). His 3.92 BB/9 was the second highest in the AL (behind Gio Gonzalez) and sixth highest in all of baseball. Burnett's fastball velocity continued to decline into his mid-30's, sitting more 92-93 than 94-95, and his 4.77 FIP was actually worse than his 4.83 FIP in 2010 when compared to the league average (112 FIP- last year vs. 114 FIP- this year). It all added up to 1.5 fWAR and 1.1 bWAR, both of which rank 78th among the 94 starters that qualified for the ERA title.
Burnett's awfullness was generally more spread out this season; last year it was really three horrific months (July, August, and September) that did him in. This year it was one horrible month (August) and five mediocre ones. Despite the now infamous "objective pipe" comment from Brian Cashman, there is no trade market for Burnett, so the Yankees are stuck with him whether they like it or not. Unless the team manages to import four very good starters this offseason, A.J. will be back in the rotation in 2012. Expecting improvement would be foolish at this point.