Over the next few weeks, we're going to look back at what went right, what went wrong, and what went as expected during the 2011 campaign.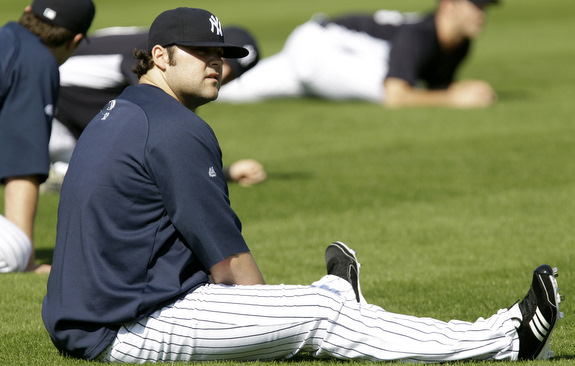 For the fourth year in a row, the Yankees relief corps was a strength in 2011. Joe Girardi's bullpen machinations helped keep everyone fresh and effective, including journeymen like Luis Ayala and Cory Wade. It also helps when you have three power arms that can pass as relief aces for most teams, but not everything went right with those guys. In fact, in the case, of Joba Chamberlain, this season went about as wrong as possible.
With big money signee Rafael Soriano taking over eighth inning duties to start the season, Joba was pushed back to the seventh inning. No big deal, he was still responsible for three outs either way. He allowed seven runs in his first eleven appearances before settling down and firing off six straight scoreless outings, then took over the eighth when Soriano came down with some elbow issues in mid-May. Joba continued to pitch well, allowing just one run across eight innings before needing 35 pitches to record five outs against the Angels on June 5th. It was his highest pitch count of the season (by seven pitches) and his most since since September of 2009, when he was a starter.
Three days later, the Yankees announced that Joba had been placed on the disabled list with a strained flexor muscle in his right elbow after feeling soreness for weeks. He would not throw for ten days, and was expected back in about three weeks. One day later, the news was much more grim. Chamberlain's strained flexor muscle turned into a torn elbow ligament, and he would ultimately require Tommy John surgery. He hadn't shown any of the usual symptoms or experienced any of the usual pain associated with a torn ligament, so the diagnosis was a bot of a surprise.
The elbow reconstruction was performed in mid-June, and while on the shelf, Joba required another surgery for an appendectomy. Not long after that, he needed another surgery to clean out an infection that developed during said appendectomy. Despite all that, Joba started his throwing program late last month, about two weeks ahead of schedule (unofficially). Tommy John rehab is a long and arduous process, and even the most optimistic of time tables have him returning in late-April. June would be the much more reasonable expectation.
Joba's fastball velocity was perfectly fine this year, but that's not really an indicator of elbow trouble. Velocity is more indicative of shoulder issues. Elbow problems general show in control, or lack thereof. Joba threw 45.3% of his pitches in the strike zone this year, which is actually perfectly league average, but it is down from his 48.4% from 2008-2010. Although his swing and miss rate (10.3%) was his best since 2008, his strikeout rate (7.53 K/9) was a career low and down more than two full strikeouts from last year. The strikeouts had been replaced by ground balls (59.7%), either intentionally or unintentionally.
The Yankees were able to survive Joba's season-ending injury because of their bullpen depth, and they're going to have to get by without him early next year as well. It would make sense for the team to have him stretch out and rehab as a starter, but we all know it won't happen. They should be able to ease him back into late-inning work thanks for Soriano and David Robertson, but command is usually the last thing to come back after elbow surgery. It's very possible that we won't see the real Joba again until Opening Day 2013.